James Thew - Fotolia
Get started
Bring yourself up to speed with our introductory content.
Application consolidation: Business value beyond expense reduction
Application consolidation is never an end unto itself. It's the business benefits that matter. SearchCIO columnist Harvey Koeppel explains.
The objectives of application consolidation are a no-brainer. Simplification, standardization, integration, reduced...
Continue Reading This Article
Enjoy this article as well as all of our content, including E-Guides, news, tips and more.
risk, cost savings -- this could be the credo of any IT executive (well, almost any). Three million search results for "application consolidation" support my theory, and we all know that if it says so on the Internet, it must be true. In an environment where there is relentless pressure from boards and C-suites to reduce expenses, eliminating redundancy and shedding no-longer loved applications are obvious places to focus attention and resources.
As noted, the objectives of application consolidation are a no-brainer, but I have another theory -- one that gives due credit to all of the above and, at the same time, postulates that everything described above is only a small part of the potential benefit. My theory is a simple one: We are looking at the tail when we should be looking at the rest of the elephant. To put this into proper perspective, an average elephant's tail weighs about 22 pounds while the rest of the elephant weighs in at about 7.5 tons (give or take 22 pounds).
The 7.5 ton elephant in the corner
In my former life as a CIO at the BigWorldBank we, like many large global enterprises, had a sobering experience during the process of Y2K remediation -- we were forced to inventory our applications. There was good news and there was bad news. The good news is we learned for the first time in a long time how many applications we were really running and maintaining. The bad news? There were thousands and thousands of them. Think tribbles.
"Tribbles are fictional animals in the Star Trek universe who first appeared in the episode titled 'The Trouble with Tribbles.' They are depicted as small, furry, soft, gentle, attractive, and slow-moving, and they usually produce a soothing purring or cooing sound when stroked, all of which are endearing traits to humans, Vulcans, and half human Vulcans. However, because tribbles reproduce enormously fast, and consume exponentially larger and larger amounts of food as they multiply and crawl stealthily from one place to another, Starfleet considers them dangerous organisms and forbids their transportation."
Source: Wikipedia (https://en.wikipedia.org/wiki/Tribble)
We never actually tried this, although in hindsight, I suspect that if we printed out the source code for all of our applications, the resultant stack of paper would likely have weighed more than 7.5 tons. The table of contents alone would likely have weighed at least 22 pounds. Both independently of and in support of the Y2K exercise, this beast needed to be tamed. Oddly, the goal became about transforming the 7.5 ton elephant into the 800-pound gorilla. And so, in defiance of the laws of Darwin, we did just that. We saved millions. We dramatically decreased our nightly processing times and increased system availability and Response times. Service levels reached unprecedented high levels. Risk managers and auditors were pleased. And that's when it became clear that application consolidation was not the end -- it was the beginning.
"Every exit is an entrance somewhere else"
-- Tom Stoppard, "Rosencrantz and Guildenstern are Dead," 1966
With our application portfolio under reasonable control (including appropriate governance to keep it that way), we now had additional bandwidth and budget to invest in strategy and innovation. Collaborating with our business partners, we envisioned the following strategic business and technology mandates:
Build market share (revenue) by retaining/growing existing and acquiring new customer relationships;
leverage M&A opportunities when they contribute to the ongoing prosperity, sustainability and scalability of the overall business;
increase shareholder value (earnings) by continued focus upon the quality and efficiency of product / service delivery to our internal and external customers;
and transform our internal and external customer experience (brand) by simplifying and standardizing all interactions and engagement across all touch points and channels.
Many, many meetings and what seemed like an endless onslaught of PowerPoint presentations later, the BigWorldBank business and technology leaders designed, planned and embarked upon the next phase of the journey. The BigWorldBank would never be the same again.
Application consolidation is a means, not an end
The time, energy and budget invested in application consolidation set the foundation for a multi-year business and technology transformation that was characterized by the following:
An integrated business-oriented workstation was created to enable staff to serve customers much more efficiently and effectively:

An easy-to-learn and easy-to-use desktop replaced interfaces for 89 (237 pre-consolidation) applications required by staff to do their jobs;
Biometric fingerprint identification technology replaced the need for staff to remember and maintain 89 different passwords that cycled at different frequencies and required different standards for acceptable password composition;
The 31 staff people whose sole job was resetting forgotten or expired passwords were retrained and reassigned to support more value-added help desk functions;
Average staff training time was reduced from four to six months, to one to two weeks.

An integrated customer data management program was designed and institutionalized to provide staff with a real-time 360 degree view of all customer relationships and activity, to wit:

150 million customers globally across 54 countries;
all customers related to the current customer;
all accounts related to the current customer;
patented recommendation engine to prompt staff with details of best next offer based upon customer needs;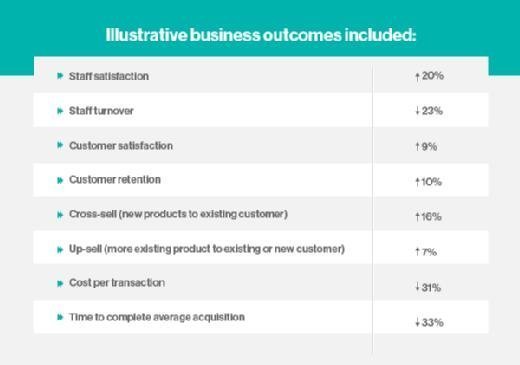 Discretion and a well-written non-disclosure agreement prevent me from posting actual dollar impacts of the program to revenue or earnings although, needless to say, both increased significantly by year two of operation. While application consolidation could not be given all of the credit for the outcomes of this incredible journey, it surely was the spark that lit the match that lit the fuse.
Let me know what you think. Post a comment or drop me a note at [email protected]. Discuss, debate or even argue -- let's continue the conversation.
Next Steps
More CIO advice from SearchCIO columnist Harvey Koeppel.
What's in store for CIOs in 2015?
CIO tip sheet for surviving and thriving in 2015
How to fill the IT skills gap: Be a leader
Dig Deeper on Enterprise application development, DevOps and software agility