News
Stay informed about the latest enterprise technology news and product updates.
A CIO lesson in the fast-fading distinction between Amazon and AWS
IT folks see Amazon and AWS and think retailer and cloud provider, but these powerhouses share a different view. What does their symbiosis say to CIOs?
Welcome to Boston. Buy AWS.
People traveling by train to the Massachusetts capital for Thanksgiving will find that message hard to ignore. So will people leaving it.
In South Station, the city's railroad hub, banners advertising Amazon Web Services (AWS) are everywhere: They're slung across the main concourse, plastered on the walls, lording over the entrance to the train platforms. "Build on AWS," they implore. "Every Nanosecond Counts."
The station is smack in the middle of Boston's Financial District. Many of the businesspeople dashing from glass towers to commuter trains to tony suburbs can tell you that AWS is Amazon's cloud division, offering subscriptions for computing services to power business initiatives. Heck, many of them probably signed service-level agreements with the company.
I write for CIOs, with a focus on cloud computing, so I'm familiar with both Amazon and AWS -- and their recent aligning of business objectives. When my wife and I, who live near Boston, arrived at South Station last weekend to catch a train to New Haven, Conn., I took in the splashy ad campaign and understood who was telling me what: AWS has the developer tools to quickly spin up innovative applications, the means to store and crunch reams of data and scale operations -- all the better to serve digital customers, who are everyone's customers.
But my wife, who works in a hospital, looked at the ad campaign's familiar gold and white color scheme and the distinctive smile logo that she sees emblazoned on the packages that arrive at our door and saw Amazon, online peddler of all things. (Incidentally, it's also the company Boston really, really hopes will come here and build a mammoth new second headquarters.)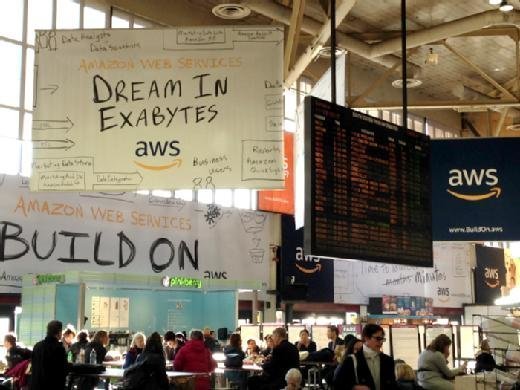 She's not alone in her conflation of the two businesses. Gartner analyst Daryl Plummer interviewed AWS chief executive Andy Jassy at the market researcher's annual Symposium/ITxpo in Orlando, Fla., in October. He told Jassy, "People don't necessarily distinguish well between Amazon and AWS."
Out of one, two
The blurred lines are not accidental. AWS started out as an internal infrastructure division at Amazon with a mission to help the retailer innovate "much more cost-effectively, much more quickly and spend most of their scarce resources and engineering on the things that really differentiated their applications instead of all the undifferentiated heavy lifting of infrastructure," Jassy said.
So the teams set about building IT infrastructure services that the whole of Amazon could use. Freed from having to build databases and storage components for every digital project, Amazon's retail businesses swiftly expanded their reach.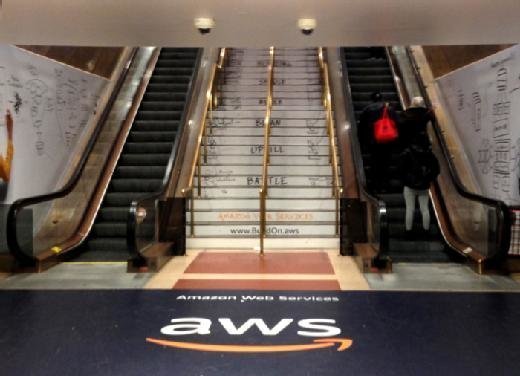 Then Amazon began to realize that it started something other companies would also want. In 2006, Amazon Web Services launched its cloud infrastructure service, Elastic Compute Cloud, and had virtually no competitors for years. Today, Microsoft, Google and IBM are all respectable purveyors of cloud computing, but AWS is still the best-selling cloud service in the world. It's also Amazon's profit engine, growing 42% in the year's third fiscal quarter, with $4.58 billion in revenue.
For certain, Jassy said, AWS' astronomic success was fueled by its association with Amazon. As it started selling infrastructure services, "People might not know what AWS is, but everybody knew what Amazon was. That gave us credibility early on because Amazon is a gigantic web-scale application at the end of the day."
To each its own?
Though Amazon and AWS share a common lineage -- and the boundaries between continue to fade -- they remain two entities with an ongoing business relationship, Jassy said.
"They're very demanding, and they have very high standards, and so they have given us a lot of feedback on things they'd like to see work better, services they'd like us to build, features they'd like us to build," Jassy said of AWS' parent and patron. "They're really just one important external customer."
They're very demanding, and they have very high standards, and so they have given us a lot of feedback on things they'd like to see work better, services they'd like us to build, features they'd like us to build.

Andy JassyCEO, Amazon Web Services
That line from Jassy came back to me as my wife and I hurried to catch our train. In organizations today, the business and IT perform different functions, like Amazon and AWS. But also like that high-powered pair, business and IT departments need to serve each other's purposes as well, and both need to knock down walls between them and work in tandem to deliver value to customers -- or customers will go somewhere else.
As traveling Bostonians see all those banners in South Station over the next few weeks, many probably won't meditate on the symbiosis between Amazon the retailer and Amazon the cloud provider. More likely, they'll be thinking about the prospect of Amazon choosing Beantown for its second home, the gold rush of business and the tens of thousands of jobs it would create and, with an audible grumble, of the increased competition for parking.
CIOs, should you see AWS-slash-Amazon ads touting cloud infrastructure services, whether in Boston or anywhere else, stop, look -- and think business.