News
Stay informed about the latest enterprise technology news and product updates.
International Institute for Analytics' five analytics predictions
AI classification systems will be created, predictive models will be scrutinized and analytics teams will be decentralized. Welcome to analytics 2017.
The International Institute for Analytics released its list of analytics predictions for 2017, and researchers are placing their bets on artificial intelligence and cognitive technologies as the big headlines for the new year.

Download this free guide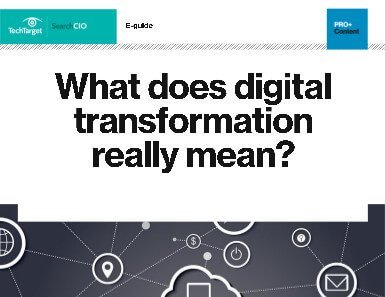 PDF: What does "digital transformation" really mean?
What exactly is digital transformation? You may hear the term often, but everyone seems to have a different definition. See how our experts define digitization, and how you can get started in this free guide.
By submitting your personal information, you agree that TechTarget and its partners may contact you regarding relevant content, products and special offers.
You also agree that your personal information may be transferred and processed in the United States, and that you have read and agree to the Terms of Use and the Privacy Policy.
As in the past, the IIA researchers have split their top 10 list into two parts -- five analytics predictions, which focus on developments they expect to see in the next year, and five analytic priorities, "which is what analytics leaders and their organizations should have high on their agendas right now," Robert Morison, lead faculty member at the IIA, said during a recent webinar.
Morison was joined by Tom Davenport, IIA co-founder and president's distinguished professor of information technology and management at Babson College, and Dan Magestro, a former analytics practitioner at Cardinal Health, JPMorgan Chase & Co. and Nationwide Insurance, who now leads research efforts at the IIA.
IIA's five analytics predictions are as follows:
Prediction #1
Organizations will increase classification of cognitive tools across uses
Artificial intelligence technologies are not monolithic, Davenport said. IBM Watson, for example, is often thought of as the technology that beat Jeopardy!, but, today, it's more than 20 different APIs.
In 2017, companies will develop a classification system, even an informal one, to determine "what tool is best suited for what purpose," Davenport said. Doing so will require expertise, such as a company's data scientists familiar with the tools, or "you may be better off, at least at the early stages, of hiring somebody," he said.
Prediction #2
Analytics users will leverage large cloud vendors more prominently
Cloud vendors such as Google, Microsoft and Amazon are offering complimentary analytical and machine learning algorithms. These are proprietary algorithms -- not open source offerings -- that businesses will increasingly turn to in 2017.
"Given the ease of use of the cloud processing capabilities and the desire of many organizations to have one-stop shopping, my guess is that these cloud vendors will become serious competitors to the traditional proprietary analytics firms for many companies," Davenport said.
Not just competition, but stiff competition that could extend to transactional applications such as ERP.
Prediction #3
Managers will increasingly scrutinize model assumptions
The 2016 U.S. presidential election shined a light on the imperfections of predictive models, and their failure to predict its outcome will have an impact on enterprises in 2017. "Set it and forget it" is analytical suicide; predictive models will be scrutinized by the business.
In 2017, analytics teams will focus on transparency -- an understanding of how a model came to the conclusion it did. Davenport suggests that the assumptions used to build the model be included in text form breaking down how the data was structured and what might make the model unsound.
And analytics teams will explain uncertainty to the line of business so that it has a better understanding of a model's results, Magestro said. A prediction made with 80% certainty means the unlikely outcome still has a one in five chance of happening, he said, and that needs to be communicated.
Prediction #4
Analytics-specific chips will increase in availability and application
Expect to see more computer chips designed to be high performance processors for particular types of algorithms. The chips will be used for specific analytics, giving an application a boost in speed, Davenport said.
"That's been a big factor in the recent prevalence and success of some of these deep learning models for image recognition and deciding what moves make sense in certain games and so on," he said. He pointed to Nvidia's move to graphic processing unit chips as an example of the prediction already in play.
Prediction #5
Analytics groups will increasingly decentralize
Looking back at conversations with companies in 2016, Davenport noticed a pattern of decentralizing analytics teams, a pattern he predicts will continue in 2017. The observation could suggest that companies are becoming more analytically mature. "The idea was to move analytical capabilities closer to business units or functions to meet their specific needs," he said.
But it may also suggest that, as centralized analytics teams grow, they become targets for things like budget cuts, especially if the value of what they're doing isn't communicated, Davenport said. Decentralizing the teams reduces the threat.
Regardless, decentralized teams still require central coordination around data, platform and talent, according to Morison. And Davenport agreed: "One of the reasons we argued for some degree of central coordination on the talent front is so analytics people could be challenged and learn from moving around the organization. That, still, is a very important objective. As you decentralize, try not to lose that."
Next Steps
IIA's analytics predictions for 2016
IIA's analytics predictions for 2015
IIA's analytics predictions for 2014
Dig Deeper on Enterprise business intelligence software and big data