Manage
Learn to apply best practices and optimize your operations.
14 questions that drive cloud computing strategies in the right direction
Stop debating what the cloud is and start asking these 14 questions that develop cloud strategies for the business worth talking about.
Conduct a Google search on the phrase "What is the cloud?" and one of the first answers to pop up is 'the cloud...
Continue Reading This Article
Enjoy this article as well as all of our content, including E-Guides, news, tips and more.
is just a metaphor for the Internet.' While that statement is debatable, the bigger question is what questions CIOs should be asking to develop sound cloud computing strategies.
In the first part of this CIO Matters column, IT and business strategy expert Harvey Koeppel discussed the quagmire of technology that is dubbed the cloud and why the technology itself does not translate into cloud computing strategies. Here, he runs through 14 cloud strategy questions that will lead CIOs to extract more business value from cloud computing.
Rather than thinking about the technology "stuff" that tends to occupy our days (and nights), enterprises and their CIOs need to be thinking about their business and operating models. Here are some alternative ways for CIOs and their teams to ask good questions and drive the conversation they need to have with their business partners about cloud computing strategies.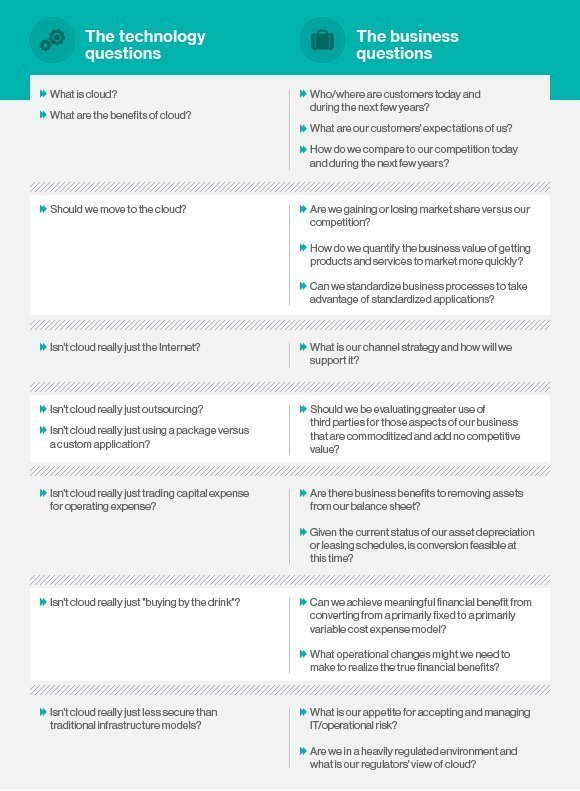 For some enterprises, especially early-stage companies and SMBs, starting out or moving their IT to a public cloud infrastructure may be feasible, in particular, in situations where application needs are relatively modest, standardized processes will suffice and data footprints do not include large amounts of personal, highly confidential or regulated information.
For more mature enterprises that typically maintain significant portfolios of legacy applications and/or sensitive data as described above, either hybrid or private cloud strategies are likely to be more feasible in the short term and provide the most effective path toward realizing shorter time to market for new products and services, less expense to develop and maintain applications, enormous scalability, best-in-class reliability and all without comprising cyber or information security.
Let me know what you think. Post a comment or drop me a note at [email protected]. Discuss debate or even argue -- let's continue the conversation.
Dig Deeper on Cloud computing for business