News
Stay informed about the latest enterprise technology news and product updates.
A CIO Conversation: Sprint's Mike Stout
Sprint CIO Mike Stout discusses IT's role in Sprint's makeover, offshore outsourcing and what makes him an effective leader.
Sprint has some funny commercials -- the monster getting busted in the closet is a classic. But behind the scenes, the company has undergone some monster changes -- changes in which IT has played a major role. Mike Stout parked his car in the CIO spot at Sprint's Overland Park, Kan., campus less than one year ago -- just in time to lead the transition. SearchCIO.com talked to Stout about IT's role in Sprint's makeover, offshore outsourcing and what makes him an effective leader.
Many CIOs say keeping up with the ever-changing status of 'current technologies' is the toughest aspect of their jobs. How do you stay on top of things?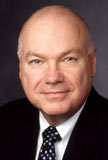 Mike Stout
Sprint has been a technology leader for a long time. As far as internal capabilities go, we have an internal research and development staff looking at new capabilities we can bring to our customers. Recently, our announcements have revolved around agreements with IBM, EDS and HP -- we leverage their technologies and bring them into our environment to enhance products and services. We also have relationships with universities to provide insight [on] where technology is going. We're looking now to create internships to help students get their capabilities into our environment. We want real-life work for students to provide them [with] real-life experience and to get their creative juices going. It's a concept that ensures we employ the best technologies.
What emerging technologies are you most interested in right now?
Stout: It's difficult to say [that] there's a new technology emerging. Linux is a maturing, not emerging technology. It's gotten to a level now where it has a robust place at the server level or desktop. We're exploring an application of technology called SPDE -- it stands for Service Provider Delivery Environment. It's a business mobility platform that lets customers take the office wherever they are. It's a new application of technology using the established capabilities of our partner -- IBM. We're also looking at [data center] virtualization, a utility data center, and expanding e-business to extend capabilities to our customers any time in any form.
Talk about your background and how your job has changed over the years.
Stout: I'm having a great ride. When I started in IT, I started as input-output clerk tearing paper off printers and delivering them to programmers (the gods of IT). Then I was a development manager, ops manager and general manager [before getting to] the position I have today. I was most recently GE Capital CIO, overseeing IT in 24 GE businesses. The CIO role is changing. When I was in my beginnings [in] IT, the CIO didn't exist. It's a recent phenomenon. Back then IT was crafted under business leaders. The advent of the CIO was a recognition that there's a need for a business partner who can translate business needs into IT. The CIO has evolved into a true business partner helping to craft strategies of business, not just IT. I see my role primarily as a business leader -- less of a techie.
It's all about leadership. Good leaders surround themselves with people better than he or she -- and complement them and fill gaps with capabilities. I have surrounded myself with people who augment me. … It's how good a leader you are, not so much how good a techie or businessperson you are.
What can you tell me about Sprint's offshore outsourcing strategy?
Stout: Currently, the vast majority of development is done internally. We do have an outsourcing strategy. We do it where it makes sense -- it's not just a cost play. It's much more a way of elevating quality of deliverables, getting access to more resources, different technologies, and lowering cost. It's all those factors that lead me to an outsourcing strategy. When we outsource, we re-badge or co-source, which allows me to access the benefits I mentioned before. As part of that outsourcing strategy, I will retain the 'secret sauce,' which is the ability to retain intellectual capital, business analysis, governance, architectural strategy and the integrity of systems. The work that I'm outsourcing isn't my distinguishing capability, but it is someone else's core competency.
We're making every effort to re-position outsourced Sprint departments. We're moving people to places where work exists as well as re-badging them and putting them in positions where they're part of that secret sauce.
How do you tackle IT project and portfolio management?
Stout: We have a great CFO. Like any smart company, you don't invest precious resources in something without a good business case behind it. Our allocations are based on business benefit and agreed upon jointly with business. Approval is based on TCO and business strategy. It's a pretty good process. It's not just about short-term payback, but about long-term benefits of the project.
How does Sprint handle business-IT alignment?
Stout: We have a campus that is modeled after the university experience. It was created to encourage collaboration. All my direct reports attend staff meetings of business leaders in the enterprise. By virtue of those few things, we have a lot of communication going on. A year ago, IT was not participating in all those activities. Today, IT is engaged in every project and represented in every aspect of the business.
More on IT leadership
How big of an issue is corporate compliance at Sprint? Have you had to fork out big money to comply with Sarbanes-Oxley or other regulations?
Stout: I think compliance is a big deal, given the history of what's gone on. We take compliance very seriously – it makes good business sense. We have audits to make sure we're compliant not just with [Sarbanes-Oxley] but also with internal policies for the sake of the shareholders. In terms of governance and management compliance, we are now in the top 3%, according to an independent ranking group called Institutional Shareholder Services (ISS).
How important is business understanding in the IT department?
Stout: My entire management team must have business acumen, program and project management skills. All roads lead to IT. It's a tremendous responsibility to understand business. If you can't read a balance sheet, it's pretty difficult to craft a strategy.
How big of a role does IT play in Sprint's business plan? Is IT a key business driver, does business drive IT, or are both answers right?
Stout: We've been engaged in remaking Sprint and have gone through a complete change from a product company to a customer-centric company. It was an aggressive endeavor. Today, we're customer- centric in every aspect. The role that IT has played has been at the table -- IT was shepherded from three different divisions, but now we're much more integrated and better prepared to meet business needs. IT is engaged not only in the needs of business, but [it] also crafts strategies for business. We defined a target state architecture -- defined with the business as a business exercise -- and we've established a tremendous relationship with the business. As part of our account management function, everyone in IT is engaged in the business -- their job is to make sure we are linked to business strategies from idea to implementation. This is pleasing for me because it demonstrates where IT needs to be with business -- communication and linkage have stayed together. IT was more of an order taker then; today, we're a strategic partner. That's a dramatic shift.
How about your budget? Has it been as lean as most other IT budgets the last few years?
Stout: We don't really see our budget in terms of 'leaner' and 'fatter.' As we crafted the overall budget, we determined what was required for IT and funded it. The demand is insatiable; no amount of money could satisfy it. What pleases me is [how] we looked at what we needed to be successful, and we got it.
Tell me a little more about SPDE.
Stout: Think of it in terms of CRM for sales force automation or contact data or applications you need when you're on the road. SPDE will allow customers to have what they need. It's in the demonstration stage now and will be deployed later this year. It's not really unique to telecom, but it is unique to Sprint.