News
Stay informed about the latest enterprise technology news and product updates.
A CIO Conversation: Quantum CIO loves challenge, change
Scott McIntyre has worn a lot of hats. He's been an English teacher, an IT professor and a consultant. But the job he loves is the CIO gig at Quantum Corp. The man likes change and challenge -– and he's getting both at the San Jose, Calif.-based storage firm.
Scott McIntyre has worn a lot of hats. He's been an English teacher, an IT professor and a consultant. But the job he loves is the CIO gig at Quantum Corp. The man likes change and challenge -– and he's getting both at the San Jose, Calif.-based storage firm.
Being a CIO seems like one of the toughest jobs on the planet. What would make you want this job?
McIntyre: Yeah, it's hard. To be a good CIO, it takes a certain kind of individual. I love change. You have to love the challenge. I am a relationship-oriented person. I think that you have to want to learn constantly, and not just from a technology point of view. A person who is a good ops geek couldn't possibly have the tolerance for budget stuff. I used to be an IT guy; now I am a budget geek.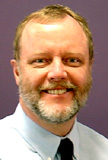 Scott McIntyre
Not everyone can make the transition from the IT side to the business side. All of a sudden, CIOs are confronted with questions they've never heard before. Business guys look at you and say 'You ain't from around here, are you?' It's tough, but the opportunity to provide such value and the opportunity to grow people make it worthwhile. I have so many future CIOs working for me. I honestly love what I am doing. You've worked at big firms like MCI and GE, and smaller ones like Quantum.
Do CIOs of small and medium-sized businesses face different challenges than CIOs of huge companies?
McIntyre: Yes and no. The core of it is no. We have to pay attention to the same disciplines; it's just the economies of scale [that are different]. We're at the upper end of medium, so we're headed back to the billion-dollar mark. All of the same pressures are there, like relationships with other executives and business units. The sheer magnitude of some of the development efforts, that's something we don't have to deal with. If [an] SMB CIO is smart, there's less pressure to develop stuff in-house. When I think of the massive internal development and maintenance that I've seen at larger companies, I can't see us doing that. I also have the luxury of knowing all of my staff. I have chosen or chosen to keep every one of them. I know where these people are in their careers, where their skills are, and how they can impact the company. That's a luxury I love.
What kinds of new technologies are you looking into?
McIntyre: We use Linux; we're letting it creep into our infrastructure. It's definitely enterprise-ready in some areas. We're just taking a look and using it where it makes sense. We're taking [a] look at 9i RAC. We're fanatical BlackBerry users.
We [lean] toward a few core apps. Best-of-breed got way out of hand before I got here. We're a core Oracle shop, and we're willing to look at their stuff on a case-by-case basis. If we think it's too business-critical and some best-of-breed [tool] is better, we'll go with that. We started with the whole blade routine a year ago. We've got banks of them now. We love blades. We do some R&D, but our charge is keeping Quantum running the best we can.
When you talk shop with CIOs of other firms, what kinds of things do you talk about? Are there any problems that keep popping up and appear to be universal?
It's the same old same old. Boring stuff. Things like, 'How in the world do we squeeze another 55% out of the budget and increase or maintain productivity?' There's heavy discussion of vendor management. There's whining and fussing about relationships with CFOs, but there's nothing outside of what you would see in the literature.
Has Sarbanes-Oxley compliance been a headache for you?
McIntyre: Sarbanes-Oxley is a nonissue for me. We are so fanatical about process management -- we jumped on it right from the beginning. We wouldn't dream of taking risks with regulations.
How much offshore outsourcing do you do?
McIntyre: I don't do any. ... We have outsourced in the past. It's not appropriate for our business right now. I would absolutely consider it, but the economics just aren't there. There's not a month that goes by that I don't consider it, but we've done the math -– so far it makes no sense.
It's interesting now to watch onshore outsourcing companies begin to change some of their models. They were so monolithic for a while –- 'give us all your stuff and we'll be good.' Now they're taking on parts rather than the whole thing. It's going to be interesting to watch the outsourcing industry develop.
A Meta Group study this week said that most IT departments are seen as cost centers rather than business partners.
Is that the case -– or was that the case at Quantum? Why do you think IT is sometimes seen as basically an order taker?
McIntyre: I disagree with that characterization completely. It's possible to be a cost center and a partner. If an IT department is not part of the revenue stream, then we are a cost center. After that, it's a choice whether to be a partner or not. We are very much a partner. Partnership is about a CIO's willingness to work with revenue-stream creators.
More on IT leadership
We're a cost center –- I don't make a dime for Quantum; I pretty much spend it. We've cut our budget dramatically year over year and increased productivity and service through good ol' blocking and tackling. We hired the best people we could get. We're attentive to vendor and asset management. We've renegotiated every contract we've had. The economy has helped, but it's just textbook process management. We're not bureaucratic in terms of being process-heavy. I don't hire anyone who doesn't have process in his DNA –- from programmer on up.
If we do core stuff right, then we can support this company very well. So we certainly serve as alpha, beta and idea shop. We do eat our own dog food.
How would you describe your relationship with your CEO, Rick Belluzzo? Is he an IT-friendly CEO?
McIntyre: Very much so. It's based on all of his experience at Hewlett-Packard and Microsoft. He understands what he's talking about. He pushes all the right buttons, defends the right things, knows the questions to ask. Making a business case to him isn't a problem. One time he told someone, 'If you're standing in front of an oncoming train, you don't need a business case to get off the tracks.'
Rick and the CFO are good business partners. They don't fire unreasonable shots over the wall -– like saying 'cut a million dollars here.' They understand what I do for them, and they appreciate it. But Quantum is a product company. [IT is] the plumbing and the electricity in the walls. We're under a lot of pressure on costs, because we are a cost center.
Judging from all the reports and studies coming out, IT spending is back from the dead. Are you seeing evidence of that?
McIntyre: Yes, from sales projections of our products, I would agree. I wouldn't say we're going to see much of an uptick but, for the first time in three years, I am not seeing extraordinary downward pressure.
Dig Deeper on Leadership and strategic planning