News
Stay informed about the latest enterprise technology news and product updates.
IT demand management key for business effectiveness
Internal efficiency just isn't enough. According to researchers with InterUnity Group, IT demand management (ITDM) is what separates market leaders from market followers.
While most companies focus on internal efficiency, market leaders, as defined by corporate financial performance,...
Continue Reading This Article
Enjoy this article as well as all of our content, including E-Guides, news, tips and more.
use IT demand management (ITDM) to focus on business effectiveness.
ITDM is a critical success factor in building efficient and effective organizations. Research by InterUnity Group on the relationship between IT investment and corporate financial performance indicates that market leaders have established successful demand management programs. These programs are utilized to interact with internal customers (employees and business units) and external customers. In addition to providing a focus for re-evaluating current IT projects, ITDM becomes the key foundational element for all strategic IT-enabled initiatives.
The benefits of ITDM result from:
IT flexibility in response to dynamic business changes, including variable cost emphasis.
Structured approach to evaluating the strategic and financial impact to the company when presented with these changes.
Methodology and tools to help capture, document and manage the impact, decisions and results associated with these changes.
A constantly evolving company-specific knowledge base to evaluate proposed initiatives.
Market leaders approach IT decisions in a "top-down" manner. In today's economy, portfolio management has been primarily viewed from a "bottom-up" perspective, focused on IT resource management. Existing IT projects are evaluated in terms of risk/reward to the firm; those deemed still viable are captured in the portfolio management system. In this role, portfolio management initially becomes a tool to prioritize, allocate resources and track resource time by project. Monitoring the progress of projects is simplified, from both a duration and a cost perspective. In Figure 1, the "Bottom Up" Tactical box highlights the major activities enabled in this context.
Figure 1 - IT Demand Management (ITDM)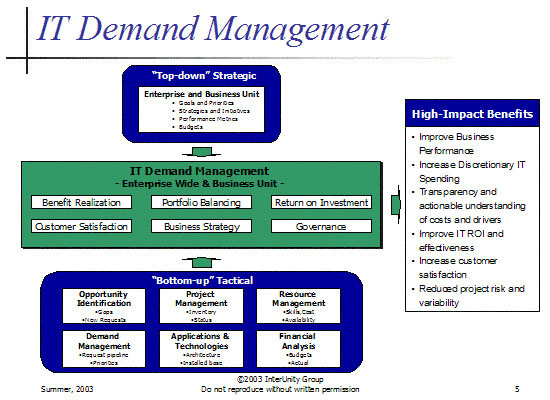 From a financial impact perspective, the "bottom-up" approach can provide a $1 billion (revenue) company an annual cost savings of $5 to $10 million, assuming a 10% IT spend-to-revenue and a 5% to 10% annual cost savings target. In light of the current IT spend conservatism, one factor sharpening this cost reduction focus is that most vendors are promoting this aspect of their portfolio management systems.
While the "bottom-up" approach can play a role in IT demand management, this approach is limited to the prioritization of existing initiatives. When incorporating a "top-down" perspective to portfolio management, the movement towards shared responsibility for IT demand management becomes apparent.
Actual benefits achieved through ITDM
Doubling discretionary IT spending with no increase in current expenses.

Increasing effectiveness of technology ROI by 25% to 50%.

More transparent, accurate and actionable understanding of costs and drivers.
At both enterprise and business unit levels, the need for strategic alignment becomes a prerequisite to successfully implementing IT demand management. An agreed-upon governance structure can help ensure a balanced portfolio, ultimately leading to the optimal mix of customer satisfaction and realizable benefits. These benefits can include reduced risk while providing an opportunity to increase discretionary IT spending through transparency and an actionable understanding of costs and drivers. An overall improvement in business performance, directly correlated to IT investments, can therefore be enabled.
From a purely financial perspective, applying the same rationale as the "bottom-up" example to a "top-down" perspective yields similar, immediate returns of $2.5M - $15M (assuming gross revenues ultimately yield 5-15% in net profits). Returns are therefore similarly impressive for the "top-down" perspective, even before taking into account the full potential of the higher reward/higher risk opportunities now available to the company.
Understanding the possible benefits from the higher reward/higher risk opportunities made available by a "top down" perspective can be seen in corporate examples such as:
Deutsche Bank: Dramatically reduced M&A costs resulting in increased business agility and competitiveness. Additional acquisitions, which are beneficial to earnings and growth in the short term, can now be pursued.
Horizon Blue Cross Blue Shield of New Jersey: Improved level of HIPAA compliance at a lower cost. Horizon was able to shift HIPAA compliance from strictly a cost effort to one that can gain them additional profits through enhanced internal business efficiencies.
CNA: Moved IT spending from 62% maintenance, 38% new projects to 63% new projects in one year. This resulted in additional $200M investment in initiatives.
The above examples demonstrate the type of additional business benefits that can result from "top-down" ITDM, which are in addition to the cost reduction benefits gained from the "bottom-up" approach. The overall benefit is that ITDM becomes a business differentiation tool, providing benefits greater than those achieved from focus on cost reduction only.
Gates Ouimette, Richard Sneider and Marty Loughlin are part of the management team at InterUnity Group.
Dig Deeper on Leadership and strategic planning