News
Stay informed about the latest enterprise technology news and product updates.
Study: CIO salaries flat, responsibilities continue to rise
CIOs can join the ranks of those who think they are overworked and underpaid. A new study finds that CIO compensation packages will remain flat this year.
Much like the current IT economy, compensation packages for chief information officers will remain flat during the next year, while executives themselves are asked to do more than ever.
According to a recent survey of 818 CIOs by Chicago-based executive search specialists Spencer Stuart Management Consultants, top-level IT executives shouldn't expect to see growth in salaries or bonuses in the short term.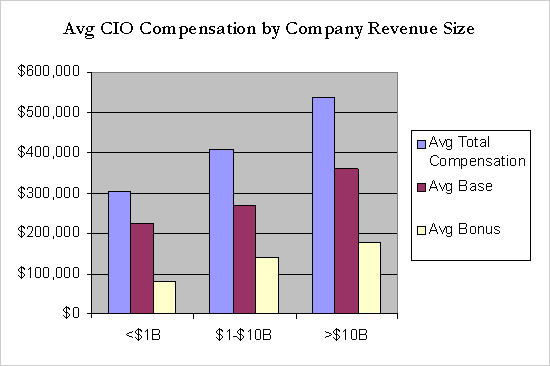 "In the current economic climate, the potential for compensation growth just isn't there for most CIOs," said Richard Brennen, global leader of Spencer Stuart's CIO practice. "However, it's pretty clear that many CIOs are being asked to increase their responsibilities."
Brennen said that CIOs are now viewed as being among the upper echelon of senior executives in most companies whereas, in the past, individuals such as chief financial officers were often considered far more important. "This is an offspring of the rising importance of IT to everyday business operations," said Brennen.
The study indicated that some 80% of all CIOs earn a base salary between $200,000 and $300,000, with roughly 56% of those executives falling between $200,000 and $250,000. CIOs in the financial services sector rated the highest annual compensation, at $459,123 on average. That number is 13% greater than the average salary in the next highest paying industry, consumer goods.
Spencer Stuart focused specifically on the United States with its survey. By geographic region, the firm found that CIOs on the East Coast and in the Midwest tend to earn larger compensation packages than their West Coast counterparts. However, this may be misleading, Brennen said. Many Silicon Valley executives receive less cash compensation but more shares of stock or stock options than their peers in other parts of the country, he said. However, stocks are hardly the gold standard these days.
Another significant conclusion of the survey is that CIO compensation is tied to company revenue and rises measurably at larger firms. This finding was consistent across all regions and vertical sectors, according to Spencer Stuart. For instance, a CIO at a company with less than $1 billion in yearly revenue earns slightly more than $300,000 on average, while a CIO at a company with greater than $10 billion in revenue is paid more than $500,000.
Brennen said that while there are still more CIO-level candidates seeking employment than there are job openings, he remains optimistic that the market for high-level IT executives should improve in 2003, at least compared with last year.
| | | | | |
| --- | --- | --- | --- | --- |
| | Sample Size | <$1B | $1-$10B | >$10B |
| Avg Total Compensation | 319 | $304,753 | $406,192 | $536,251 |
| Avg Base | 319 | $221,994 | $268,458 | $358,637 |
| Avg Bonus* | 319 | $82,759 | $137,734 | $177,614 |
* Average includes approximately 17% of the sample population who did not receive bonus pay.
Source: Spencer Stuart Management Consultants
FOR MORE INFORMATION:
The Best Web Links on the business of e-business
Tech salaries to slip in 2003, survey says