chrisharvey - Fotolia
Top 10 blog posts of 2017 illuminate top CIO goals
SearchCIO's most-read blog posts give a telling look at CIO goals this past year -- artificial intelligence, digital transformation, multicloud management.
SearchCIO's most popular blog posts of 2017 point to a set of lofty -- and mandatory -- CIO goals: artificial intelligence, digital transformation, multicloud management. IT leaders are learning all they can about these tech trends. The aim? To help their companies gain business advantage -- before their competitors do.
Readers perused posts about avoiding getting locked into relationships with public cloud vendors, the absence of a universal platform for digitally connected smart cities and the coming proliferation of AI in the workplace.
The blogs IT leaders showed interest in 2017 were about how to install robotic process automation technology, what copy data management software is good for and what to look for in cloud management platforms. Moreover, they revealed some of the top CIO goals of 2017. Here are the year's 10 most-read blog posts.
10. Managing the unmanageable
IT departments today are overseeing an ever-expanding assortment of cloud services -- and it's not easy. Each service requires a different management tool, and juggling all that "is just painful," said IBM cloud development expert Mike Edwards. In "Out of many, one hybrid cloud management platform," Edwards gives a rundown of the functions to look for in cloud management platforms, commercial tools meant to rein in cloud chaos. Among them are integration, so they can pull together disparate computing systems; general services, including a central portal to manage all a company's cloud services; and financial management, to track the resources consumed and how much money is spent on them.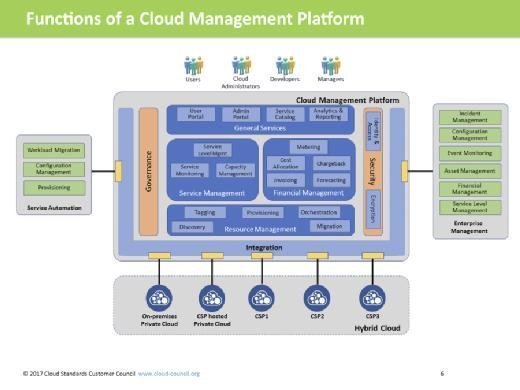 9. Cloud, consolidated
The public cloud firmament is ruled not by a pantheon of platform providers but by a tiny clique of cloud gods. According to an August report by Forrester Research, organizations hosting IT and business operations in the cloud shouldn't let the small number of big players -- Amazon, Microsoft and Google are the top three -- lull them into a one-provider strategy. Those that do may see business come to a halt should the provider experience an outage. Or they may complain bitterly if a provider raises its prices -- and then grudgingly pay up. In "Forrester: Go multicloud, ditch public cloud platform lock-in," analyst Andrew Bartels advises CIOs on ways to reap cloud benefits -- and lower risk.
8. Making data talk
What makes a great data scientist? At a talk at Harvard University, Bob Rogers, chief data scientist at Intel Corp., started with what doesn't: creating a report the business just asked for. A great data scientist needs to understand algorithms and statistics to produce analytics, of course, but "can also communicate with the stakeholders who are going to use those results." In "What Intel's Bob Rogers looks for when hiring data scientists," Rogers describes the detailed "conversation" these practitioners need to have with users of data in order to dig up the insights that matter to the business.
7. Urban renewal
City CIOs examining initiatives aimed at making their cities "smart" -- using data to improve municipal services -- are at a frontier. There are no technical standards for how data is collected and measured. There's no analytical data platform. There's not even one understanding of what a smart city is. "If you go to any smart city conference, you're going to find as many definitions of a smart city as there are attendees," said Bob Bennett, chief innovation officer for Kansas City, Mo. The post "Smart city platform: A work in progress" reports on a conference convened to address big questions swirling around smart city projects today. The verdict? It's too early for answers.
6. What's my job?
Know of a chief digital officer hired to drive employee productivity and operational efficiency? Then the job description is in need of a redo, said Jim Fowler. "That's the role of the CIO," the vice president and CIO at General Electric said at MIT Sloan CIO Symposium in May. Fowler delineates the two roles in "CIO doesn't play chief digital officer role at GE." The CDO should be focused on using data to develop commercial products, Fowler said. At GE, an old company going through huge digital changes, the roles are separate and distinct. As CIO, Fowler is working toward a billion-dollar productivity target. The CDO, who happens to be his boss, William Ruh, "is focused on turning us into a $10 billion software business."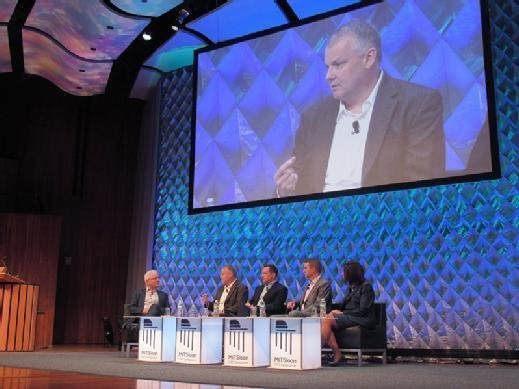 5. The business of AI
CIOs who want to inject AI into their companies' lifeblood have some work to do. Today, 80% of organizations are considering use of AI or examining it, while just a small percentage are using it in their core business, according to McKinsey & Co. research. In "McKinsey: You can't do enterprise AI without digital transformation," McKinsey partner Michael Chui said the entire organization needs to be on board "to move the needle from a corporate standpoint." CIOs need to build the foundation for AI in business first by determining where the potential is -- and then by pushing ahead on digital efforts, digitizing infrastructure, amassing data and making it easy to access.
4. Double take
Rosetta Stone's Mark Moseley is thankful for having been to one boring meeting. The vice president of IT at the language-learning company agreed to meet sales reps from Actifio, which sells copy data management software. "I didn't care," he told SearchCIO in "Waking up to benefits of copy data management software." "I was mostly zoned out of the meeting." Until he realized that the vendor's product could clone an entire database in minutes -- and help his development team work more efficiently. After installing the software, Moseley found he could do other useful tasks, such as virtualize his data, which allows him to have to store less, and spin up disaster recovery sites in the cloud.
3. 'What I want when I want it'
Nestlé's 100-year-old water delivery business is going through an immense transition. The prime objective used to be making sure that customers didn't run out of bottled water before a truck delivered more. "Now it's, 'Make sure you deliver what I want when I want it,'" said Aymeric Le Page, vice president of business strategy and transformation at Nestlé Waters North America. The post "Nestlé builds 'digital ecosystems' to transform its massive bottled water biz" describes the technological and cultural changes the company is ushering in to personalize its service for convenience-obsessed customers -- and it draws a critical parallel to how IT leaders should be thinking about serving the business.
2. My software, my co-worker
AI will supplant the UI, Accenture says; count on it. "Accenture: AI is the new UI" examines the consulting outfit's prediction -- the rise of software tailored to individuals rather than programming for the masses. "The standard way people built applications 20 years ago was you had one interface to serve everybody," said Michael Biltz, managing director of Accenture Technology Vision. CIOs should start overhauling customer-facing applications, Biltz said, equipping them with technology such as voice recognition to make interacting with them "more human or natural" -- and then move to internal apps, to help make employees more effective and efficient.
1. Show me the value
Companies looking to robotic process automation should ditch POC for POV -- that's alphabet soup for proof of concept and proof of value -- according to RPA consultant David Brain in "Proof of value -- not proof of concept -- key to RPA technology." A proof of concept may show customers that the technology works -- that it can automate a certain business process. What it doesn't show is "whether there is a business case for automation and will it deliver the scale of improvements the company wants to achieve." A proof of value for RPA, Brain said, shows whether the technology can automate systems in the precise way they're used in a specific company.
Dig Deeper on Leadership and strategic planning