Conversational commerce rudimentary but full of promise
Conversational commerce between a human and an artificial intelligence is immature and mostly brokered by the tech giants. That doesn't mean CIOs shouldn't put in their two cents.
BOSTON -- The future is conversational; the present is trying hard to be.
Continue Reading This Article
Enjoy this article as well as all of our content, including E-Guides, news, tips and more.
That's according to Julie Ask, principal analyst at Forrester, who was referring to a very specific type of conversation in the future -- mercantile interchanges between a human and an artificial intelligence.
At the research firm's recent New Tech Forum here, Ask examined the present state of conversational business interactions facilitated by AI technologies such as natural language processing and machine learning.
"It's still very early when it comes to conversations," Ask said. "We're on a 10-year journey, at least."
The goal for customer-facing organizations now is to enable customers to use natural conversation, rather than typing, to get services that they need. But advances in AI will eventually take conversational commerce way beyond asking Amazon's Alexa or Apple's Siri to reorder toilet paper. In the future, Ask said machines will become trusted personal assistants, making decisions on our behalf -- just by listening to us -- and delivering "magical" solutions and experiences.
Such as? Such as Ask telling her personal assistant she wants to go to Sydney and then having only to show up at the airport because the machine has assembled all of the different services Ask needs to travel 10,000 miles across the globe.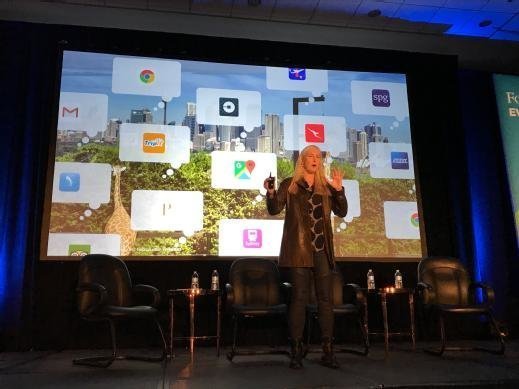 Humans bear the cognitive load
Ask admitted that the "magic" isn't there today when it comes to conversational commerce. Today, consumers do the heavy cognitive lifting in these transactions, engaging with customer services as they would a computer, not a human. A consumer has a need, translates that need into a series of inputs and outputs and then gets some kind of action in return.
AI assistants are a step in the right direction, but they're hardly prevalent -- only about 4% of Fortune 500 companies are using voice assistants, Ask said. And they're definitely not what you'd call great conversationalists.
[Chatbots are] very much [on] a fixed path with fixed answers. If I want to go outside of this paradigm, then I need to elevate to a human being.

Julie Askprincipal analyst, Forrester
Today, chatbots are good at fetching information, presenting information, answering binary questions or checking the status of something. That's not a conversation -- it's a "hard-coded form" made up of decision trees, she said. Once tasks get to be more complex, the ability of chatbots to understand intent begins to break down.
"It's very much a fixed path with fixed answers," Ask said. "If I want to go outside of this paradigm, then I need to elevate to a human being."
Indeed, a lot of chatbot dialogues quickly become chats between two human beings, as customer calls get escalated, Ask said, adding that organizations looking to implement chatbots should count on taking this "hybrid approach."
Tushar Makhija, vice president of sales and success at mobile customer support platform Helpshift, agreed. "One hundred percent automation is not possible," said Makhija, who was a panelist at the New Tech Forum. "We are in the business of creating virtual assistants and not replacing [human] agents."
CIO call to action?
What do CIOs need to do to elevate conversational commerce at their companies? Frankly, a lot of conversational commerce initiatives might be beyond their reach, Ask told attendees. Hiring top AI talent is recommended, but it's scarce and expensive; six- or even seven-figure salaries are often demanded. You also need a lot of bodies to teach the system, but assigning more employees to a chatbot or virtual assistant training process could leave current customers stranded in the meantime.
Data is also critical to conversational commerce. Substantial amounts of data are needed to feed any AI technology, especially ones involving conversation, Ask said.
"It's no surprise that companies like Google, Apple and Facebook are leaders in this field," she said. "They have massive amounts of data to teach these systems." That data gives them power and ability on a scale that smaller companies simply can't achieve.
That shouldn't discourage organizations from riding the conversational commerce wave, especially considering where it will take us in the future, Ask said. But first, they need to make sure chatbots or virtual assistants are the best choice for them.
Her No. 1 piece of advice for CIOs is to follow what Forrester calls the POST methodology: People: What customers do you want to serve and what apps and services they are using? Objectives: What are the specific goals you want to achieve? Strategy: How will you accomplish your objectives? Technology: What technology do you need to deliver an experience best-suited for your customers and objectives? In this approach, the technology decision comes last.
"[The direction you go in] may still be human to human, it may be a chatbot or it may be something that doesn't even work within the conversational context today, given the limitations of the technology," Ask said.
She is also an advocate for conversational commerce pilot projects in which CIOs start small and use interested staff, interns and third parties to trial technologies like chatbots and virtual assistants.
As for the magical stuff -- there are believers out there. Jorge Campos, founder and CXO at digital financial platform provider Exagens, said the goal of conversational interfaces is really about "re-humanizing" experiences.
"Twenty years ago, banking was very human," said Campos, who was also a panelist. "We were engaging with people all the time, and those people were making things about us, not about the product. We need to go back to that."
Dig Deeper on Enterprise artificial intelligence (AI)