News
Stay informed about the latest enterprise technology news and product updates.
How to win in the AI era? For now, it's all about the data
Deep learning pioneer Andrew Ng explains why data, not algorithms, gives companies a first-mover advantage in the current AI era. Plus: the four traits of an AI company.
Artificial intelligence is the new electricity, said deep learning pioneer Andrew Ng. Just as electricity transformed...
Continue Reading This Article
Enjoy this article as well as all of our content, including E-Guides, news, tips and more.
every major industry a century ago, AI will give the world a major jolt. Eventually.
For now, 99% of the economic value created by AI comes from supervised learning systems, according to Ng. These algorithms require human teachers and tremendous amounts of data to learn. It's a laborious, but proven process.
AI algorithms, for example, can now recognize images of cats, although they required thousands of labeled images of cats to do so; and they can understand what someone is saying, although leading speech recognition systems needed 50,000 hours of speech -- and their transcripts -- to do so.
Ng's point is that data is the competitive differentiator for what AI can do today -- not algorithms, which, once trained, can be copied.
"There's so much open source, word gets out quickly, and it's not that hard for most organizations to figure out what algorithms organizations are using," said Ng, an AI thought leader and an adjunct professor of computer science at Stanford University, at the recent EmTech conference in Cambridge, Mass.
His presentation gave attendees a look at the state of the AI era, as well as the four characteristics he believes will be a part of every AI company, which includes a revamp of job descriptions.
Positive feedback loop
So data is vital in today's AI era, but companies don't need to be a Google or a Facebook to reap the benefits of AI. All they need is enough data upfront to get a project off the ground, Ng said. That starter data will attract customers who, in turn, will create more data for the product.
"This results in a positive feedback loop. So, after a period of time, you might have enough data yourself to have a defensible business," said Ng.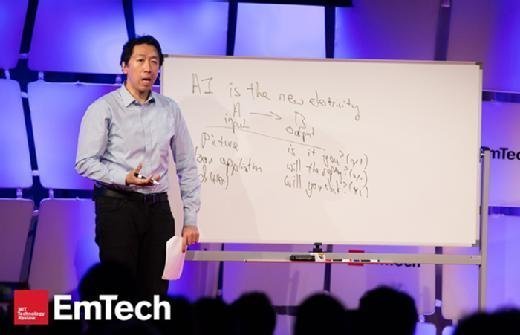 A couple of his students at Stanford did just that when they launched Blue River Technology, an ag-tech startup that combines computer vision, robotics and machine learning for field management. The co-founders started with lettuce, collecting images and putting together enough data to get lettuce farmers on board, according to Ng. Today, he speculated, they likely have the biggest data asset of lettuce in the world.
"And this actually makes their business, in my opinion, pretty defensible because even the global giant tech companies, as far as I know, do not have this particular data asset, which makes their business at least challenging for the very large tech companies to enter," he said.
Turns out, that data asset is actually worth hundreds of millions: John Deere acquired Blue River for $300 million in September.
"Data accumulation is one example of how I think corporate strategy is changing in the AI era, and in the deep learning era," he said.
Four characteristics of an AI company
While it's too soon to tell what successful AI companies will look like, Ng suggested another corporate disruptor might provide some insight: the internet.
One of the lessons Ng learned with the rise of the internet was that companies need more than a website to be an internet company. The same, he argued, holds true for AI companies.
"If you take a traditional tech company and add a bunch of deep learning or machine learning or neural networks to it, that does not make it an AI company," he said.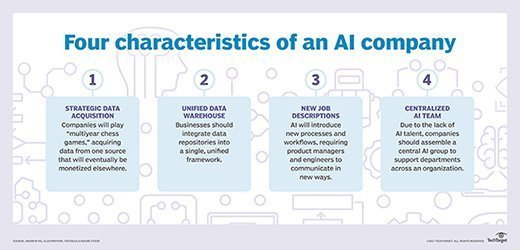 Internet companies are architected to take advantage of internet capabilities, such as A/B testing, short cycle times to ship products, and decision-making that's pushed down to the engineer and product level, according to Ng.
AI companies will need to be architected to do the same in relation to AI. What A/B testing's equivalent will be for AI companies is still unknown, but Ng shared four thoughts on characteristics he expects AI companies will share.
Strategic data acquisition. This is a complex process, requiring companies to play what Ng called multiyear chess games, acquiring important data from one resource that's monetized elsewhere. "When I decide to launch a product, one of the criteria I use is, can we plan a path for data acquisition that results in a defensible business?" Ng said.
Unified data warehouse. This likely comes as no surprise to CIOs, who have been advocates of the centralized data warehouse for years. But for AI companies that need to combine data from multiple sources, data silos -- and the bureaucracy that comes with them -- can be an AI project killer. Companies should get to work on this now, as "this is often a multiyear exercise for companies to implement," Ng said.
New job descriptions. AI products like chatbots can't be sketched out the way apps can, and so product managers will have to communicate differently with engineers. Ng, for one, is training product managers to give product specifications.
Centralized AI team. AI talent is scarce, so companies should consider building a single AI team that can then support business units across the organization. "We've seen this pattern before with the rise of mobile," Ng said. "Maybe around 2011, none of us could hire enough mobile engineers." Once the talent numbers caught up with demand, companies embedded mobile talent into individual business units. The same will likely play out in the AI era, Ng said.
Dig Deeper on Enterprise artificial intelligence (AI)