News
Stay informed about the latest enterprise technology news and product updates.
A general tells CFOs what people want from leaders in crisis times
Times of crisis require certain leadership traits beleaguered business execs would do well to cultivate. That was the pitch from a retired general at the MIT Sloan CFO Summit.
NEWTON, Mass. -- People in crisis situations -- young men and women under enemy fire, as an example -- look for...
Continue Reading This Article
Enjoy this article as well as all of our content, including E-Guides, news, tips and more.
one trait above all others in their leaders. The ability to motivate, a top leadership trait under ordinary circumstances, isn't it.
"In a crisis, people may not look like it, but they are already spun-up," said Thomas Kolditz, a retired brigadier general and leadership guru, to a packed room of CFOs Thursday. "You do not need to be a cheerleader; what you need to do is take that arousal and give it direction, because that's what they want."
The No. 1 competency people want from leaders in crisis situations is the ability to look outside oneself -- to take in the situation and understand people's roles in it, or what Kolditz called a "learning posture." In his experience, the great leaders in crisis situations are "not the high-motivator types."
"They tend to be very quiet, humble people, who when they walk into a room, everybody kind of calms down," he said.
Kolditz, the former chairman of the department of behavioral sciences and leadership at the U.S. Military Academy and founding director of the Doerr Institute for New Leaders at Rice University, was a keynote speaker at the MIT Sloan CFO Summit, a high-wattage event now in its 15th year. He doesn't think much of the "weak" leadership training available today or the literature: "There's more junk books, junk ideas, people just saying what they think; it's awful." This, of course, makes for compelling fare at C-level events, where the atmosphere tends to be thick with leadership clichés.
Still, it was not immediately clear how research Kolditz began years ago at West Point on the behavior of effective leaders in crisis -- when such skills have life-and-death consequences -- applied to a roomful of finance executives.
Learning how people react in crisis situations
To connect the dots between the CFO event -- themed "Balanced Chaos" -- Kolditz asked the audience to watch a documentary video featuring three people: a young American soldier who survived a wound to the abdomen by a rocket-propelled grenade while serving in Afghanistan, the West Point-trained Army surgeon who treated him, and the bomb disposal expert who got the unexploded ordinance out of his body. In the video, each person is asked to recount these dramatic events. "I want you to pay particular attention to the dialogue," Kolditz said.
The solider recalled that he was hyper-aware of logistical details at the time, the rush around him and the whir of the helicopter. Also, his family -- if he would see them again, how they would be provided for even if he did survive. "I felt peace," he said, knowing he would die doing his duty, but "you also feel like you want to fight, too," for your life.
The surgeon remembered being shocked at the sight of a bomb "with fins" sticking out of a man's pelvis. He also recalled immediately understanding that the soldier could not be allowed in the operating station, but instead had to be treated as an "expectant patient" -- as in expected to die -- and kept at a distance to prevent the possibility of his blowing up and harming others.
"I was scared. I was scared s---less," the doctor said. But looking at the soldier looking at him, he was "not going to let him die." The bomb-disposal expert said he was unaware of anything around him as he worked on removing the bomb from the soldier.
"It was just a vacuum with no noise" until the bomb was out; then, "the world came back in play and I started shaking. It was complete relief," he said. In the video, all three men narrated the real-time events in steady voices; it was only at the end, when they were relating the outcome, that they became emotional and cried.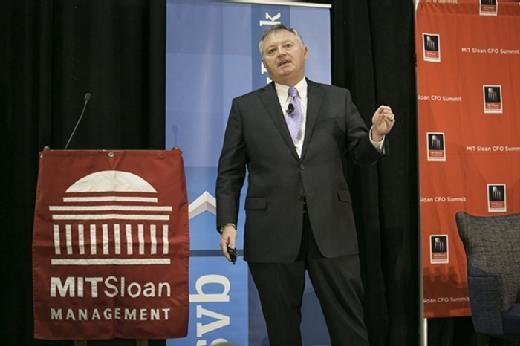 Lessons for leaders in crisis
The narratives hold important lessons for business leaders in crisis situations, Kolditz contends. Executives have great responsibility to their employers. Faced with a crisis, they focus on the crisis and the company. But it is critical to understand how the people working for them feel about the crisis, Kolditz said -- and how these people will act.
Many employees caught up in a crisis feel like the gravely wounded soldier, wondering if they and their families will survive. Executives charged with fixing the situation "have to understand their perspective, or you will say the wrong thing to them," Kolditz said. Others, like the doctor, will break managerial policy, believing they are doing the right thing. "In a crisis, the probability of people taking shortcuts that you don't want them to take goes way, way up," the research shows. Executives must be aware of that. Finally, expect the cool-headed, uber-competent people who navigate expertly through a crisis to become emotional when the danger is past.
Leaders in crisis: Five 'In Extremis' principles
Who doesn't need advice in how to battle through crisis situations? According to Kolditz, roughly 50% of the audience he's addressing are or have recently dealt with a personal or professional crisis. The example he showed of a young mother of two who survived a heart transplant and is "almost normal" is his daughter, and that crisis not only had an impact on her but everyone around her.
In Extremis Leadership, Kolditz's book on leading in high-risk situations, lays out five principles for leaders to keep uppermost in mind:
Inherent motivation -- stop cheerleading: For the NCAA athletes he interviewed for the book, the No. 1 trait they looked for in their captain was the ability to motivate. Not so in crisis situations.
Outward orientation -- task focus manages fear and anger: A leader in crisis situations must only focus outward, but keep employees focused on the task at hand. "Now is not the time to let up," because if you do, employees will turn inward and dwell on how they feel, which is angry and fearful.
Shared risk -- be seen: Let employees see you work, or they will never understand the competence that got you where you are.
Common lifestyle -- don't advantage yourself: Military chiefs, like Fortune 500 execs, enjoy certain perks attached to the title. Don't indulge; you'll appear out of touch. Show employees you have skin in the game and something to lose if things don't work out.
Competence, loyalty, trust -- in that order: The social capital leaders build through perks like wine-and-cheese parties, golf games or being a great conversationalist go out the window in a crisis. Competence is what they look for in a leader. That's how you build trust.
Two more things: The great leaders Kolditz has met have an "optimistic, positive vision of the way ahead" and then "a lot of skill at making it happen," he said. They also have the personal self-control "to not eat too much, drink too much, to get your exercise and get your sleep."
CIO news roundup for the week of Nov.13
The MIT Sloan CFO Summit was not the only high-stakes game around this week. Here's some other news of import for CIOs:
AI in the workplace myths debunked. A recent study by global professional services firm Genpact found that only 10% of surveyed workers "strongly agree" that AI threatens their current jobs. Nearly half of the respondents said they would be at least comfortable working with robots, but nearly 90% believe younger people need new skills to succeed as AI becomes prevalent, and 58% fear that AI threatens the future generations' career prospects. "Our research shows that employees want and need additional skills to embrace these opportunities and companies must respond," Sanjay Srivastava, chief digital officer at Genpact, said in a statement. The study surveyed more than 5,000 people in the U.S., U.K. and Australia.
Intel unveils 5G modems. On Thursday, Intel unveiled its first commercial 5G modem designed to accelerate the adoption of 5G. The Intel XMM 8060 modem is capable of delivering multimode support for the full 5G nonstand-alone and stand-alone new radio, as well as various 2G, 3G and 4G legacy modes, the company touted. Additionally, the Intel XMM 8000 series -- the company's first family of 5G new radio modems -- will enable a range of devices to connect to 5G networks. "Our investments in a full portfolio of modem technologies and products are critical to achieving the vision of seamless 5G connectivity," Cormac Conroy, Intel's corporate vice president and general manager of the company's communication and devices group, said in a statement. Intel's commercial 5G modems are expected to hit the market in mid-2019.
Tesla unveils Semi. In a bid to redefine trucking, electric-car maker Tesla unveiled its first electric semi-truck that the company said will offer huge fuel cost savings. The truck, called simply Semi, will have a 500-mile range on one charge and a built-in connectivity that integrates directly with a fleet's management system to allow routing and remote monitoring. Production of the semi-truck is expected to begin in 2019.
Assistant editor Mekhala Roy contributed to this week's news roundup.
Check out our previous Searchlight roundups on AI and the unready enterprise, Forrester's top 10 technology trends and the enterprise use case for Google Glass.
Dig Deeper on Leadership and strategic planning