Top technology trends will put CIOs, companies in warp-speed mode
Don't get too attached to those predictive models you've been churning out. In a few years, software will be calling the shots. Also: CIO salaries surging; first robot citizen.
CIOs, drop your plans.
Continue Reading This Article
Enjoy this article as well as all of our content, including E-Guides, news, tips and more.
In three years, you will be doing something completely different from what you are doing right now. That was the message from Forrester Research analyst Brian Hopkins, who spoke to me this week about the firm's recent report on top technology trends affecting IT leaders.
The tech trend that will make your current three- to five-year plans obsolete, according to Hopkins, is No. 5 on the list: software learns to learn. With improvements in AI -- bolstered by the explosive growth in speech analytics, deep learning platforms and natural language generation -- all of the software that your IT teams used to have to program with rules will be able to program itself. This evolutionary tweak will turn business models on their heads.
"If software learns to learn, what that means over time ... is we're going to have to rethink how we engineer our businesses around software, because software will be able to do things for us as it learns and as it gets taught and ... won't require us to make decisions ahead of time and to fix our business rules via programming," a co-author of the report, Hopkins said.
All those predictive models you've been churning out for the business the last few years -- they're headed for irrelevancy. In fact, they probably already are starting to decay, Hopkins said. His advice for the future?
"The tip [for CIOs] is, begin to invest in technologies that enable the next generation of models to train and learn themselves, so they don't require recoding, retesting and redeployment in the future," he said, offering up a motto for your revised three-year plan: "Become agile, rebuild and be superfast."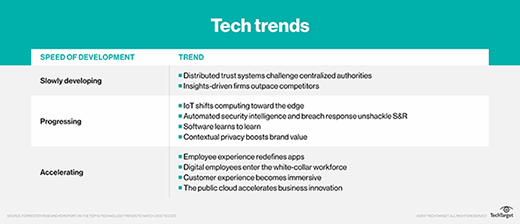 Blockchain disruption
Another "profound" trend to watch out for is how distributed trust systems like blockchain technology are changing business relationships, Hopkins said. Distributed trust systems challenge centralized authorities, ranks second in Forrester's top technology trends list. The report defines distributed trust systems as a network of "methods, technologies and tools that support a distributed, tamper-evident, and reliable way to ensure transaction integrity, irrefutability and nonrepudiation."
The immutability and transparency such systems provide will enable business relationships to form without the need for centralized authorities like banks, Hopkins s explained. That will radically change the way business gets done, and CIOs should be ahead of it. He recommends CIOs start or participate in a working group that is charting how distributed ledger technologies will change business relationships in their industry, he said.
Preeminence of public cloud
Those are among the bleeding edge technology trends that CIOs need to start preparing their companies for now.
Public cloud, which ranks No. 10 in Forrester's top technology trends list, is the tech trend that you'd better be on top of this minute. Public cloud technology is reinventing computing and the high tech industry itself in real time -- and it will be the death of corporate data centers. "Most companies won't be able to build out a data center to match the cloud's public capabilities or efficiency," the reports stated. Those CIOs not moving aggressively to the cloud are already missing out, said Forrester analyst and co-author Bobby Cameron -- and they are doing their companies a disservice.
"Cloud is a good way to avoid some of the early-stage investment hurdles that they would have to jump if they were focused too much on internal processing," he said. "It's a way to drive innovation and rapid time to market for new customer-oriented capabilities."
Automated security, customer privacy
What else should panic CIOs? There are two trends that CIOs are most likely to miss out on, Cameron said.
The first is the advent of automated security intelligence and breach response unshackle security and risk, a trend driven by AI, which ranks third in the report, Cameron said. While security pros are starting to embrace automation to speed up detection and response, there is a resistance from the business when it comes to spending money on security, he said. "Companies who are consumer-oriented might have more of an inclination to respond, but it's probably the one that CIOs will end up not having as much success with getting funded."
CIOs can't wait for their competitors to figure out the best technologies and be a slow follower. They have to at least be a fast follower, if not a leader in the modern world, because the speed of change is so great.

Bobby Cameronanalyst, Forrester
The second is a trend Forrester lists as contextual privacy boosts brand value. The report defines contextual privacy as a business practice where the collection and use of personal data is consensual, within a mutually agreed-upon context and purpose -- in other words a win-win for companies and customers. Customer experience is still very immature, Cameron said, and companies are less likely to adopt contextual privacy, because it calls for a lot of work.
The list of all top 10 tech trends can be found in the chart, below, which includes Forrester's categorization of these trends as slowly developing, progressing and accelerating. Read Hopkins' blog post on the report for more details.
But, CIOs should not wait for experts -- or worse, for their competitors -- to tell them what technologies to invest in, Cameron cautioned. He suggested CIOs track and create a watchlist of emerging technologies and choose some to bring in and test.
"CIOs can't wait for their competitors to figure out the best technologies and be a slow follower. They have to at least be a fast follower, if not a leader in the modern world, because the speed of change is so great," Cameron said.
CIO news roundup for week of Oct. 23
While Forrester's top technology trends report is something CIOs should keep an eye on, here's what else made news:
Digitization boosts CIO salaries. The average CIO salary jumped 37% in the last two years as companies increasingly demand implementation of digital-based business models, according to an analysis by executive recruiter Korn Ferry International for The Wall Street Journal. The analysis found average compensation for a Fortune 500 CIO is now $2.6 million, up from $1.9 million in 2015. CIO performance is also more likely to be judged based on financial outcomes: The at-risk portion of CIO compensation tied to corporate and technology goals grew to 68% in 2017 from 58% in 2016, Craig Stephenson, managing director of Korn Ferry's North American CIO practice, told The Journal.
IT investments in AI and machine learning are surging. The International Data Corporation predicts spending on artificial intelligence and machine learning will grow to $47 billion by 2020 from $8 billion in 2016. The figures were cited in The Global CIO Point of View, a study by ServiceNow and Oxford Economics that surveyed 500 CIOs in 11 countries. The survey found 89% of CIOs are either planning to use or are using machine learning in their organizations, and 53% reported that machine learning is one of their core priorities in efforts to improve revenue. The CIOs reported that the machine learning capabilities most attractive to them were automation of repetitive tasks, making complex decisions and recognizing data patterns. The IDC also predicts that by 2019, 40% of digital transformation initiatives will be supported by machine learning and artificial intelligence, according to the study.
Robot granted citizenship. Saudi Arabia bestowed citizenship on a robot named Sophia ahead of the Future Investment Initiative held in its capital on Wednesday. Sophia is the first robot in the world to be granted citizenship, and she told a panel audience at the Future Investment Initiative that she is "honored and proud of this unique distinction." Sophia addressed the room from behind a podium at the event, and responded to questions from moderator and journalist Andrew Ross Sorkin, Business Insider reported. Sophia's creator, David Hanson of Hanson Robotics, said robots like Sophia are designed to help seniors in elderly care facilities and assist visitors at parks and events.
Senior site editor Ben Cole contributed to this week's news roundup.