carloscastilla - Fotolia
On cloud-first policy, not all companies are equal
At Symposium 2017, Gartner contemplated IT's 'cloud-only' future, but an informal survey of attendees revealed that many enterprises have yet to adopt a cloud-first policy.
Cloud guru Daryl Plummer had some weighty numbers to share with the CIOs and other IT folks at Gartner's Symposium/ITxpo in Orlando, Fla., earlier this month: By the end of the year, 77% of organizations will have adopted some type of cloud computing. And by 2019, nearly 90% will be using cloud.
"Cloud-first is the mantra for the day," said Plummer, a Gartner fellow and research chief. He was referring to the policy many organizations are adopting that requires them to choose cloud computing for new tech iniatives unless there's some reason, regulatory or otherwise, not to. "Maybe next it'll be cloud-only. But today we're still in a cloud-first mode."
Well, some organizations are -- and they're blazing a path in the cloud, seeking and even reaping vaunted benefits such as lower overhead costs, near-zero maintenance, and the ability to quickly experiment and scale up or down in response to even the ficklest business demand.
Judging by IT leaders attending the conference, though, organizations today vary widely on whether they've adopted a cloud-first policy, the types of cloud services they've taken on, the pace at which they're adopting them and how they're rolling them out. And some are -- to use Plummer's term -- lingering in the "cloud-maybe" phase.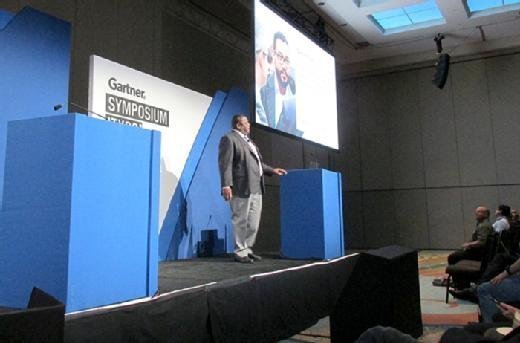 'An enabler'
PBF Energy, for example, a petroleum refining company in Parsippany, N.J., is in a "very conservative industry," said director of applications Yael Urman, and has just started moving pieces of its IT and business operations to the cloud.
I think cloud is not a target, but it's an enabler. My target is to bring value or to add to the top line and the bottom line.

Yael Urmandirector of applications, PBF Energy
The company uses a cloud infrastructure deployment by Amazon Web Services as an archive and moved to Workday's cloud application for human resources a few months ago. Beyond that, business applications are on physical servers, and as yet there is no strategy for moving to cloud, Urman said.
"Previously we liked everything on prem, and now we understand that there are more options and we should consider them," she said.
Indeed, PBF Energy is mulling a cloud-first policy. Now, for example, the company uses SAP's enterprise resource planning system -- traditional, server-bound software. But when the time comes to renew the hardware that software sits on, it may consider a switch to a cloud infrastructure service and building ERP on that.
Changing the company's IT focus to cloud would suit PBF Energy, Urman said, because the company grows by acquisition, so computing power could be easily ramped up as refineries are added.
And cloud makes business sense, she said. Today, PBF Energy hooks sensors on field equipment to the device-connected internet of things for information on machine wear and tear. In the future, technologies such as artificial intelligence, which requires the storage capacity and processing power cloud can provide, could be layered on top to refine data collection efforts and make smarter parts-replacement decisions, potentially saving hundreds of millions of dollars. Cloud for cloud's sake is the wrong way to go, Urman argued.
"I think cloud is not a target, but it's an enabler," she said. "My target is to bring value or to add to the top line and the bottom line."
Cloud exploration
Bill Schneider is also from the slow-to-cloud oil and gas industry. And like Urman, the vice president of IT at Pioneer Energy Services in San Antonio, is eyeing cloud technologies to someday house and crunch vast amounts of sensor data -- and tap new business value.
But the company, which offers drilling and well services, has a way to go. It has a private cloud implementation and is piloting applications in the public cloud "to get a better understanding of how we could move some of our critical infrastructure there." As for current critical company data or applications in the public cloud: "We haven't taken that leap yet," Schneider said.
Pioneer Energy Services also hasn't yet tapped the cloud for a popular use: trying new things. But Schneider is not blind to the wisdom of doing innovation in the cloud over the alternative: buying a server, setting up networking and building software.
"That's where we would put it, honestly," he said. "If we were to develop something, especially in the digital space, I think it has to live on the cloud."
Cloud-first policy in motion
BECU, the fourth largest credit union in the U.S., is farther along on the journey to cloud. Julie Wesche, vice president of technology operations at the Tukwila, Wash., financial institution, is working to "get out of the data center business."
That entails examining the whole range of as-a-service options -- software, infrastructure and developer-centric platform -- and determining where they might fit in BECU's IT operations, Wesche said. The company is also looking at the possibility of using colocation facilities, or colos -- data centers that rent physical space for servers, power and cooling -- for other parts of its IT environment.
So far, Wesche sees a lot of room for more SaaS -- human resources and recruiting are good matches, for example. Applications requiring colo cloistering are fewer. Those include systems with information that can't move to the cloud because of regulatory compliance, because the information is too sensitive or because the technology is not compatible with a cloud provider's.
"We're having a lot of conversations with vendors," Wesche said. The credit union has persuaded some vendors to support applications in the cloud. Legacy systems, though, are a no-go. "Some of them, because of what they are, the vendors will not support them [in the cloud]."
BECU is 26% in the cloud and more than 90% virtualized -- and that's helping it to become a cloud-centric, post-data-center organization, Wesche said. Could it ever hit the all-cloud mark or close to it?
"Out there, out there. I think we'll end up with a majority in the cloud over the next 18 months," she said. "But yes, I think it will be the exception that would be in a colo space."