Gartner Symposium 2017: Zen and the art of digital business
Companies doing digital projects aren't yet digital businesses, Gartner analysts warn. Deep thought may help. Also: Russia's NSA exploit; Facebook to open Virginia data center.
Marc Benioff is deep. For an interviewer, the Salesforce CEO is also somewhat unruly and hard to steer. At Gartner's...
Continue Reading This Article
Enjoy this article as well as all of our content, including E-Guides, news, tips and more.
annual Symposium/ITxpo in Orlando, Fla., Benioff parlayed a well-meaning question from Gartner analyst Yefim Natis about whether the cloud software company's prices could drive companies away into a discussion about "disruption," the shape-shifting buzzword used to describe getting derailed by smart competitors, innovation and meditation. Yes, meditation.
"If you want to be a great innovator, then you have to cultivate a beginner's mind. You have to get up every morning just like I did and take a few minutes and do some mindfulness," Benioff said to a packed house of CIOs and senior IT leaders, referring to the Zen Buddhist principle of seeing the world with fresh eyes. "And if you can't do that, then I don't think you can innovate. If you can do that, then you can continue to innovate."
Benioff's ability to "let go," as he put it, will keep IT leaders one step ahead of disruption, the threat of which he said is inescapable in technology and "what makes our industry so exciting."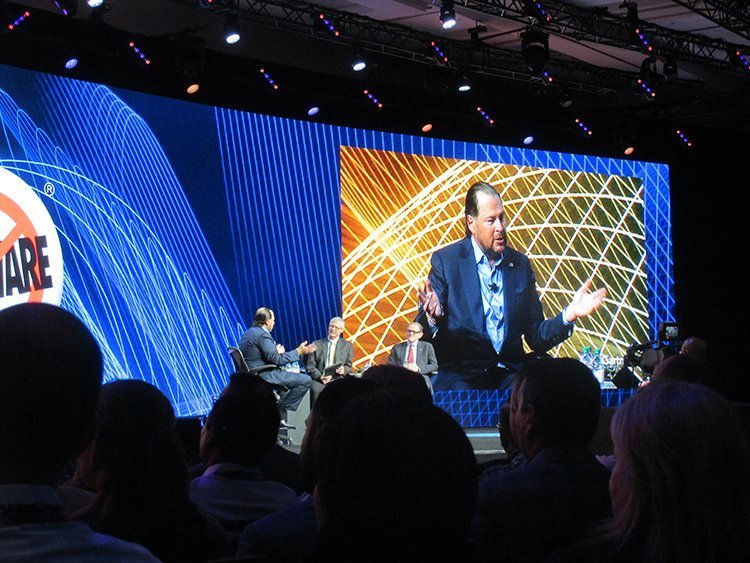 His comments punctuated the key message of Gartner Symposium 2017: To thrive in today's digital marketplace, companies need to push past doing one-off digital projects and metamorphose into "digital businesses" -- meaning they must use digital technologies to change not just processes but how value is created for customers.
Companies that have figured that out are "finding new opportunities and then attacking the weaknesses of incumbents," said Gartner analyst Peter Sondergaard in the gathering's Monday kickoff event.
'Digital shakeout'
One such opportunity was in the clothing industry. In 2005, traditional clothing stores thought customers' need to try on sweaters, dresses and slacks would insulate them from the threat of online marketplaces. Instead, this year Amazon became the largest clothing retailer in the U.S. And disruption won't stop at clothes.
"E-commerce and digital are affecting every retail sector, and a clear pattern has emerged," Sondergaard said. "Once digital revenues for a sector hit 20% of total revenue, the digital shakeout begins."
Fire yourself as a delivery executive, and hire yourself as an IT business executive.

Andy Rowsell-JonesGartner analyst
CIOs must work to make sure they're not on the receiving end, he said. Gartner analyst Andy Rowsell-Jones, in a talk on the role of the CIO in the digital era, said the CIO job is taking a turn from the executive who's focused on delivering IT. He cited new research that found that "top performers" -- companies that factor digital technology into their strategic planning -- generate more revenue from digital initiatives than their peers do.
And 84% of CIOs at top organizations are reinventing their portfolios, Rowsell-Jones said, becoming more business-focused, influencing business strategy and pushing innovation. He had some blunt advice for attendees.
"Fire yourself as a delivery executive, and hire yourself as an IT business executive."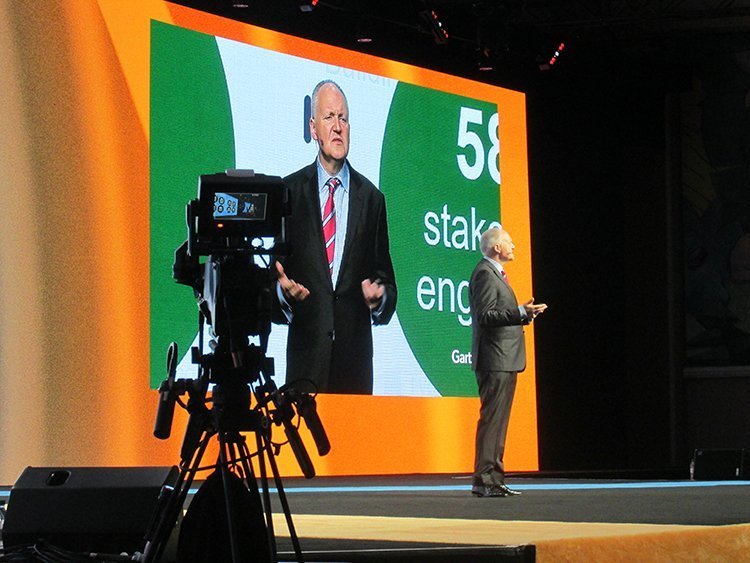 Furnishing innovation
One IT leader who has embraced technological advancement to usher in business value is Steve Wilder, CIO and CFO at Florida retailer City Furniture.
A few years ago, the company found itself in a bind. It had a robust e-commerce business, with its website listing the company's inventory of living and dining room sets and the like. But when customers walked into one of 27 showrooms in the state and asked about an item that wasn't in the store, salespeople were at a loss. They'd have to walk away, look up the answer in the sales system, walk back onto the floor and then "you'd hope to re-engage with the customer if you were fortunate before they walked out the door," Wilder said.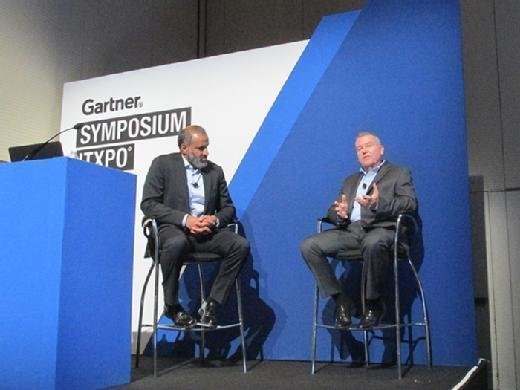 City Furniture wanted its showroom salespeople to have answers to customers' questions at their fingertips, and Wilder found the answer in a mobile application. First, reps would need a device they would "carry around for eight to 10 hours a day" and not leave on a desk, Wilder said. So he gave them options, and they chose Apple's iPad.
Then came the design of the app, and the retailer needed help. It was a big user of IBM, which had just formed a partnership with Apple. IBM offered City Furniture the opportunity to join a design workshop in Apple's hometown, Cupertino, Calif. Wilder accepted and went west with sales reps, who guided Apple and IBM engineers in the design of the app.
Back in Florida, the finished app "really is changing our world," Wilder said. It has features and functions that keep salespeople on the floor with customers, not running back to a computer. As a result, he said, the company improved the experience customers have in showrooms, and financial returns have proved that.
Talk the (business) talk
Gartner Symposium 2017 attendee Fariba Kassiri said communication is critical to technology innovation success. As assistant chief administrative officer for the Montgomery County, Md., government, she oversees internal aspects of government, such as audits and keeping track of key performance indicators.
The county CIO, Sonny Segal, encouraged Kassiri to go to the Gartner conference to gain a new appreciation of emerging technology. One of his strengths, she said, is to clearly explain what effects an IT project will have.
"He doesn't talk about IT stuff," Kassiri said. "He talks about the value of the service -- how it will impact the residents, the businesses in Montgomery County."
One project Segal has championed is an open data program, which shares government data on things like crime, business and the environment with residents so they can contribute and help improve services. He also managed a move to Microsoft's cloud productivity software, Office 365.
"I remember when it was initially explained to us, it was kind of hard to understand. But he did it his own way," she said. "We're in cloud now, and we were able to save a million per year. It's like, 'Whoo!'"
CIO news roundup for the week of Oct. 2
With 7,500-plus attendees and the daily onslaught of conference headlines, Gartner Symposium 2017 felt like the center of the tech universe. But there was plenty of other tech news this week:
Russian hackers exploited antivirus software to access NSA secrets. Russian-made antivirus software developed by Kaspersky Lab is being linked to a National Security Agency breach, according to a Wall Street Journal report published Thursday. Hackers working for the Russian government stole details of U.S. cybertactics after an NSA contractor put the highly classified material on his home computer, the report states. The employee had the Russian antivirus software installed on his home computer, according to the report. Representatives from Kaspersky Lab, a Russian cybersecurity company headquartered in Moscow, said the company "has not been provided any information or evidence substantiating this alleged incident, and as a result, we must assume that this is another example of a false accusation." The company sells its antivirus products in the U.S. and has more than 400 million users worldwide.
Facebook to build new data center in Virginia. The social media giant is building its next data center in Virginia's Henrico County, Gov. Terry McAuliffe announced Thursday. Facebook plans to invest $1 billion in the state: $750 million toward construction and $250 million to build multiple solar facilities that will power the data center, McAuliffe added. The project is expected to create thousands of construction jobs and 100 full-time jobs. "One of the many important factors in our search for a new data center location is being able to source clean and renewable energy. We also look for great partnerships within the local community, robust infrastructure ... and a strong pool of local talent," Rachel Peterson, Facebook's director of data center strategy, said in a statement.
Oracle launches blockchain cloud service. The tech giant unveiled its distributed ledger cloud platform at OpenWorld 2017 this week. The platform is designed to help customers increase business velocity, generate new revenue streams and reduce cost and risk, the company touted. "Oracle Blockchain Cloud Service provides enterprise-grade blockchain capabilities and is able to accelerate innovation for on-premises ERP and cloud-based SaaS and PaaS [platform as a service] customers," Amit Zavery, senior vice president of Oracle Cloud Platform, said in a press release. In other blockchain news, the Chamber of Digital Commerce is leading the first blockchain trade mission to Dubai as part of the efforts to make Dubai the first blockchain-powered city in the world by 2020.
Assistant site editor Mekhala Roy contributed to this week's Searchlight news roundup.