osorioartist - Fotolia
Coding school bets on scholarships to put more women in tech jobs
The Flatiron School, a coding boot camp in New York, is lowering tuition for aspiring female technologists. The goal: to get more of them into a male-centric field.
To draw more women to its immersive software engineering and web development programs, the Flatiron School is granting them scholarships. The coding boot camp awards 25 women a month 50% off tuition for its online program and a $1,000 discount for every woman who attends in person at its New York campus.
The Women Take Tech scholarship program is designed to put more women in tech jobs, said Flatiron School COO Kristi Riordan. According to the school's 2017 report on student employment, 97% of graduates get jobs; 35% of grads were women.
The program's goal is three-pronged: to raise awareness among women about opportunities in technology, give them the confidence they'll need to thrive in a male-dominated market and give them access to the training needed for high-paying tech careers. Tuition at the Flatiron School is $15,000 for the 15-week on-campus program and $1,500 a month for its online course. Considering many of the school's female students are in their mid-30s and some have children, that's not cheap.
"We believe it's really crucial that women believe they can financially take the risk to pursue a program like this," Riordan said.
Since launching the scholarship program in January, the school has seen the percentage of women in its online program jump from 30% to 50%.
The Flatiron School scholarships are part of a nationwide push to get more women in tech jobs. For example, Harvey Mudd College, in Claremont, Calif., retooled its curriculum to make it more accessible to students with limited computer experience. The percentage of the computer science majors went from 10% women to 40% in five years, and today stands at 55%, the Los Angeles Times reported in January.
Carnegie Mellon University, in Pittsburgh, has also enacted reforms, which helped increase the percentage of female comp-sci majors to nearly 50% in 2016. And President Donald Trump, who has drawn more ire than praise for his efforts at inclusivity, this week mandated that $200 million go toward technology education grants for women and minorities.
Needed: More women in IT
But technology hasn't proven to be a friendly place for women of late. The nation's tech mecca, Silicon Valley, is still smarting from high-profile reports of sexual harassment and bias, and some male technologists are calling women-in-tech recruitment unjust to men, The New York Times reported Saturday. Their complaints are getting louder, too, as some feel emboldened by James Damore, the Google engineer who was fired after arguing in a company post that biology could be behind why there are fewer women than men in the technology field.
According to the U.S. Department of Labor, women make up 26% of people in computer and mathematics jobs.
We need to make sure that we have broad sections of society who are participating in the future of work. If we don't help women be a participant in those future opportunities, I think we're going to have societal instability.

Kristi RiordanCOO, the Flatiron School
Getting more women in tech jobs is a good and necessary thing, Riordan said. For one, more women in the labor pool means more talent to tap. If just a fraction of the women who make up about half of society are suited for technology jobs, "think about how much you are limiting the ability to hire talent," she said.
There's a long-term benefit, too. Technology is edging into practically every precinct of daily life and will play a colossal role in the future of work in general, Riordan said. So tech jobs can't be meted out mainly to one gender or the other.
"We need to make sure that we have broad sections of society who are participating in the future of work," she said. "If we don't help women be a participant in those future opportunities, I think we're going to have societal instability."
Gender diversity is also good business. Investment bank Morgan Stanley reported in a May study that companies with high diversity -- a workforce consisting of close to 50% women, 50% men -- delivered an average 5.4% more in revenue returns than their peers with gender imbalances.
Enter PCs, exit girls
The reason for the low percentage of women in tech jobs was explored in a 2014 National Public Radio broadcast. Throughout the 1970s and early 1980s, the percentage of women in tech jobs was inching toward 40% -- until 1984, when it started to fall. That's the same time personal computers became commercially popular -- but they were marketed for boys, not girls. Eventually, computers became a guy thing. In 2014, the last year accounted for by the National Science Foundation, the percentage of women in computer science was under 20%.
"Now we've started to see an awareness of this," Riordan said. "We cannot talk about technology as a gender-driven thing. It needs to be something that is accessible, and there's an aptitude for it across those genders."
Geared toward males for more than 30 years, technology can seem like an undiscovered country to many women, Riordan said, even those naturally inclined to it. She relayed the story of a former student who, as a freshman in college, decided to major in computer science.
"She looks around the classroom. She's the only woman," Riordan said. "She's talked to in a way that made her feel like she didn't belong."
Eventually, she dropped out of the computer science program. After graduating college, she became a librarian with the tedious work of cataloging book metadata. Thinking there had to be a better way, the woman drew on her computer science background.
"She found a way to write a script and more efficiently catalog all of the book data," Riordan said. The woman applied to the Flatiron School, graduated and went back to library science, this time as software engineer at the New York Public Library.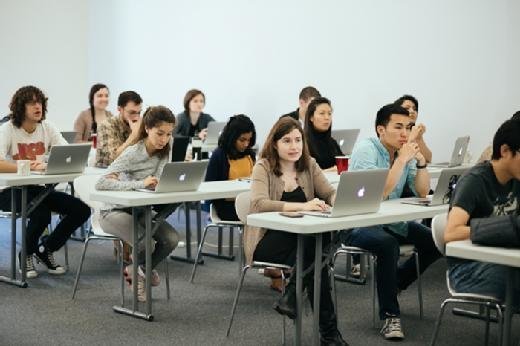 A comfortable space
Riordan said the school tries to make women feel like they're where they should be. For instance, female students get training on how to dispel impostor syndrome -- the strong feeling that they don't deserve the job, education or opportunity they have.
"It's crucial to help women to understand that if they have self-doubts that [technology] isn't a field they can do, that we help them understand why they can," Riordan said.
The school also invites female technologists in New York to speak to students about their work and careers. Flatiron School alumni and members of its engineering or teaching staff are also tapped to talk about their experiences.
The response from female students, Riordan said, has been overwhelmingly positive: "'Yes, there are women out there,' and 'Yes, they can share what their experiences are like,' and 'Yes, it's not necessarily as scary as any of the things that are being reported on in the press,'" she said. "There are many organizations, especially here in New York City, where women are thriving in tech and thriving in leadership roles."
Dig Deeper on IT staff development and retention