Celebrating historic roots, State Street endorses cloud for business
The investment bank has a private cloud; now it's evaluating offerings in the public cloud for business aims: new technology to improve customer services.
For financial services executive Lou Maiuri, the cloud is an outlet in which to plug new technologies -- and gain...
Continue Reading This Article
Enjoy this article as well as all of our content, including E-Guides, news, tips and more.
new business. The reason: It offers a lot of power at a relatively low price.
"There's a cost play; there's a scale play," Maiuri said. "Innovation is another one."
His company is indeed innovating, experimenting with avant-garde tech like artificial intelligence (AI) and natural language processing. But it's no startup -- it's Boston investment bank State Street Corp. And it's been in business for 225 years.
Maiuri, executive vice president and global head of State Street's research and trading, and data analytics divisions, was one of a handful of execs at an anniversary event in Boston on Wednesday. His sights are cast firmly on the company's future. In an interview, he discussed how cloud computing is the right fit for technology initiatives such as machine learning, the algorithmic engine behind AI.
For such endeavors, "you truly want to grab a lot of data and do tons of high-computational analysis with it," Maiuri said. "To build a physical plant to do that doesn't make sense."
Looking way, way back
State Street CEO Joseph "Jay" Hooley sought to give some perspective on the bank's long history to the dozen or so members of the media. The U.S. Mint was founded the same year, 1792. So was the U.S. Stock Exchange.
"And my favorite of all 1792 trivia: Who was president in 1792?" Hooley asked.
"Washington," answered a man in the circle formed around Hooley. That is, of course, George Washington, the first president of the United States.
It was a disorienting bit of history considering State Street's recent exploration of avant-garde technology, including blockchain, the underpinning of digital currency bitcoin.
The gathering seemed designed to juxtapose the company's sepia-toned past with its state-of-the-art present. It was at Legal Harborside restaurant in the gleaming Seaport District, home to lots of tech companies, including newly relocated General Electric. And it overlooked Boston Harbor -- just behind a pier peeked the masts of tall ships, which sailed into port last week.
State Street's logo? A post-colonial-era clipper.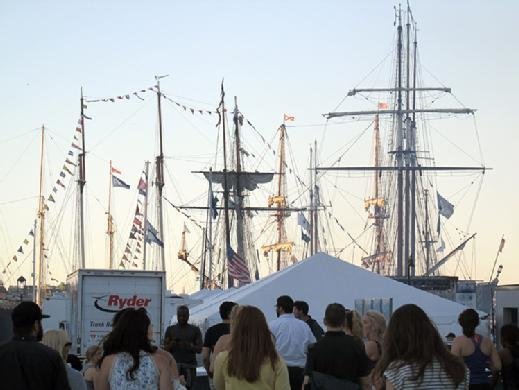 Eying public cloud for business
State Street's roots may be in the 18th century, but the economics and technology it's espousing are becoming hallmarks of the 21st. Companies today are undergoing digital transformation, a shift to digital technologies as well as a wholescale remodeling of business. And cloud computing is widely recognized as having the power and scale to help companies capitalize on those new tools.
State Street built its own private cloud infrastructure several years ago and is now evaluating public cloud providers such as Microsoft, Google, IBM and Oracle to fuel new tech initiatives, part of a huge digital push.
[For AI and other data-centric endeavors,] you truly want to grab a lot of data and do tons of high-computational analysis with it. To build a physical plant to do that doesn't make sense.

Lou Maiuriexecutive vice president for securities and investment services divisions, State Street Corp.
By plugging into the public cloud for business, State Street can have access to enormous computing, storage and networking power and can dial it up or down according to business demand, Maiuri said. And for projects drawing on vast pools of data from an array of sources, "you just need a lot of horsepower."
The bank is harnessing that horsepower to do new things. For example, it's piloting a new mobile app called Pharos, which uses a machine learning algorithm to ingest information -- news articles, earnings reports and such -- and then makes connections to an investor's portfolio, indicating how it might be affected by updates.
Developing the app was "cheap and fast," Maiuri said. It was first built on Amazon Web Services and then brought back in-house to State Street's private cloud, where the data is cordoned off. This is important, Maiuri explained, because the app will be sifting through highly sensitive information.
"We want to be careful. We're bringing client portfolio data -- these are hedge funds that are very secretive about their position," Maiuri said. "So there's a lot of reasons for it."
Custodian of data
Security is also why State Street's evaluations of cloud providers are so involved and time-consuming, Maiuri said. (He hopes to wrap up and choose one by the end of the summer).
The problem is, as custodian of clients' data, State Street takes on liability, so it needs to be beyond certain a provider cybersecurity defenses are ironclad -- but that's not simple.
"They'll tell you, 'Listen, you should use our infrastructure. It's more secure.' And you say, 'Well, why is it more secure?' Of course, they can't tell you because they'll give away their secret," he said.
Vendors will offer a line meant to comfort jittery nerves, Maiuri said. Google, for instance, will point to its sea of computers in its data centers, none of which are marked, so if someone breaks in with the aim of stealing data, there's no way to know what is what. They also talk about their breach detection capabilities and encryption, but tech talk doesn't always get through to business ears.
He has to explain to customers "why doing this is a way that's going to protect your data and be secure," Maiuri said. "We act as fiduciary. We have a certain duty to protect their interests. So how do you make those claims when you don't exactly know how the provider does it?"