Digital transformation projects cry out for a human touch
Don't do digital for digital's sake, CIOs and industry observers say -- solve a business problem. Also: SoftBank grabs Boston Dynamics; Apple launches Siri-powered HomePod.
NEW YORK -- At your next tech convention, try playing this daytime, IT variation on a classic college drinking...
Continue Reading This Article
Enjoy this article as well as all of our content, including E-Guides, news, tips and more.
game: Every time you hear the term digital transformation, take a sip of coffee. You'll be awake until self-driving cars outnumber ones driven by humans -- that is, for years.
Michael Herman, of New York consulting outfit KPMG, challenged several hundred IT leaders gathered in a gleaming midtown tower on Tuesday to think differently about their digital transformation projects.
"What really is digital transformation?" Herman asked at the Argyle CIO Leadership Forum. Is it every digital initiative underway at organizations today, from building a mobile app to moving IT operations to the cloud?
"Or is it an enabler around, 'We need to get more intimate with our customers; we need to understand our business better?'"
Digital transformation can be a powerful force in business, government and society, leading to wholly recrafted products and services, CIOs and industry watchers attested at the event. But without a strong tie-in to business needs, it's merely a solution in search of a problem.
Connect IT
Herman said digital transformation projects should be fashioned with a human experience in mind -- how an end user will interact with a process, whether it's a bank patron transferring money on a mobile phone or a community awaiting emergency food aid after a natural disaster.
"All this transformation people are talking about has to be embedded in understanding what people really want from their experiences -- what's the value proposition?" he said. "That's the blueprint and the DNA for how digital transformation layers into that."
To get there, IT and business need to move in lockstep, Herman said. The stark dividing line between them in organizations is eroding, but now they need to work toward "a true partnership."
Building in an Agile methodology, which is designed for fast project delivery, is a way to focus on meeting business needs, said Herman, who likened the method to a jazz session.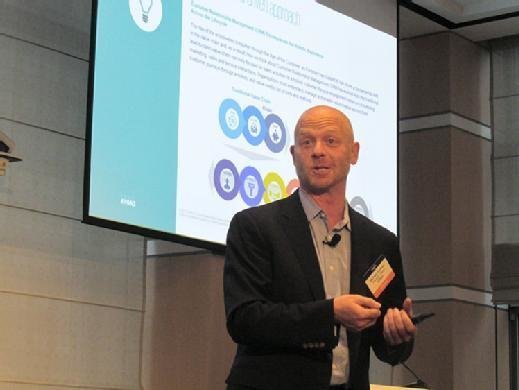 Agile moves
Kenneth Corriveau is CIO at New York-based Omnicom Media Group, which helps companies determine where and how to distribute advertising. The entire company -- business and IT -- is shifting from "an old-school line of thinking into an Agile direction," he said.
So that means basing new products not solely on key performance indicators and ROI but also on a "fail-fast" mentality. So a software project, for example, might be given a month to get to an experimental phase.
"And then [we can] say, 'OK, what did we learn? Can we iterate on that? Is there an opportunity here?' and then move forward?" Corriveau said. The collaborative, informal approach has "impacted the way we've gone to market with new ideas and solutions."
A similar transition is happening at Wyndham Destination Network, the rental accommodation and timeshare division of hotel chain operator Wyndham Worldwide, based in Parsippany, N.J.
CIO Barbara Spengler said ongoing IT initiatives like moving applications from an externally operated data center to a cloud service provider will give the company the flexibility and scalability needed to make the move to Agile and DevOps, a collaboration of IT operations and software developers.
"Once we shift, then we'll assess the applications and the services available with the cloud provider and assess which of those make more sense -- are more practical, economical," Spengler said during a panel discussion among IT chiefs. She expects the project to be live by October. "We have to change things pretty significantly in terms of when we develop new software."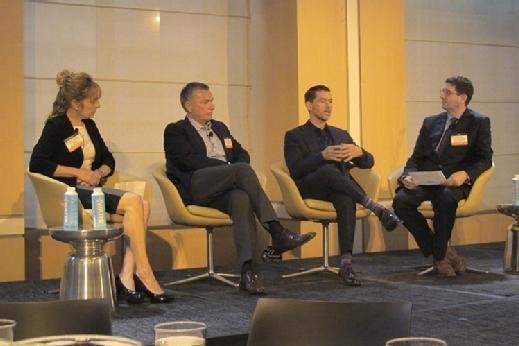 'Adapt or die'
At Wyndham and Omnicom, the transition to cloud and Agile required significant changes to the cultural fabric of the companies, Spengler and Corriveau said. And for organizations today, that's not only critical to driving innovation -- it's critical to survival, said Greg Bledsoe, a consultant at Accenture.
Bledsoe was across town at the jumbo Jacob K. Javits Convention Center, at the cloud computing conference Cloud Expo, preparing to speak on culture plays in DevOps on Tuesday.
To be successful in the fast-moving digital age, Bledsoe said in an interview, organizations need to ensure that culture is based on a "core set of values," such as openness, honesty and blamelessness -- so no pointing fingers at people. And the stakes are high.
"The companies that don't adapt will die. The average life span of a company on the Fortune 500 was 75 years 100 years ago, and now it's 15 years," Bledsoe said. "It truly is an adapt-or-die situation."
Customer focus
At the Argyle conference, Amanda Mihaela Titiliuc looked at the mandate for digital transformation through an industry-specific lens. She's served in healthcare as CIO and IT manager and is now senior director in an IT competency center at Optum, a subsidiary of UnitedHealth Group.
The company has embraced cloud computing, emerging technologies such as the connected-device network the internet of things, and Agile project management to devise products and services. That will help physicians and executives better do their jobs and ultimately better serve patients.
"The core of what we do is for the patient," Titiliuc said. "In healthcare, we don't exist without the patient. Because of that, we have to make sure that we don't lose sight of the experience -- not just technology for the sake of having technology."
CIO news roundup for week of June 5
SearchCIO was in the Big Apple talking to CIOs about digital transformation projects. Meantime, here's what was grabbing headlines.
SoftBank scoops up Boston Dynamics. Japanese telecommunications giant Softbank is buying Waltham, Mass., robotics firm Boston Dynamics from Alphabet, SoftBank announced Thursday. "We look forward to working with SoftBank in our mission to push the boundaries of what advanced robots can do and to create useful applications in a smarter and more connected world," Marc Raibert, CEO and founder of Boston Dynamics, said in a statement. SoftBank strives to make smart robotics a key driver of the next stage of the "information revolution," and the company aims to aid Boston Dynamics in its journey to advance the field of robotics, SoftBank chief executive Masayoshi Son said in a statement. As part of the deal, SoftBank is also buying bipedal robotics firm Schaft. The terms of the deal have not been disclosed.
Apple unveils Siri-powered HomePod. Apple launched HomePod, a voice-activated wireless speaker powered by its digital assistant Siri, at its annual Worldwide Developers Conference on Monday. With HomePod, Apple is "making a long-term play for the concept of ambient computing, in which everything you own is connected and powered by an underlying artificial intelligence," according to a Business Insider article. Apple also unveiled macOS High Sierra, the latest version of its desktop operating system that features new core storage, video and graphics technologies. "macOS High Sierra delivers important forward-looking technologies and new opportunities for developers wanting to tap into the power of machine learning and create immersive VR content on the Mac," Craig Federighi, Apple's senior vice president of software engineering, said in a statement.
Microsoft acquires Hexadite. The Redmond, Wash., tech giant is acquiring Israeli startup security firm Hexadite, Microsoft announced Thursday. Hexadite, headquartered in Boston, uses artificial intelligence and machine learning to detect and defend against cyberattacks. Microsoft didn't disclose the terms of the agreement, but TechCrunch reported the deal price to be $100 million. "Our vision is to deliver a new generation of security capabilities that helps our customers protect, detect and respond to the constantly evolving and ever-changing cyberthreat landscape," said Terry Myerson, executive vice president of Microsoft's Windows and Devices group, in a statement. Hexadite's technology and talent will help expand Microsoft's existing capabilities, while adding new tools and services to Microsoft's portfolio of enterprise security offerings, Myerson added.
Assistant editor Mekhala Roy contributed to this week's Searchlight.
Check out our previous Searchlight roundups on the MIT Sloan CIO extravaganza, the WannaCry ransomware attack and the OpenStack Summit Boston.
Dig Deeper on IT project management and portfolio management