Forging your digital path: Don't discount the power of slogans
Two award-winning CIOs talk about how they helped forge a digital path for their companies and, in the process, became partners to the business.
Saying something doesn't make it so, the adage goes. Anyone who's raised kids, attended a company annual meeting or lived through a presidential election can attest to the veracity of that warning.
But for companies on the difficult journey to become digital businesses, the adage may not apply. For them, simply saying anything -- a slogan, a demand or a mission statement -- may be the first step in getting and staying on a digital path. That seemed to be the case for two award-winning CIOs presenting at last week's MIT Sloan CIO Symposium in Cambridge, Mass.
David Gledhill, CIO at DBS Bank of Singapore, said the bank's journey from "fat and lazy" to being named the "world's best digital bank" by Euromoney magazine in 2016 actually began with a slogan. When he joined DBS eight years ago, customer service was poor. ATMs didn't work; there were two- and three-hourlong queues at bank branches. Among locals, DBS stood for "damn bloody slow" -- not a motto for winning customer hearts and minds.
"Before we could transform ourselves into a true digital company, we had to fix the basics. And so we set ourselves [on] this mission of being Asia's bank of choice," said Gledhill, the winner of this year's MIT Sloan CIO Leadership Award.
The bank then worked out a set of operating principles to help its roughly 22,000 employees improve customer service and also gave that goal a name. "We defined it as RED service -- respectful, easy to deal with and dependable, Gledhill said. "Whether employees were tellers or in IT, they had to follow those three principles."
Machine learning forges digital path to improved customer service
The principles spurred the bank to identify the business processes that needed to change in order to deliver RED service. Over time, Gledhill has deployed the digital technologies, including mobile computing and, more recently, machine learning systems, that have helped DBS execute on its vision of being Asia's bank of choice.
One example of digital technology at work is the improved performance of DBS' ATMs. Described by Gledhill as the "highest-volume ATM network on the planet," the bank's ATMs are used an average 20,000 times a month, compared to the average 2,000 times a month for U.S. ATMs. Due to high volume, DBS ATMs were often out of cash. With machine learning technology, Gledhill said the bank's ATMs now run using a "completely automated process," as opposed to by a person using a spreadsheet, which means "cash outs" have gone from several hundred a month to zero.
As the bank has deployed technology to speed it along on its digital path, Gledhill also noted that it has adopted a new slogan. "We have shifted our mission a little bit to what we call making banking joyful," -- a confident reflection of the bank's focus on customer service, "not just the product," he said.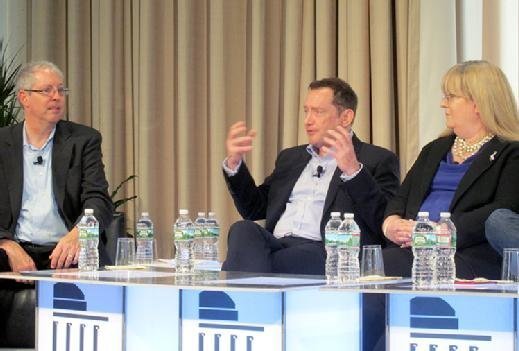 Aflac ups ante on paying claims, with IT's help
Julia Davis, CIO at Aflac and an MIT Sloan CIO leadership finalist, also talked about how improving customer service -- within IT and for company's policy holders -- played an important role in forging a digital path.
The Columbus, Ga., insurance company put a high priority on paying claims quickly, said Davis, who joined Aflac in 2013. "We're not looking for the float; we want to pay claims," she said. When she started, an initiative was afoot to reduce Aflac's four-day pay service, which was done through manual processes, to a single day.
I went to the CEO of the company and said, 'In order for us to do this, I need you to take everything off our plate. The other 19 No. 1 priorities have to disappear, and this has to be our mission.'

Julia DavisCIO at Aflac
At this point, IT projects typically took 18 months to do, Davis said. The department worked on mainframes and used a Waterfall approach for development. Her team also had "20 No. 1" priorities, not a good strategy for delivering a business-critical project in timely fashion.
"I went to the CEO of the company and said, 'In order for us to do this, I need you to take everything off our plate. The other 19 No. 1 priorities have to disappear, and this has to be our mission,'" Davis recounted.
Delivering on Aflac's One Day Pay service, launched officially in 2015, required a slew of technology-enabled business process firsts, including automatic direct deposit, as well as profound cultural transformation within IT and in parts of the business. (Davis said one of the reasons Aflac did not have automatic direct deposit of claims was that agents loved to put a paper check in their customers' hands.) Her teams had to abandon Waterfall development for Agile development -- and quickly.
The One Day Pay service was delivered in five and a half months. "And that started everything. Now that we have figured out this whole process, [the question became] how can we transform the rest of the business," Davis said.
Read more about Gledhill's digital transformation journey at DBS in this recap of the CIO symposium opening keynote.
Dig Deeper on Digital business management