Workplace changes called for to place more women in IT jobs
CIOs and other executives discuss cracking the gender-diversity problem in IT at the recent MIT Sloan CIO Symposium.
Organizations today are having a tough time finding and keeping talented technology workers to run cloud, big data and cognitive computing systems. They're also doing a poor job of putting women in IT jobs, especially leadership positions, a business researcher affirmed at the recent MIT Sloan CIO Symposium in Cambridge, Mass.
Kristine Dery, research scientist at MIT's Center for Information Systems Research, headed a panel on attracting talent in a digital world where experience in the latest technologies is in short supply. She said 40% of women who start in entry-level positions in companies never get past the middle-management level.
"All of us are experiencing a shortage. All of us have got problems attracting and retaining the right people," Dery said. "Do we need to actually rethink the whole environment that [IT people] are working in and the nature of these roles?"
IT and other executives on the panel exchanged views on the longstanding gender-diversity problem in IT and ways they're trying to puncture it in their organizations.
Having it all
Panelist Julia Davis, senior vice president and CIO at Aflac Inc., is among the 19% of female CIOs at top U.S. companies today. She said it's a challenge making sure the right people at the Columbus, Ga., insurance company get promoted, trained and primed for opportunities "because it may stop somewhere in the process."
For example, women in IT jobs who want to step out of the workforce to raise a family shouldn't worry that they won't be able to step back in. Davis said she gets asked by young women how she was able to "have it all" -- high-paying job and a family.
"The fact is I didn't do it. I didn't have it all. I don't have children," Davis said. In the early years of her career, "that was not expected if you wanted to make it up the ranks."
It should be a different story today, she said, not just for women but also for men who decide they want to balance family and a high-power career. "We should be able to accommodate that," she said.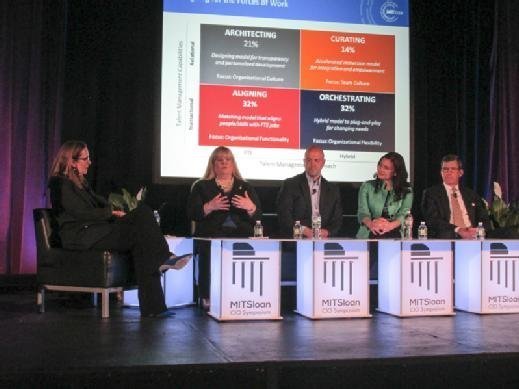 Wanted: Nontraditional candidates
At Schneider Electric, 40% of IT executives reporting to the CIO are women, said Amy deCastro, vice president of human resources for IT at the France-based global energy management company. The IT organization as a whole, though, is just 27% female, so the bench is not deep -- but "we're making progress," deCastro said.
Putting more women in IT jobs is a top personnel goal at Schneider. The company recently launched an "unconscious bias" program for hiring managers and have asked talent recruiters to make sure there is a certain number of female candidates during initial resume reviews. And the CEO, Jean-Pascal Tricoire, has worked with the United Nations on diversity programs and in 2015 was recognized for putting in place policies designed to help women advance in the workplace.
"When we see the leadership walking the talk, it's much easier then to get the organization to grab on to that," deCastro said.
Jim O'Neill, who goes by "entrepreneur in residence," evaluates workplace and workforce technologies at HubSpot. The Cambridge, Mass., software marketing company was born digital, so it competes for talent with higher-paying, household-name giants like Google and Facebook by touting career-growth opportunities for Millennial workers. It has also made searching for a diversity of candidates a priority.
"We look for talent that is nontraditional, because if we just look we're going to find people that look like me," O'Neill said.
Eric Sigurdson said organizations looking to his employer, executive search firm Russell Reynolds Associates, for help in finding talent also want gender and ethnic diversity in candidates.
"Some of our clients even go so far as to say they only want to see diversity candidates," said Sigurdson, a managing director at the firm who recruits IT execs. "We're not allowed to do that."
'A profound problem'
Catherine Thomas, a conference goer who attended the panel discussion, said the lack of gender diversity in IT is a "profound problem" that won't be solved by mandates and quotas or even training.
"It's not just mentoring in your own company," said Thomas, president and CEO of Kinetix Technology, a McLean, Va., consulting outfit that helps companies with big data technologies and software development. "Are you mentoring in the community? What are you doing in the schools? What are you doing for women and girls? What are you doing for other women in technology?"
The roots of the problem, Thomas said, begin in grade school, where girls start falling behind in science and math, and many don't develop an interest in technology. Indeed, though her small company has a "really diverse workforce," few consultants there who advise on hard-core technology are women, she said.
"We have to address the issue in the schools and with our children -- and it starts in fourth, fifth, sixth grade," Thomas said. "It's a much bigger issue. So I think it has to be addressed in a wholesale way."