MIT CIO Symposium 2017 elucidates the digital playbook
IT leaders speaking at the MIT CIO Symposium 2017 reveal that a digital playbook is taking shape with elements that transcend industry, company size and age. Also: Hackers get into apps through subtitles.
CAMBRIDGE, Mass. -- DBS Bank of Singapore, one of the largest banks in Asia, ties 20% of group compensation to how well the group drives digital adoption across its customer base. At General Electric, company leaders spend four hours each month with CEO Jeff Immelt reviewing every digital process and product. BNY Mellon, which traces its roots to 1784, is building digital capability by translating 1,700 legacy applications into 170 business services that can be reused and repackaged to build new digital products. The born-digital software-as-a-service pioneer, Salesforce.com, instruments its business processes to understand exactly how they're being used and by whom in order to make continuous improvements.
Who said digital transformation is an empty catchphrase?
At this week's MIT Sloan CIO Symposium, IT leaders at these four companies and others provided evidence that digital business transformation -- while by no means easy -- is getting real. Across industries, a digital playbook is emerging with tools and tactics that promise to help companies excel in an economy where the old analog business model is increasingly an albatross, not an asset.
Among the to-do's in this emerging digital playbook: Develop metrics and incentives that drive digital capability and engagement; build API-enabled technology platforms; adopt agile and iterative approaches to everything; and have a top-down commitment to digital transformation and a bottom-up belief that good ideas are key, no matter where they come from.
'Future-ready' companies
Along with the tactics that companies are deploying in their business transformation journeys, there is a growing body of research -- MIT Sloan School of Management research, I should say -- showing that building digital capability has bottom-line implications. According to Peter Weill, chairman of the MIT Sloan Center for Information Systems Research (CISR) and the moderator of the event's kick-off panel, net margins at companies that are "future ready" -- that have achieved digital transformation -- are 16 percentage points above those of companies that have not taken the plunge.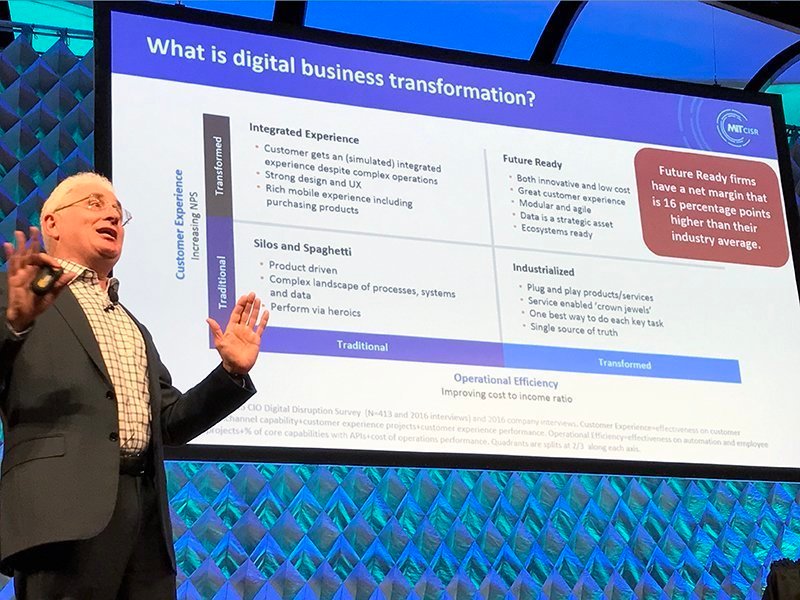 "So if the industry average margin is 10, the future-ready companies are 26. That really raises the stakes for digital transformation," Weill said.
In its work with more than 400 firms on measuring digital business transformation, MIT's CISR has found that the margin premium is the result of changes along two dimensions, Weill said: customer experience and operational efficiency. Traditional companies start out in the "silos and spaghetti" position: They are product-driven; have a complex landscape of process, systems and data; and perform via heroics.
"When they achieve greatness ... it is through the heroics of people," Weill said, citing as an example "an amazing piece of heroics" by a teller at his bank. "She managed to do 150 keystrokes and mouse movements to change the address on the five accounts of an elderly customer while talking about the weather and the sports team."
Future-ready companies are ambidextrous, Weill said, "meaning that with one hand they can push costs out every year ... and with the other they can innovate to improve the customer experience." Data is always treated as a strategic asset. The digital playbook includes a few ways to get companies there, he said, including "building a skin across the silos to give the customer an integrated experience." Companies can also move forward by identifying the things they do best -- their "crown jewels" -- and use APIs to make these services "available internally and externally." Future-ready companies are innovative and low cost, provide a great customer experience, are modular and agile and build ecosystems.
Using metrics and goals to drive digital transformation
At DBS, CIO David Gledhill -- winner of this year's MIT Sloan CIO Leadership Award -- said digital transformation started with setting a goal.
Notorious for its slow service, the bank set a target of eliminating 100 million hours of customer wait time a year. The clock was set at the start of a customer transaction -- a loan, applying for a credit card, and so on -- and stopped when the transaction was completed. That 100 million-hour target drove an initiative to instrument bank processes, which, in turn, produced data that drove process improvement. "At the end of the day, we achieved a half-billion hours of customer time saved per year," Gledhill said.
He said a similar approach is being used to make the shift from being a product-driven company to operating as a services company. Rather than waiting for the bank to figure out how many and which business services to build, Gledhill threw out "a nice round number" -- 100 services by March. Which types of services "don't really matter," he told the team. After they were built they could "explore how to use them."
The result -- 100 business services achieved by April -- has led to deep discussions, not only about how to use these services and who should have access to them, but about how the bank should be structured. Traditional banks like DBS are organized around their product lines -- loans, mortgages, credit cards.
"But is that really the product or is the product the platform?" Gledhill said, citing Netflix, where the product is not the new season of House of Cards, for example, but the delivery channel. As DBS sorts that out, Gledhill said it is working on developing a digital P&L (profit and loss) to describe digital revenue and costs across the company.
The importance of culture
Setting targets and the instrumentation of business processes -- and machines -- also factor heavily into GE's digital transformation, said CIO Jim Fowler, who is leading an effort to deliver $1 billion in productivity for the company. The company measures how many digital orders from customers come into GE, and it measures how much productivity is gained from the digitization (software and analytics) of machines and business processes, Fowler said. He believes that we will soon see workplaces where technology determines the business process -- a departure from the traditional view that business processes are enabled by technology.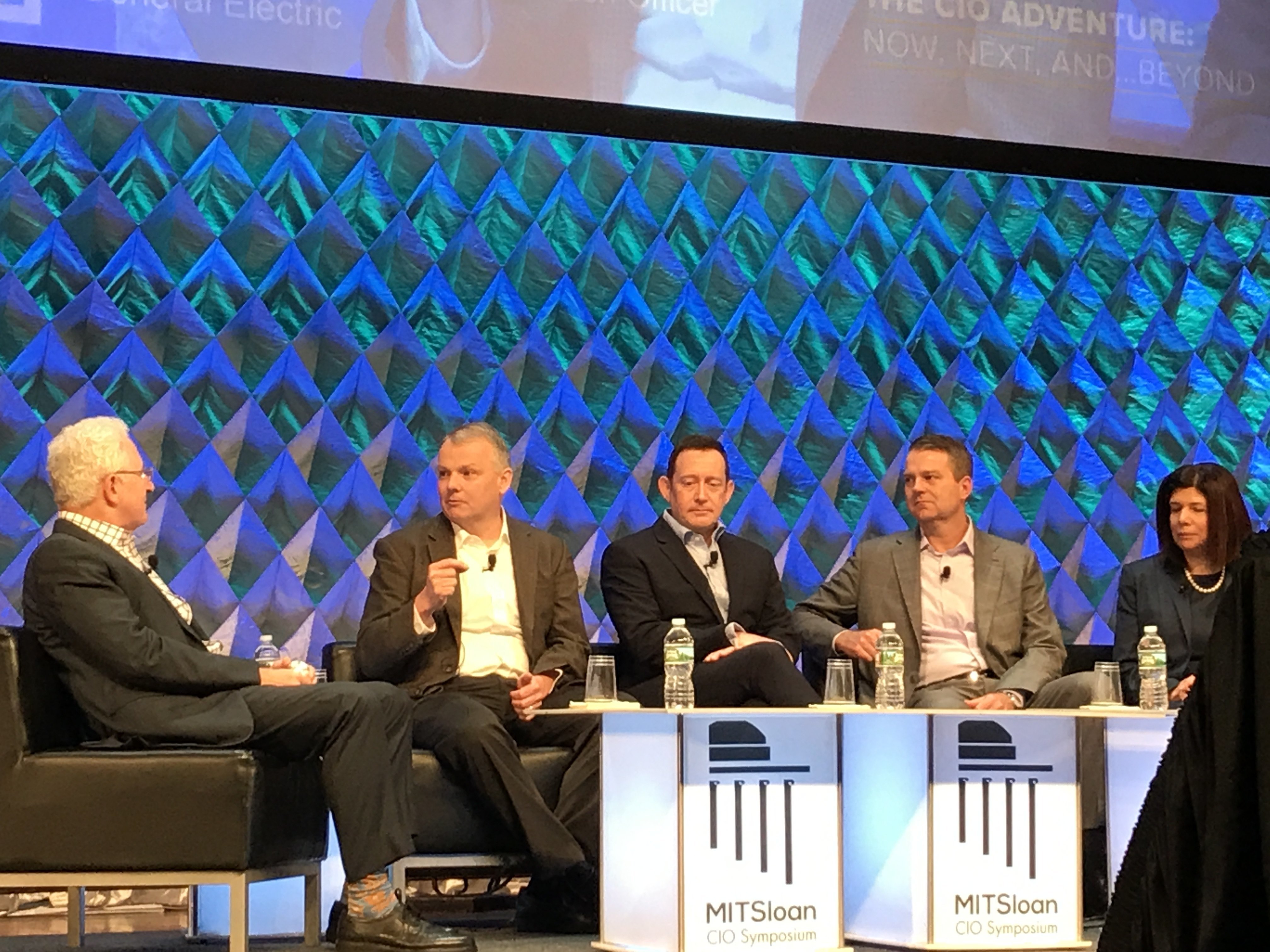 But Fowler said that perhaps the most critical factor in achieving digital capability is the commitment from company leadership. At GE, it is Jeff Immelt, who sets the course and tracks the company's progress, reviewing digital efficiency and revenue targets each month and also heading up GE's committee on cybersecurity, a big issue as the company sets its sights on shifting from machine manufacturer to software titan.
At Salesforce.com, said CIO Ross Meyercord, the ability to move quickly and at scale has helped make the company an $8 billion business, but continued success depends on continuous improvement. Teams have "to listen and learn," he said, and not be so wedded to "the existing roadmap that they can't interject ... new ways to enhance a solution." Digitized operations produce data that gives insight into what needs to be changed. To support that virtuous cycle of "learn, iterate and go" the company has a policy of "radical transparency," Meyercord said. Grassroots innovation and shadow IT -- or "citizen development," as he prefers to call it -- is pretty much self-governing. (Bad ideas get shot down by the crowd.)
Lucille Mayer, head of client experience delivery and global innovation at BNY Mellon, said the bank is using its new NEXEN digital platform to effect internal efficiencies and create digital business services that cross product lines. The CEOs of each of the product lines have digital objectives to meet each year. "You need to bring technology and the business closer together. That is the holy grail," she said. And it takes "education on both sides," she added, but begins with a big change in perspective by the business.
"Technology really is the business. Technology is not waiting to be told what to do," she said. "Technology is an actual partner at the table helping to bring the proper techniques to actually transform the business model to become more digital -- and that's really what's going to survive going forward."
That's a big culture change for most companies, not just a 333-year-old bank.
CIO news roundup for week of May 22
The MIT CIO Symposium 2017 wasn't the only tech news this week; here's a rundown of some other tech stories that grabbed headlines:
Many enterprises lack formal digital transformation strategy. Only half of global enterprises have a formal digital transformation strategy in place and 7% have no ongoing digital strategy at all, according to a CenturyLink study conducted by 451 Research. The study surveyed more than 1,400 decision-makers at organizations in North America, Europe and Asia Pacific. According to the study, executives responding to the survey commonly chose four "key pillars" of competitive differentiation they target through internal digital transformation initiatives: improving customer experience (41%), improving operational efficiency (41%), increasing the level of agility of the organization (53%) and better managing business risk (49%). "Moving to a superior network and employing agile cloud technologies are keys to simplifying the transformation process. This approach is a foundational element of success in digital transformation," said Bill Hurley, chief marketing officer at CenturyLink, in a statement. The study found 42% of respondents expect deployment of new digital technologies will continue to usher in major disruption, changing the competitive dynamics of their markets.
Attack by subtitles. Hackers have found a new attack vector: taking complete control of devices through the subtitles of videos. Vulnerabilities found in popular video streaming platforms like VLC, Kodi (XBMC), Popcorn-Time and strem.io can be used to create malicious subtitle files, according to Check Point researchers. Media players often need to parse together multiple subtitle formats to ensure coverage and provide a better user experience, but using the fragmented software creates "numerous distinct vulnerabilities," Check Point researchers explained in a blog post. Researchers estimate the number of potentially vulnerable video players and streamers could be as high as 200 million worldwide.
Google launches Chrome enterprise bundle. In a bid to make it easier for IT administrators to deploy and manage the Chrome browser in their organizations, the search giant launched the new Chrome Enterprise Bundle earlier this week. Google representatives claimed that the number of enterprises using Chrome has doubled in the last two years, according to a TechCrunch report. The enterprise bundle offers IT admins a single installation package to download, which includes Chrome MSI, the Chrome Legacy Browser Support extension and administrative policy templates.
Assistant editor Mekhala Roy contributed to this week's news roundup.
Check out our previous Searchlight roundups on the WannaCry ransomware attack, OpenStack Summit Boston, and Red Hat Summit 2017.
Dig Deeper on Digital business transformation and innovation