Forbes chases Millennials with 'progressive web app,' Snapchat-like design
Forbes' Mark Howard talks about the publication's efforts to disrupt itself with a new mobile website and story format that caters to the Snapchat crowd.
How does a 100-year-old media brand, famous for its best-and-biggest lists, mark its centennial year -- apart from thanking the media gods it's still a going concern? At business publication Forbes, what has worked for it in the past -- even the recent past -- is definitely not prologue. Instead, the magazine, which jettisoned its print publication for an all-digital business model five years ago, is banking on a rebuilt mobile website and social media platforms -- including new mobile-only networks like Snapchat -- as the way forward.
"One thing we all know from the history of media is that trying to defend your current turf is a losing proposition," Mark Howard, chief revenue officer at Forbes, told an audience of digital strategists and marketers at the recent Digital Strategy Innovation Summit in New York. "Venturing into the new is the only way to go."
Forbes is a practiced hand at venturing into the new. As Howard noted, the publication was a pioneer in using "sponsored content" -- paid advertising that's packaged to look like articles -- and it has the scars to show for it. Media critics decried its commingling of staff-written news stories and features, commentary by its large cohort of contributors (paid on the basis of generated web traffic) and sponsored editorial content, Howard said, showing a slide of the negative and subsequent positive headlines. Indeed, the practice has become widespread, including on the website of The New York Times, where it was criticized.
'Narrative streams' ready for swiping
In its ongoing quest to remain viable, Forbes, like many of its media peers, is taking an intense interest in millennial readers, Howard said -- in particular, the way in which they access digital content (with their mobile phones), what platforms they're drawn to (social media sites) and what Forbes can do to make their consumption of its content as familiar and frictionless as possible. (Of the 60% of readers who come to Forbes via mobile devices, the vast majority, or 80%, is between 24 and 34 years old.)
One thing we all know from the history of media is that trying to defend your current turf is a losing proposition.

Mark Howardchief revenue officer, Forbes
"Building an authentic relationship with that generation is a challenge and is something we at Forbes have made major strides on," he said.
An important step in forging that relationship, Howard said, is the reconstruction of its mobile website as a "progressive web app." A progressive web app is a Google-backed web hybrid that functions more like a native app and loads pages in a quick 0.8 seconds. (Progressive web apps work on all mobile devices but have added functionality on Android devices; users can download the app to their home screens, receive push notifications and work offline.)
The new back-end architecture comes with a new front-end look. The mobile site (in beta at m.forbes.com) boasts a Snapchat-inspired "card-based" design. Card formats feature bold visuals and are designed to be interactive. Readers swipe up to get into the text of a story and swipe left or right to get to related content. A pull-down menu, accessed by tapping on the card, gives readers a full list of the site's topic categories that are labeled, Twitter-style, with hashtags -- #TopStories, #Trending, #Trump, #30Under30 and so on.
"One approach we're working on is this concept of narrative streams," Howard said. These are card-based collections of content for specific audiences -- "editorial franchises" -- that the magazine has decided to target: #[email protected] is an example that is already live.
"You can see how over time we're going to be able to create more of these narrative streams that are collections of different stories, very much built on the concept of Instagram stories and Snapchat stories," he said.
And there will be commingling. Howard said Forbes is working with advertisers on its BrandVoice platform to not only create their own narrative streams but also to integrate this branded content into the narrative streams created by the magazine's staff writers. Howard said Forbes, for example, is working with advertiser Fidelity Investments on a "retirement stream" that will integrate Fidelity's branded content "where appropriate" into the stream of stories by staff writers.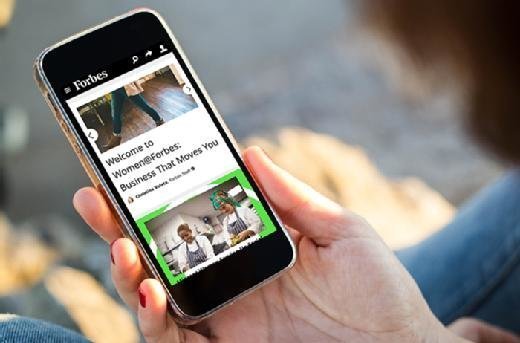 Pull model gives way to push
The card-based design ushers in another big change for the publisher, Howard said. Up until now, content has been optimized to pull readers back to the publication's website. Cards are designed to be shared and pushed out to different social media sites. For its sixth annual "30 Under 30" list, for example, Forbes created a Snapchat pop-up introducing this year's winners that went live 12 hours before the list was published on the Forbes website.
"This is how we envision our future," Howard said. "So many publishers spent a lot of time thinking about a pull strategy." Even in social media, the initial strategies were all about embedding links to get people clicking back to the site.
"The dynamics are completely different. Now it's all about figuring out how to leverage the gravitas of our 100-year-old brand by creating content on demand ... with the intent of pushing it out," he said.
And if the Millennial crowd does find its way back to Forbes.com, the new high-speed progressive web app experience is "much more reflective of their social environment," he said.