IBM, Salesforce call for new skills to run AI technologies
People need to be trained to compete in a future world of artificial intelligence, say tech chiefs Ginni Rometty and Marc Benioff.
Artificial intelligence, which equips machines with humanlike thought processes, will remake entire industries, said IBM chief executive Ginni Rometty -- and, yes, it will likely lead to at least some people losing their jobs to robots. But the solution, she said, is cultivating the skills needed to run these new systems.
"These technologies -- they will have impact on how people live and how they work, and they will have some impact on jobs," Rometty said at the IBM InterConnect conference in Las Vegas last week. "But they will also solve many more problems than they will create -- and like any new technology, it does lead then back to skills, because you've got to prepare for a new era."
On stage with Salesforce CEO Marc Benioff, Rometty declared 2017 the year "AI is going mainstream," using the well-known acronym for artificial intelligence. Benioff agreed, saying, "There's an acceleration going on" in the development of AI technologies.
The two tech companies will integrate their AI platforms -- IBM's Watson with Salesforce's Einstein -- as part of a partnership announced earlier this month.
Right now, Salesforce's customer relationship management software is getting a boost from Einstein, which identifies sales and marketing trends, helping salespeople decide which prospects to pitch to and customer service reps determine which customer complaints to solve first. Soon, though, the AI-assisted software will do more than help employees get through their to-do lists; it will act as a personal work coach, to hear Benioff tell it.
"You're going to be a better salesperson, you're going to be a better service person, you're going to be a better marketer, you're going to be better at e-commerce -- you're going to be better at all of these things because of artificial intelligence," he said.
A new work code
That's why, Benioff said, he traveled to Washington earlier this month, along with Rometty, to meet with President Donald Trump: to discuss how to get the American workforce ready for the changes that AI technologies will bring. He pushed the idea of forming 5 million apprenticeships across the U.S. to train kids out of high school, veterans or people looking to change careers. (Trump said OK, though no immediate action, including bills proposed to Congress, has been taken).
According to a new study by PricewaterhouseCoopers, 38% of U.S. jobs could be taken from people and given to machines, with the highest risk in the transportation, manufacturing, and wholesale and retail industries.
In 2011, IBM launched a new education model designed to give teenagers technical and business skills through classes, training and internships called six-year high schools. There are more than 100 now, Rometty said. The company also partnered with Girls Who Code, a program that aims to, its website says, "close the gender gap in technology."
Rometty invited Girls Who Code founder Reshma Saujani onstage to talk about the program. Saujani is a lawyer who in 2007 ran for U.S. Congress in New York. She lost against 18-year incumbent Carolyn Maloney, but during the campaign, Saujani toured a lot of schools in the 12th congressional district, in the Big Apple.
"I'd walk into their computer science classes and their robotics labs, and I'd just see hundreds of boys clamoring to be the next Steve Jobs," Saujani said. "And I thought to myself, 'Where are the girls?'"
Less than 18% of all computer science majors in colleges and universities are women, she said. So, in 2012, Saujani started a computer science camp in New York with 20 girls. Now the program teaches 40,000 in 50 states. IBM funds programs in Los Angeles; San Jose, Calif.; Austin, Texas; and New York, where participants learn to build apps using IBM's cloud software development platform Bluemix and Watson.
"We counted girls out" for far too long, Saujani said. "We thought that they weren't interested. And what we've learned is that you could actually convert them."
Three young women who went through the Girls Who Code summer program in San Jose -- Karen Supandi, Michelle Liang and Madison Gong -- spoke about their experience working with big data sets, doing computative analysis and building a Watson interactive chatbot. They also talked about conversations they had with friends outside of the program.
"I actually I had to remind some of my friends what IBM was, what it did," Gong said to laughter from the audience of IBM customers and employees. "But I think that they are just really thrilled to see that girls were being given these opportunities."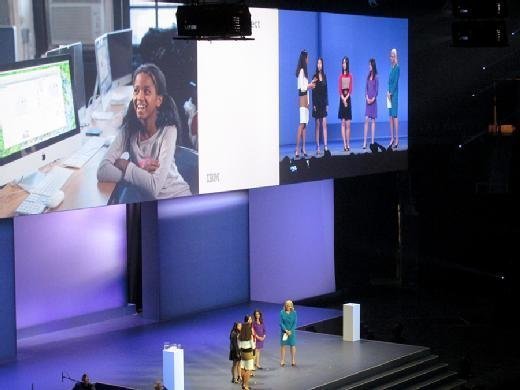 'Royal' treatment
Each of the girls will get another opportunity this summer, with a paid internship at IBM. After that, they could be just the type of employees Christopher Higgs, at the Royal Bank of Canada, is looking for.
The vice president of digital development at the Montreal-based bank spoke in a session on using technologies like AI and also cloud computing, which gives it power and scale. The company has been going through huge digital changes and earlier in March became the first North American bank to allow patrons to electronically transfer money with the iPhone's digital assistant, Siri.
Higgs said there are AI pilots ongoing now that he couldn't talk about, but he did sketch out a future one: sifting through the tremendous amounts of log data on what customers do on RBC's online banking, mobile and other systems and how employees respond to issues. Right now, the data is examined only "if something goes wrong," Higgs said. Using AI technologies like Watson, the bank could determine, "Are there some early warning signals in there? What can we learn from this that would allow us to take action before we have an issue that impacts our clients?"
RBC has done a lot of hiring over the past year and a half, Higgs said, and it's still searching -- but for not just anyone.
"We're not just looking for that technical excellence, that development skill set," he said. "We're looking for people who have that entrepreneurial mindset -- who are curious, who want to get in, understand how things work and help solve problems."
Dig Deeper on IT staff development and retention