News
Stay informed about the latest enterprise technology news and product updates.
IBM InterConnect pushes new new thing as now
Cognitive computing, blockchain and other cutting-edge technologies get the spotlight in Las Vegas. Also: CIA builds Apple-spying tools; Senate votes against internet privacy.
LAS VEGAS -- More than 20,000 IT and business professionals gathered here this week for IBM InterConnect. To CEO Ginni Rometty, the reason they did was to learn how to "become cognitive" -- that is, to weave human-intellect-inspired cognitive computing into their applications and business processes.
"You will become a cognitive enterprise," Rometty said in her keynote address on Tuesday. "And it will separate the winners and the losers."
She was talking, of course, to a sea of IBM customers -- many of them companies with data already on IBM's cloud, which Rometty said will eventually have the "greatest impact on business and society." But the message was more than Big Blue's intent to gain territory held by bigger cloud players Amazon and Microsoft -- it was that technologies perhaps too often called "disruptive" are gradually becoming what businesses are going to need to compete in a digital marketplace.
And IBM was there to oblige: There were development tools that allow financial institutions to build cognitive computing applications that "learn" from enormous amounts of data; capabilities afforded by supercomputer Watson; and a service that taps the power of blockchain, a massive, shared ledger that forms the basis for digital currency bitcoin.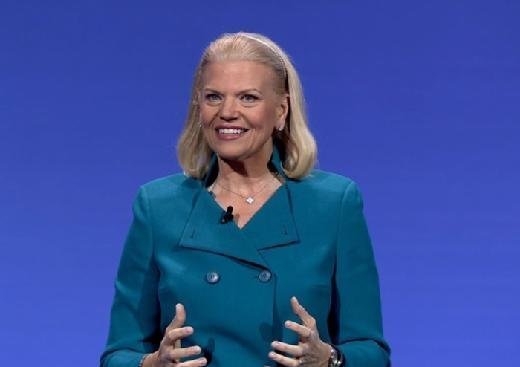 Getting disruptive
Anthony Sardella is the CEO of evolve24, a vendor of predictive analytics software designed to "de-risk" decisions about what technologies to invest in. It tracks thousands of technologies, examining what they do, what industries they might affect and how ready they are for business use.
"When should you start pilots and projects to understand [new technologies]? How much capital should you allocate? Those are all the types of questions that you see technology leaders looking to answer," said Sardella, who spoke on a panel of IBM customers.
Evolve24's software runs on IBM's cloud; panel moderator and IBM marketing executive David Lapp, in a phrase that no doubt pleased his employer, said Sardella uses "disruptive technologies to track future disruptive technologies."
Disruptive technologies also have their place in more day-to-day, but no less important, uses. In a session on managing multicloud environments -- combinations, for example, of software applications, infrastructure services and private cloud implementations -- speaker Judith Hurwitz said cognitive computing can be used to collect data about IT systems and then understand what optimal performance levels IT systems should be at.
"It doesn't happen on day one," said Hurwitz, president of Hurwitz & Associates and author of many books on IT. "But over time you'll start to collect this data and say, 'Gee, I know the normal condition for these three systems exchanging information and working together should act like this. And one day it acts differently. It goes ping-ping-ping. Well, that's not normal.'"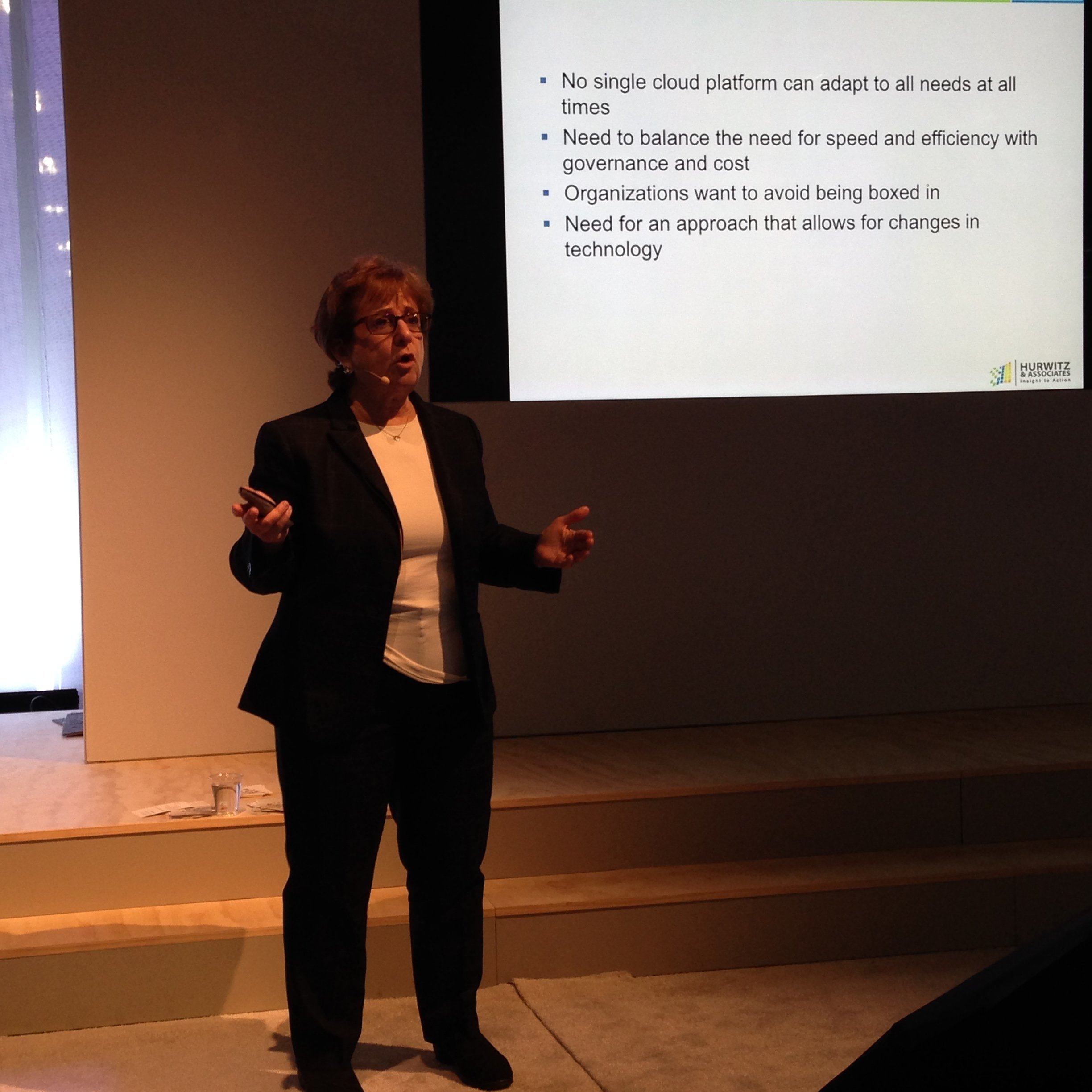 And then automated controls would correct the problem. Had Amazon Web Services relied on cognitive computing for performance monitoring back in February, it may have avoided a public cloud outage that took out a big portion of the internet, Hurwitz said. Instead it called on an administrator to service a malfunctioning system who then typed in a wrong command.
"You want to automate these stupid things," Hurwitz said. "And cognitive computing and automation will get us there."
One attendee impressed by new technologies touted at InterConnect was Rogério Almeida. He's the IT director at Rede Ponto Certo, a Brazilian company that lets public transportation riders manage rechargeable fare cards on a mobile app.
For Almeida, blockchain -- hailed as a way to eliminate fraud because it makes all transactions visible to everyone -- would go a long way to solving a problem he said was common in his city, São Paulo: fare card fraud. Hackers worm their way into transport cards and adjust the balance, resulting, essentially, in free bus and train rides. (An article from the Brazilian magazine Exame, translated by Google, discusses the issue.)
Almeida said blockchain would let him validate transactions, making it harder to score unpaid-for trips.
"This would better security," Almeida said. "Blockchain is the future."
Cloud technology still technology
So is cloud computing, he added, but , Brazilian companies need to get over their fears that IT operations run off premises are not secure. Almeida said his company started with cloud computing this year, putting its database and other applications in IBM's cloud.
There are similar worries in Mexico, said José Betanzos. A software developer by trade, Betanzos recently started at Sistemas aKúbica, an IT consulting outfit and IBM partner in Mexico City. He was at IBM InterConnect learning about IBM products and services, which he will soon start helping other companies implement, along with other vendors' technologies.
Spreading the word about the cloud will be one of his main challenges. In Mexico, he said, ordering and setting up servers, networking and infrastructure on premises is still the norm at many companies.
"That takes a lot of time and a lot of money," Betanzos said. "And people have to watch the servers and pay attention that the routers are actually working and that they are connected to the internet. But that's something that you don't have to care about with cloud technology."
To convince them to make the move, Betanzos will start with the obvious: Done right, cloud computing can save time and money. Then he'll move to the harder sell -- that most companies can't match the security that cloud providers have in place.
"There is the risk that you're going to avoid by having your data in the cloud, your processes in the cloud," he said.
Mission accomplished -- if you're IBM.
CIO news roundup for the week of March 20
SearchCIO was in Las Vegas covering IBM InterConnect. Here's what was happening elsewhere:
CIA developed tools to spy on Apple devices. On Thursday WikiLeaks released a fresh set of documents claiming that the CIA has developed tools to infect Apple Macs and iPhones in order to spy on the devices. The leak, dubbed Dark Matter, includes details of the "Sonic Screwdriver" project, a "mechanism for executing code on peripheral devices while a Mac laptop or desktop is booting," allowing an attacker to boot its attack software "even when a firmware password is enabled." The CIA has been targeting iPhones since 2008, according to the release. "Based on our initial analysis, the alleged iPhone vulnerability affected iPhone 3G only and was fixed in 2009 ... ; additionally, our preliminary assessment shows the alleged Mac vulnerabilities were previously fixed in all Macs launched after 2013," Apple representatives said in a statement issued to TechCrunch.
Senate votes to bar internet privacy rules. The U.S. Senate on Thursday voted to repeal Obama-era internet privacy rules designed to protect consumers' online data privacy. The rules were passed by the Federal Communications Commission in October, and the repeal would allow broadband companies like Verizon, Comcast and AT&T to sell and share their customers' online data with advertisers without consent. "The would undo privacy rules that ensure consumers control how their most sensitive information is used," Neema Singh Guliani, the ACLU's legislative counsel, said in a statement.
Boom in AR-VR headset sales. Market research outfit IDC forecasts augmented reality and virtual reality headset shipments to reach 99.4 million units by 2021, up from 10.1 million units shipped in 2016, resulting in 58% compound annual growth rate. "While there was clear demand coming primarily from technology enthusiasts, what became readily apparent were the use cases for enterprise users across multiple verticals and for consumers with gaming and content consumption," said Ramon Llamas, research manager at IDC's augmented and virtual reality team. AR and VR use are expected to raise productivity, save time and reduce costs for business users, according to IDC's Worldwide Quarterly Augmented and Virtual Reality Headset Tracker.
Google ad fiasco. Major U.S. advertisers, including AT&T, Verizon, Johnson & Johnson and car rental company Enterprise halted their ad spending on Google and YouTube after reports emerged last week about ads accompanying YouTube videos containing hate speech. "We are deeply concerned that our ads may have appeared alongside YouTube content promoting terrorism and hate ... Until Google can ensure this won't happen again, we are removing our ads from Google's non-search platforms," an AT&T representative said in a statement.
Assistant editor Mekhala Roy contributed to this week's news roundup.