Konstantin Sutyagin - Fotolia
News
Stay informed about the latest enterprise technology news and product updates.
City CIOs debate the merits of the IoT-powered smart city platform
Smart city projects often begin as a one-off. Now, city CIOs face the challenge of knitting it all together.
Transforming a "dumb" city into a smart one often happens in stages. It starts with the streetlights or a sleek parking app, where sensors are embedded into infrastructure to shore up usage or to direct drivers to empty parking spots. But knitting together these silos to form a smart city internet of things platform is still a work in progress.
San Diego is hoping to spur that progress along. In February, the city announced it would deploy the world's largest smart city internet of things (IoT) platform. Far from functioning as a single IoT project, San Diego's streetlights will be outfitted with sensors to capture all kinds of IoT data that will be used to uncover inefficiencies and create new city services. "In San Diego, we believe in the idea that if we're going to be repurposing these traditional infrastructure assets, it needs to be for a multiuse platform and not a single one-off use," said David Graham, deputy chief operating officer for the city of San Diego.
Early adoption of any technology has inherent risk, and smart city platforms are no different. IoT is still an emerging technology, and technical standards on how to collect data and how to address data privacy concerns -- and, in some cases, what the value proposition is -- are still evolving.
The smart city 'ecosystem'
Rob Lloyd, CIO for San Jose, Calif., described smart cities, which use technology and sensors to digitize city infrastructure, as often stuck in first or second gear with one-off projects. And Lloyd has started thinking about what comes next: "Can we do more than the cute projects and make smart cities a platform that allows us to connect and to control the entire environment in ways we've never done before?"
Turning cute IoT projects into a smart city platform will be no easy task. Lloyd said it will require tools to connect data from one-off projects together, employee training on how to access the data and how to build smart applications, analytics that can turn data into useful information for city officials, and machine learning so that the platform runs efficiently.
The data connections also can't stop at city limits. Lloyd envisions an "ecosystem" where data is shared across communities so that smart cities aren't bound by their borders. "[Smart cities] will be smarter and more valuable the better connected they are and the more participants there are," he said.
That may sound like a lofty goal, but some cities, including San Diego, are beginning to experiment with a platform approach to smart cities.
World's largest smart city platform
The platform San Diego will deploy this year uses Current, an energy savings company that describes itself as a "first-of-its kind startup within the walls of GE," to modernize and sensorize city streetlights. Current will upgrade 14,000 streetlights with LED fixtures, which will reduce energy costs by an estimated $2.4 million a year, and it will install 3,200 "CityIQ" sensor nodes -- equipped with optical, audio and other sensors -- to collect data on the environment, weather and traffic.
Behind the scenes, the platform will be powered by technology from Pivotal and GE's Predix platform, chips from Intel, and network connectivity from AT&T. In fact, San Diego is one of the first cities to take advantage of an exclusive agreement between GE and AT&T to bring IoT sensors and connectivity to cities across the U.S. and Mexico.
The foundation for the newly announced IoT platform began two years ago when San Diego upgraded 3,200 streetlights with adaptive LED fixtures and wireless connectivity. The enhancements enabled the city to remotely control the brightness of the lights, and, subsequently, to create a wireless local area network or a mesh network.
GE approached the city with a new idea: With the beginnings of a mesh network already in place, why not add additional sensors to collect other kinds of IoT data that could be used to generate new apps and pin down inefficiencies for the city? The proposal aligned with the city's thinking. "We've seen for far too long that one-off investments in technology provide benefits for a single use case, but with the advancements in software that we've seen, if you build the hardware correctly, there's no telling what you can do," Graham said.
Last summer, the city launched a pilot with 40 CityIQ nodes, and it began to see how sensor data could spark civic innovation. At a hackathon with the University of California at San Diego, a group of students came up with the idea of developing a food truck app for food operators to target places where people were congregating -- on the fly. "There's so much that can be done," Graham said.
The sensor data will eventually feed into the city's open data portal and, through APIs, will be made available to the public. "Right now, we're in the early stages of determining what data and data streams will be pushed out via our open data portal," Graham said. "But in San Diego, our default is open -- open with people, open with our data."
The upgrade to streetlights is set to begin this summer, and Graham is already talking about the possibility of installing another 3,000 CityIQ sensors before the end of the year. "We see this platform as unleashing the imagination of our software developers in San Diego and also the imagination of our city employees to provide better service to the public," he said.
Smart city platform: Too soon?
Not everyone is convinced that a platform approach is the way to go -- at least, not yet. Jascha Franklin-Hodge, CIO for the city of Boston, said he is "pretty skeptical" about smart city platforms. "I'm a strong believer that we're nowhere near where we need to be on the value curve for anybody to be investing significant resources and building major platforms," he said.
IoT technology is still nascent, and the policies or processes to collect and govern the data have not been worked out. Plus, the smart city end game can be overshadowed by the "cool" factor of IoT.
Franklin-Hodge said smart city conversations happening today are largely driven by vendors, not urban planners or even city CIOs, which causes cities to ask the wrong questions. Rather than starting with a city issue that could be fixed or improved by technologies such as intelligent sensors, officials begin with the tools and technology, he said.
"I'll give you an example that's sort of a classic," he said. "Air quality sensing." The technology has been around for years, and cities have talked about the benefits of having an air quality map or a fine-grain look at the most polluted locations.
"The problem is nobody's figured out what to do with that," Franklin-Hodge said. "Let's say you know exactly where pollution is happening and when it's happening. What policy interventions do you take to change that? Do you close streets? Do you tell businesses to shut down? Do you implement some new technology that cleans the air? Nobody has actually solved for the other side of that equation."
To avoid getting mired in "techno-fetishism" conversations with vendors, the Mayor's Office of New Urban Mechanics, Boston's innovation group that often partners with the city's IT department, published the Boston Smart City Playbook. It effectively serves as an open letter to the smart city community by laying out why smart city projects are so challenging and including key questions for the vendor community.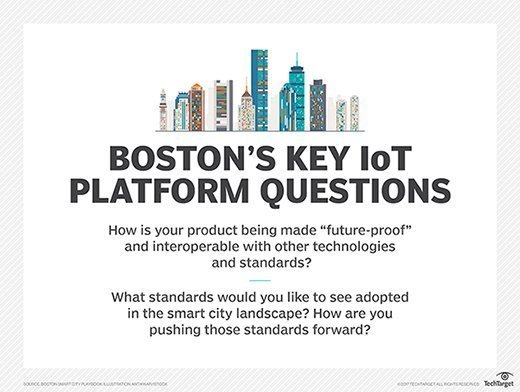 On the playbook's list is smart city platforms: The authors argue that it's too early to talk platforms because the type of sensors it will use, the technical standards sensors will abide by, how the sensors will be networked or where the data will be stored has not been reconciled.
"As a city, we're not in the business of making bets on what technology standards will prevail," the playbook reads. "(It's why we're working with the National Institute for Standards and Technology as part of our work.) Until those standards are clear and until we have a better idea of the technical landscape, we don't need or want a 'smart city platform.'"
One question the playbook poses multiple times: Has the vendor talked to residents before pitching its product to city hall? The question is one way of asking if the vendor can prove the value of its product for city constituents. "Can [the vendor] demonstrate that by making an investment and building a system it's going to impact people's lives in a positive way?" Franklin-Hodge said. "My feeling is that most of these smart city technologies have really not passed that test yet."
Dig Deeper on Internet of things (IoT) for business