News
Stay informed about the latest enterprise technology news and product updates.
Gartner 2016: A grand vision, through CIOs' eyes
CIOs will change the world with 'civilization architecture.' That was the word at the Gartner 2016 gathering. Now how does that happen? Also: Massive DDoS attack; AI ascends.
Research outfit Gartner laid out its vision for CIOs Monday at its annual Symposium/ITxpo: IT leaders will build a new type of digital platform called "civilization architecture," said analyst Peter Sondergaard to the thousands gathered in an Orlando, Fla., ballroom. "It will forever change the way people engage -- socially, digitally, physically."
Pretty grand stuff. But how does this infrastructure get built? Exploration of the emerging technologies that will underpin the system -- artificial intelligence, blockchain and internet-connected networks of devices -- dominated the show, which ran through Thursday.
Through it all, CIOs and other IT leaders we met were making mental notes on how the Gartner 2016 plan might play out -- or not play out -- at their organizations.
Larry Gagnon, senior IT project manager at the University System of New Hampshire (USNH), viewed the predictions through a pragmatic lens.
"It's a perspective I have about attending these types of conferences," Gagnon said. "I go, 'Good information -- I get it, I understand. Now how do I leave and actually act on it?'"
At USNH, which binds together two colleges and two universities in the state, Gagnon said implementing developing technologies has to first start with the vision higher-ups have for the entire organization.
He gave an example of one befitting a higher-ed institution: Being the No. 1 research school in the country.
"OK, I'm in technology; what's that mean to me?" Gagnon said. "Well, that tells me how I'm going to allocate my resources. My budget needs to align to meet that mission, so I'm going to make some decisions."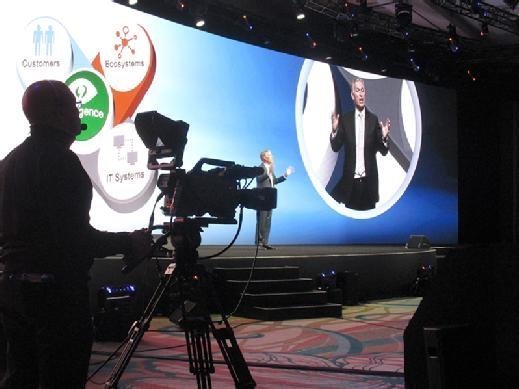 'It takes a village'
COO Jim McDade's company, Aware360, in Calgary, Alberta, sells "people IoT," which connects human beings with monitoring devices to keep tabs on whether they're safe and sound. The systems are used in healthcare -- think of people with cognitive disabilities such as dementia -- and other industries. In oil and gas, for example, a device might be used to track a worker alone in the field.
As a tech vendor, Aware360 is ahead of the technology curve. But it's a small company, with just 35 employees, so scale is a perennial challenge, McDade said. It's facing up to it by expanding its ecosystem of business partners -- monitor centers that handle alerts and notifications; telematics providers, which track vehicles using Global Positioning System and self-diagnosing tools; and technology providers, which host its cloud infrastructure and internet of things platforms.
"The more we sell, the more they gain. It's a multifaceted channel strategy," McDade said.
The ecosystem concept played large at the conference -- in Gartner's view, companies need to venture boldly into these far-reaching networks if they're going to succeed.
A former CIO, McDade knows such moves won't be easy for a lot of traditional IT teams, which are used to running their own systems and solving their own problems.
"This is just business. It's so interconnected now, the economy is so interconnected -- it's a global village," he said. "For us it's natural to have that strategy. For an internal IT shop, it's pretty shocking."
Digital business: A heretical view
Gartner's traditional thinking is that CIOs should be the force behind digital business transitions, but at least one of its analysts in Orlando this week preached against it. Tomas Nielsen advised IT leaders to build and support IT systems for projects the business wants to pursue -- and let the business people sweat the transformation stuff. Nielsen's research, which Gartner labels "maverick," made a lot of sense to Italo Flammia, CIO at Porto Seguro, an insurance company in Sao Paulo, Brazil.
"The responsibility to transform the company is not only the CIO's; it's the entire company's," he said. But tech leaders shouldn't wait for business folks to tell them what to do. "You can provoke, you can give them new ideas, you can give insights as any other leader in the company."
Flammia does drive digital business, just not as CIO. He is also innovation director at Oxigenio, a startup accelerator and Porto Seguro subsidiary. The company is experimenting with new technologies like artificial intelligence, virtual reality and blockchain on proofs-of-concept projects.
His dual role works, Flammia said, because one benefits the other. Using his experience as innovation chief, he can "shake up" IT by introducing new technologies and new ways of doing things.
"I really think the CIO is just part of the digital revolution," he said. "If you are an innovative person, an innovative CIO, you can take advantage of these new technologies that are appearing and take another role to innovate your company. But it's not mandatory for a CIO."
CIO news roundup for the week of Oct. 17
SearchCIO was at the Gartner 2016 conference of CIOs this week. Here's what else grabbed headlines.
DDoS attack. Sound the alarm: Netflix, Spotify, Twitter and Reddit were among the numerous websites hit by a wave of cyberattacks today. The disruptions were the result of a distributed denial of service (DDoS) attack against the popular Domain Name System (DNS) service provider Dyn and mostly affected users on the U.S. East Coast. "Starting at 11:10 UTC on Oct. 21, Friday, 2016, we began monitoring and mitigating a DDoS attack against our Dyn Managed DNS infrastructure," the company confirmed, adding that engineers are continuing to investigate and mitigate the attacks. Box, The Boston Globe, The New York Times, GitHub and Airbnb also experienced issues.
AI ascendant. This week brought more evidence that artificial intelligence is booming. AI and advanced machine learning topped Gartner's list of top 10 technology trends for 2017, unveiled this week at Symposium/ITxpo. "Applied AI and advanced machine learning give rise to a spectrum of intelligent implementations, including physical devices (robots, autonomous vehicles, consumer electronics) as well as apps and services (virtual personal assistants, smart advisors)," David Cearley, vice president and Gartner fellow, said in a statement. The technology research company predicted that in the next three to five years, 50% of all analytical interactions will be delivered via AI. In other Gartner forecasts, worldwide shipments of 3D printers will double by the end of 2016, and more than 6.7 million units will be shipped worldwide in 2020.
Enterprise security spending exploding. With the threat of cyberattacks burgeoning, worldwide revenues for security-related hardware, software and services will rise from $73.7 billion in 2016 to $101.6 billion in 2020, at a compound annual growth rate of 8.3%, market research firm International Data Corp. (IDC) predicted. The U.S. will be the largest market for security products in 2016, according to the IDC security spending guide. Digitization and the adoption of emerging technologies are also driving the demand for more and different security tools, said Eileen Smith, program director of IDC's customer insights and analysis group. "In addition to the traditional challenges of risk and regulatory compliance, digital transformation and the use of 3rd Platform technologies are putting even more pressure on organizations across all industries to develop and execute on a new generation of security measures," Smith said in a statement. In 2016, the banking industry will be making the largest investments in security solutions, the guide stated. Security-related services will account for almost 45% of all security spending worldwide; security hardware revenues will reach $14 billion in 2016.
HP bleeding jobs. HP Inc. plans to lay off 8% of its workforce between 2017 and 2019. Palo Alto, Calif., printer and PC maker announced the layoffs in a regulatory filing with the U.S. Securities and Exchange Commission last week. Approximately 3,000 to 4,000 job cuts are expected. "The changes to the workforce will vary by country, based on local legal requirements and consultations with employee works councils and other employee representatives, as appropriate," HP said in the filing. The company expects the restructuring to generate an annual run rate savings of $200 million to $300 million beginning in fiscal 2020. The layoffs come on the heels of HP's decision to eliminate 3,000 positions by end of 2016. In other downsizing news, HP's sister company Hewlett Packard Enterprise laid off an undisclosed number of employees Monday as part of a previously announced restructuring plan, GeekWire reported.
Assistant editor Mekhala Roy contributed to this week's news roundup.