Share this item with your network:
Facebook seeks to revolutionize the enterprise collaboration market

iSTOCK/GETTY IMAGES
News
Stay informed about the latest enterprise technology news and product updates.
Part techie, part people person? You're a business technologist
The SIM Boston Technology Summit puts a spotlight on IT folks who can help make the business go. Also in Searchlight: Who will buy Twitter? Microsoft opens AI group.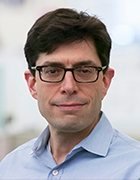 By
Are you wearing sneakers on this casual Friday? Where were they made? China, Vietnam, Indonesia? If they're New Balance, there's a chance they were made in what was once an East Coast hub of industry: Lawrence, Mass.
Like its competitors, Boston-based New Balance makes shoes in Asia, but customized footwear -- shoes that customers personalize with their choices of fabrics, lacings and soles -- are built in the U.S.
"You submit your order online or in the store, the order gets transmitted to our factory in Lawrence, Massachusetts, and it's to the consumer in four to six days," said Chris Ladd, New Balance's executive vice president of global consumer experience.
Ladd spoke Thursday at the SIM Boston Technology Leadership Summit, organized by the Society for Information Management's Boston chapter, in Newton, Mass. On stage with him was Ravi Shankavaram, New Balance's vice president of IT.
The pair had a relaxed, jocular rapport, underscoring a key ingredient in the company's swift, made-to-order shoe delivery: lockstep cooperation between business and IT. It also put into stark relief the importance of becoming a "business technologist" -- that IT exec with business savvy -- in the so-called age of the customer. Information technology has given customers more choice than ever before about what to buy, where to shop, how to shop and how to complain.