idspopd - Fotolia
News
Stay informed about the latest enterprise technology news and product updates.
Bus stop app 'just the beginning' for accessibility tech
Perkins School for the Blind launches a mobile app to help commuters with vision loss find bus stops. And it's not stopping there.
WATERTOWN, Mass. -- When Apple declared in 2009 "there's an app for that," it wasn't talking about giving directions to someone with a white cane on the way to a bus stop.
But that's what is now stocked on the virtual shelves of the Apple App Store. Called BlindWays, the free app is designed to help people who are blind or visually impaired find the sign that tells a bus driver to stop and pick up a passenger.
"It's a harder problem than you may think for people that are visually impaired," said Dave Power, president and CEO at Perkins School for the Blind, in Watertown, a suburb west of Boston. Power spoke at the bus stop at the corner of Mount Auburn Street and Russell Avenue on Tuesday in a ceremony launching the bus stop app. Massachusetts Secretary of Transportation Stephanie Pollack and officials from the Massachusetts Bay Transportation Authority were also on hand.
The app is needed, Power explained, even today, when Global Positioning System technology can help both sighted and nonsighted people get close to their destinations.
"The problem is that GPS is only good to within 30 feet or so -- and getting within 30 feet could be the difference between making or missing the bus," Power said.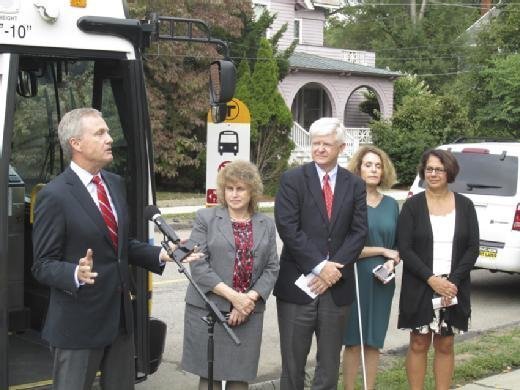 The bus stop app release comes on the heels of a partnership that was struck between the MBTA and ride-hailing services Uber and Lyft to offer low-cost door-to-door transit for people with disabilities, unveiled Friday.
The launch represents an "important first step," said Bill Oates, vice president and general manager at the school's technology division, Perkins Solutions, which partnered with Boston's Raizlabs to develop the app. Now that the app will help many people more easily navigate their way around town or to Boston -- to jobs, to medical appointments, to friends' homes -- Oates plans to keep looking for ways to improve public transit for people with visual impairment.
"What can we do to continually exploit new technology opportunities to just make this even work better -- to truly make transportation accessible for people who are blind or visually impaired?" he said.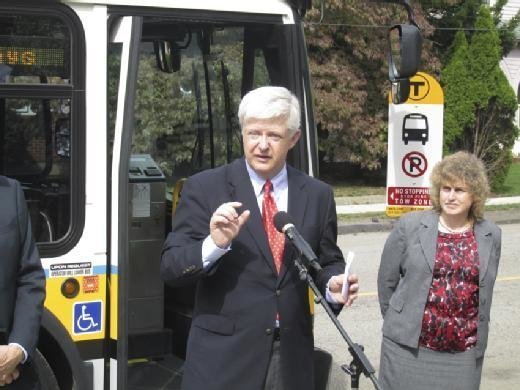 People power
Today, it's crowdsourcing that makes the app go. Volunteers submit information about landmarks -- things such as benches and mailboxes -- around the approximately 8,000 bus stops that make up the MBTA system. The app uses a screen-reading program called VoiceOver to read directions.
Luiza Aguiar, director of products at Perkins Solutions, demoed on an iPhone what someone using the app might hear while walking to a bus stop. "Closer to the stop, there is a garbage can," a speech simulator intoned. "The bus stop sign is on a metal pole on grass or dirt."
Crowdsourcing was a cost-effective way to get the app up and running quickly, Oates and Aguiar said -- it took about 10 months from conception to launch -- and it drew in a big-name sponsor. Google's philanthropic division, Google.org, awarded Perkins $750,000 as part of a contest to come up with ways to make life better for people with disabilities.
Perkins kick-started the bus stop app project after Joann Becker, a technology specialist at the school and commuter who is blind, shared a daily challenge: finding the bus stop.
Perkins will be looking at other technologies like beacons -- sensors that send signals to mobile devices -- and the device-connected internet of things for what could be another iteration of the app. Google's Tango, an augmented-reality system that enables smartphones to detect where objects are around them, is another tool that could help people who are blind or visually impaired, Oates said.
Building community
First though, people need to use the app -- and contribute to its bank of clues that make routes more accurate. Contributors can be blind, visually impaired or sighted.
Lindsay Yazzolino, a contract worker for the MBTA's accessibility program, worked on testing for the app and contributed information about the stops. She is blind.
"It's not just that blind people can benefit, but we also can contribute to the cues," Yazzolino said. "If I take a bus and I know what to look for, I can add those cues myself and not just wait for someone who can see to do it."
To help get out the word, the MBTA is giving public service space inside buses to Perkins, posting cards emblazoned with the BlindWays logo and information about how to download the app.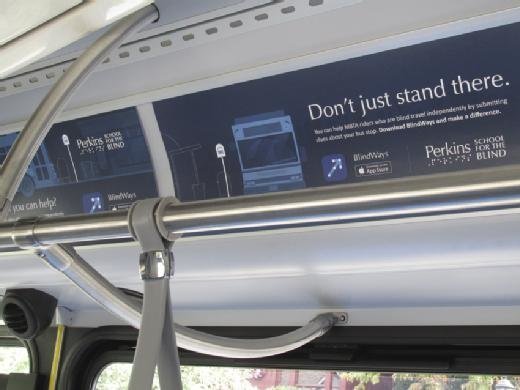 Oates has reason to feel confident that crowdsourcing location data will work. A longtime government CIO, Oates led IT at the governments of Massachusetts and Boston. He launched Citizens Connect in Boston, a mobile app that lets residents report issues such as potholes and graffiti to City Hall.
"It was hugely successful because it worked, and it offered value to the residents. We feel as though that same spirit of community could exist around this," he said.
Oates said Perkins will reach out to other cities that want to use technology to make their transit systems more accessible to greater portions of their populations.
"Because the nice thing about this is it's very scalable," Oates said. "As long as we have community in other cities, we'll be able to take it to other places as well."