News
Stay informed about the latest enterprise technology news and product updates.
Gartner Catalyst 2016: Cloud enables a connected future
Gartner has a message for IT: To thrive, get into the cloud. Also in Searchlight: Cisco layoffs, Eddie Bauer malware hack, Google's rumored new OS, China's quantum satellite.
SAN DIEGO -- The Gartner Catalyst 2016 conference offered this ground-level look into a technology-enhanced future:...
Continue Reading This Article
Enjoy this article as well as all of our content, including E-Guides, news, tips and more.
A burglarized internet-connected car instantly sends information about the incident to the police, who investigate and file a report. The connected car passes on the data to the owner's insurance company, which sends it on to a claims adjuster and ultimately to auto-repair shops, where estimated quotes are calculated. The owner, in a business meeting, gets all the info by text message.
"Welcome to the on-demand digital business," said Gartner analyst Drue Reeves in the event's keynote presentation Monday, "where everyone and everything is connected to the internet; where things happen in seven seconds, not seven days; where IT is virtually invisible, but very prevalent."
That last part was specifically for the crowd of IT managers, architects and programmers at Gartner Catalyst 2016. Their role, Reeves and other analysts stressed, is to help build and maintain the infrastructure that will make a connected future tick -- and allow their own companies to survive in a market where "the speed with which you react is your competitive advantage," Reeves said.
The only way to make such a future possible -- and manage the intricate network of connections to hundreds of thousands, even millions, of devices relaying massive amounts of data -- is to plug into the power, reach and elasticity of cloud computing, said Kyle Hilgendorf, another Gartner analyst on stage at Catalyst. It was a call to action that resonated throughout educational sessions on blueprinting a cloud strategy, evaluating cloud platform providers and designing secure environments: Cloud is the future, so get with it.
Wanted: Cloud architects
In a session he led, Hilgendorf backed up his pitch with numbers: Cloud software will grow at a compound annual growth rate of 18% over the next five years, according to a Gartner forecast, compared with 3% for non-cloud software. Projected increases in cloud infrastructure spending are even more dramatic: 30.5% versus 2.5% for non-cloud infrastructure.
Meanwhile, a Gartner survey found that 45% of organizations see themselves as "somewhat prepared" for a turn to the cloud, Hilgendorf said. To steer efforts, organizations need to put someone at the helm: a cloud architect.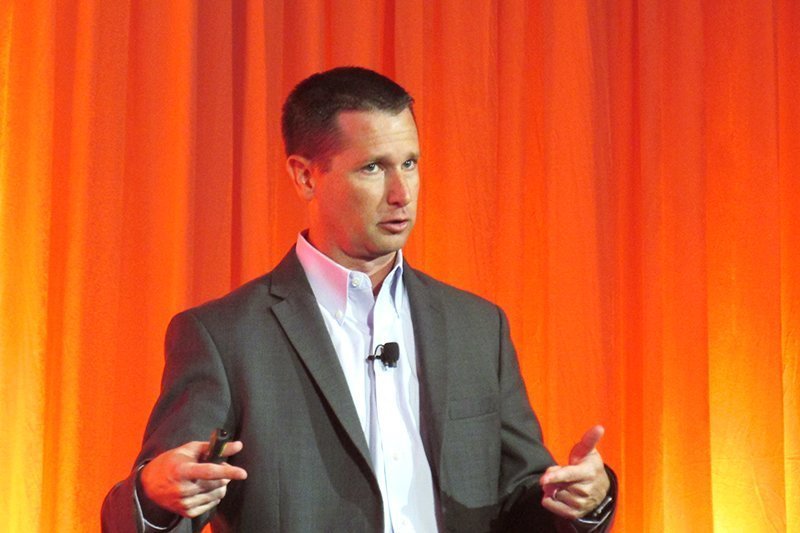 "You need that doer, that technical thought leader, that implementer and leader of technical people that can take your cloud strategy and vision that may be set by the CEO, a CTO, a VP," Hilgendorf said, "and take that into reality."
The cloud architect needs to be the arbiter of a "cloud-first" strategy, which points to the cloud as the primary direction for new IT initiatives. Gartner analyst Mindy Cancila drilled into how to make cloud computing "preferred, promoted and prioritized" in organizations. It's an ongoing process that might start with deciding whether cloud software makes sense to mulling over a "multi-provider approach," in which different cloud infrastructure providers are used to host different applications.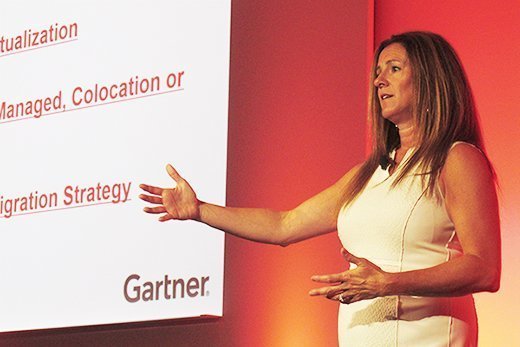 "A strategy is not something you build once and walk away from," Cancila said. "It's a process. It's a part of your organization, a part of your culture."
Cloud moves big and small
Gartner Catalyst 2016 attendees were at various stages in the cloud journey. Robert Mello, IT infrastructure manager at the University of Central Florida, said the school is "modernizing the way we do IT" -- including virtualizing its data center and moving from server-based applications to cloud-based ones.
For example, the university moved its learning management system, which administers online courses, to a cloud software application. It's done the same with its electronic data capture system, which collects data for clinical research. Now meeting a surge in demand is easier, Mello said, and it brings a lot of relief as the first week of classes -- "usually our busy time" -- approaches.
"We've finally gotten that down, where we don't have crashes -- but eight, 10 years ago, the systems would crash," he said. "So virtualization was the first step. Cloud's probably the next step for us to be able to scale and be more agile."
Karl Werner, IT manager at the University Corporation for Atmospheric Research (UCAR) in Boulder, Colo., is also moving on-premises applications to the cloud. It's deploying the cloud travel application Concur and SciQuest, a procurement system in the same 11-month cycle. Another cloud move taking place is to Microsoft's cloud infrastructure, Azure. "That's a slower process," he said.
UCAR, a consortium of 100-plus colleges and universities that provides research and training in fields such as meteorology and environmental science, has to comply with a slate of federal regulations, so IT is hybrid -- part on premises, part cloud. Putting in place a firm governance policy for how cloud services are bought and deployed is something the agency is working toward.
"Right now, it's kind of ad hoc," he said. "There's not a lot of direction. So it's whoever wants to get a new service, that's what we end up doing."
Putnam Investments, like other businesses in financial services, has historically shied away from the public cloud because of security and compliance concerns. It has a private cloud implementation, but software developer Bill Wanamaker said the Boston company is considering the public cloud, too, tempted by benefits like higher efficiency and lower maintenance costs. Right now, though, it's starting small, doing a proof of concept with chat application Symphony.
"It will be a while for a company like Putnam to go fully public cloud."
CIO news roundup for week of Aug. 15
SearchCIO was at Gartner Catalyst 2016 this week. Here's what else was happening:
Cisco layoffs. The San Jose-based tech giant is eliminating 5,500 employees worldwide or 7% of its workforce. The restructuring will help "to optimize our cost base in lower growth areas of our portfolio and further invest in key priority areas such as security, IoT, collaboration, next generation data center and cloud," Cisco said in a press release that also stated the company's fiscal fourth-quarter financial results. The workforce reduction, which comes on the heels of the Microsoft and Intel layoffs in July and April respectively, underscores the push by legacy tech vendors to shift focus and resources to new markets and emerging technologies, writes Eric Jhonsa.
Another hack attack. Bellevue, Wash.-based outdoor apparel retailer Eddie Bauer LLC warned customers that malware had infected its point-of-sales systems at all 350 stores. Shoppers who used a credit and debit card at the stores during the first six months of the year may be at risk. The malware has been removed. Cyber security expert Brian Krebs said Thursday that he had notified the store about a possible hack on July 5.
Pink+Purple = Fuchsia? That's the name of a new operating system Google is reportedly working on. Google watchers point out that the rumored OS is currently just a collection of code posted on Google Git and the online code repository GitHub. While Chrome OS and Android both use the Linux kernel, Fuchsia is built on the Magenta kernel that is based on a project called Little Kernel. The search giant hasn't made any official announcements about the project and it remains to be seen how the company plans to use the new OS.
Quantum feat. China launched what's said to be the world's first quantum communication satellite from its Jiuquan Satellite Launch Center in the Gobi Desert on Tuesday. Nicknamed "Micius" after an ancient Chinese scientist and philosopher, the satellite will test the feasibility of transmitting hack-proof quantum communications from space to earth as part of its two-year mission. Quantum communications employ subatomic particles to ensure secure communication between two points.
Check out our previous Searchlight roundups on Delta's massive outage and the IT gender gap.
Assistant editor Mekhala Roy contributed to this week's news roundup.