News
Stay informed about the latest enterprise technology news and product updates.
Pros, newbies seek new answers to cloud questions at Cloud Expo
Consultants and job seekers joined practitioners at the Cloud Expo conference with cloud questions on topics ranging from container storage to the internet of things.
Samuel Tresler's mind was on storage.
The freelance DevOps and infrastructure consultant was combing the vendor hall at the recent Cloud Expo conference in New York, eyeing storage systems for containers, which run applications plus the code and tools that make them tick on a single Linux server.
Containers and their leading purveyor, Docker, have gained enormous popularity in recent years for a number of reasons -- not least of which is the apps they "contain" can rapidly be moved from inception to testing to cloud production. But for all the punch containers pack, storing the data the apps run on remains a challenge. If a container is moved or replicated, it doesn't take its data with it.
"It's one thing to be able to run whatever database application RDBM you're using," Tresler said, referring to a relational database management system. "Through a container in the cloud, that's another thing. That's your data, and if it goes away that's a problem."
Tresler had plenty of company at Cloud Expo. The convention had experts and vendors on hand to discuss DevOps, security and the internet of things -- topics that reflected the cloud questions industry veterans and even newbie job seekers were trying to answer. They ranged from staving off a wave of data breaches to getting used to living and working in device-connected "smart" places.
For Tresler and others intrigued by container technology, the challenge is finding a storage system that can be a "single source of truth." It should be distributed storage, which keeps data in different physical servers and can access data quickly, whether someone is keying something onto a website or collecting analytics. An ideal system would also have high network speed, so data is replicated almost instantly.
A product called Flocker, described on its website as an open source "container data volume manager," is close but "not quite there yet," Tresler said. The quest for a remedy is on. On the expo floor, "every third booth is about storage, so that's what everyone is asking about."
Cloud systems, cloud questions
Tighe Berni is another independent consultant who was at Cloud Expo. One of his clients is a 25-branch bank in New Jersey that was hacked, so cloud-based security systems were on his radar. One system he's considering prevents the spread of ransomware, software that blocks access to a company's computer systems until money is paid.
Berni was also surveying cloud systems for law enforcement -- software used for accessing arrest data for background checks, for example.
"The cloud is real big today," said Berni, whose background is in telecommunications -- specifically, the business telephone systems known as private branch exchanges, which allow workers in a company to share phone lines. The field was transformed by the cloud, as communications services started relying on the internet in the 1990s.
In the early days of cloud computing, Berni said, people were afraid that off-site servers weren't stable -- for example, they didn't share resources like CPU and bandwidth effectively, resulting in poor performance. And they worried that their data would get lost. Today, though security and cost of data storage are perennial problems, cloud providers have made a lot of headway, he said. People like him are looking to the cloud for the solutions.
"Now the cloud is more acceptable," he said. "[It] has become a big business."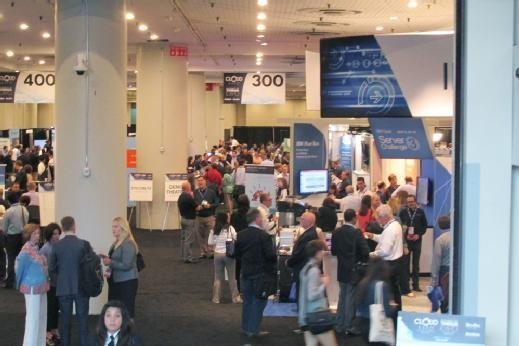 Connections everywhere
Lily Xa sees the cloud as an opportunity to make products that can do things that were once not possible. A computer-aided design draftsperson -- she made 3D models of trophies at Tiffany & Co. -- Xa is working the job market and was at the Cloud Expo conference "looking for things that will inspire me."
Smart buildings did. Xa attended an educational session on how sensors hooked into internet-connected devices can help make buildings more energy-efficient and reduce costs. Speaker Dan Levine talked about motorized shades in all-glass office towers lowering automatically when the sun pours in. That way, the air conditioning doesn't work harder to compensate. (Levine does have a vested interest in the topic: He's CEO at CytexOne, which sells automated home and building management systems.)
Xa asked Levine whether someone can open closed shades if the power goes out.
"That's an awesome question," Levine said. "Most people actually ask, 'If the electricity goes out, will my lights still work?'"
After chuckles from the audience, Levine answered yes -- if you have drapes that slide sideways. Roller shades won't work.
Xa said she poses questions about how technology can be weaved into everyday products all the time. The innovation and power offered now by cloud computing only adds fuel to her curiosity's fire.
"I'm always thinking about things," she said. She wondered, could a smart network make rummaging through the pantry for dinner options a thing of the past? What if food items "were somehow computerized and put on my phone?"
Even better? A dinner menu and cooking instructions based on whatever is on the shelves.