News
Stay informed about the latest enterprise technology news and product updates.
MIT CIO: Cooperation vs. competition in the digital ecosystem
"Digital ecosystem" was the catchphrase at this year's MIT Sloan CIO Symposium. To vie as competitors, companies need to play by a new directive: Share or be left out.
If corporate life is a bowl of ripe peaches, brace yourself. Peter Weill, senior research scientist at the MIT Sloan School of Management, used the summer fruit as a metaphor to describe how traditional corporations are eyed by smaller, lither startups and financial technology companies. In the new digital economy, there are a lot of those.
"With all of the fintechs and all of the startups, they're going to take lots of bites out of your peach -- and they'll leave you with the pit," Weill said. "And pits have cyanide in them for peaches."
Weill, chairman of MIT's Center for Information Systems Research, kicked off the MIT Sloan CIO Symposium on Wednesday with a discussion about the "digital ecosystem" with leaders of companies old and new -- BNY Mellon, Principal Financial Group and online lender Kabbage. An overarching theme was, traditional companies, like startups, should try new things -- and be quick about it.
But there's a parallel to the peach-chomping frenzy, and that's collaboration. In a digital marketplace, it's the companies that play nice with others, sharing data and technology, that respond more quickly and effectively to customers' fast-changing needs.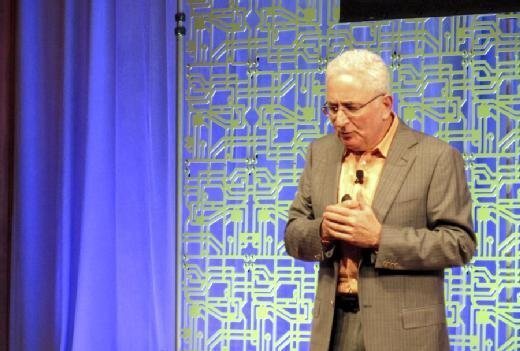 For example, Kabbage's automated lending platform gains authorized access to business, social media and shipping data from companies seeking loans to learn how the applicant "is performing at any given time," said CEO Rob Frohwein, in order to make near-instant lending decisions.
Digital 'coopetition'
The theme of "coopetition" -- collaboration among rivals for the greater good -- played big at the Cambridge, Mass., gathering of CIOs and other executives, from the work on standards for new technologies like blockchain, the distributed ledger digital currency bitcoin is based on, to regulators and individual corporations all doing their shares to protect privacy and security as mammoth amounts of data are more easily processed, analyzed and acted on.
"They need each other's data, but at the same time they're trying to take market share," said Jason LaVoie, director of technical solutions and operations at mobile marketing startup SessionM, in Boston's Seaport, an area known for its young tech companies, booming construction and as the future home for a new old giant, GE. "It's fascinating, but it's where the world needs to go."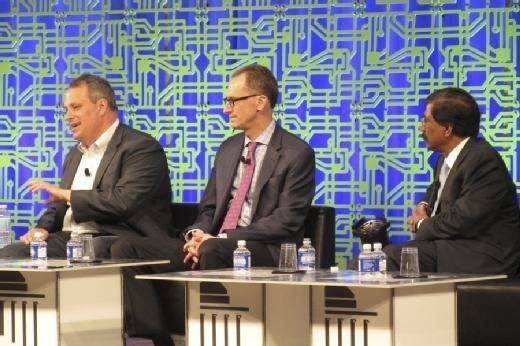 LaVoie's company is a part of the digital ecosystem. Its business is gaining permission to use mobile users' data, analyzing it and delivering targeted ads and promotions to their smartphones.
"We need to get that from many places," LaVoie said. "We're not a single source of truth for purchase behavior."
Cooperative cybersecurity 'not there yet'
Vineeta Kumar, a Massachusetts-based consultant for global company Wipro, said cybersecurity is a crucial area for companies to come together on in a digital future.
"The more digital you want to do, the more security you want to provide to people to feel safe," she said. But cybersecurity is a particularly sensitive area.
"If a company learns something that helps them enhance their cybersecurity areas, what is the motivation to share it with their competitors?"
It might see that as giving away its competitive edge, Kumar said. Another part of the challenge is, companies may not want to share particular vulnerabilities.
The more sharing there is among industries in which companies share data with their customers -- retail, financial services, healthcare -- the more trust will grow. That could, in turn, increase the likelihood of industrywide solutions to cybersecurity problems. "We're not there yet," Kumar said.
Anne Blanchard is senior product marketing manager for Limelight Networks, in Framingham, Mass., which offers a private Internet service for companies that need to swiftly ship large files. Blanchard works with the company's gaming customers and was at the convention to learn more about the sharing and integration work needed on the Internet of Things, the ever-expanding network of connected devices.
She agreed that partnering should be a part of the discussion about security in a digital marketplace. I talked to her after a session on how to keep the exchange of big data both free-moving and secure.
"The regulators and the big companies and the international companies and the consumer -- there's so many parties to this use of big data. You can't just dictate how it's used, what the one way to go about using big data is. You just can't," she said. "You have to build cooperation and shared vision, which is really hard."
(Over-) sharing economy
That shared vision is needed in other branches of the digital ecosystem as well, such as what has been dubbed "the gig economy" in which people do contract labor like giving car rides for Uber or renting their condos for the weekend -- or get recruited by traditional companies for discrete projects. Erik Brynjolfsson, an MIT professor who studies the impact technology has on business strategy, led a discussion on whether this labor organization model, which removes employer-provided benefits like healthcare and retirement accounts, is a good or bad thing.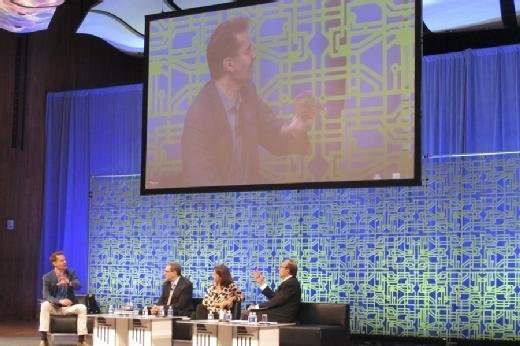 One discussion centered on websites like Yelp that serve as forums for people to comment on retailers, restaurants, dentist offices and other businesses. They could heap on praise for a job well done or scorn for bad service. But even people who work for companies known for superb customer service still have bad days.
That speaks to the sometimes oppressive nature of having all sorts of data in one place, Blanchard said. Dealing with the digital ecosystem requires more than what data can provide, a human touch.
"We have to take a human-centered approach to this technology, or we're really going to build a world we don't like," she said.
Dig Deeper on Leadership and strategic planning