Startup company culture seeps into traditional financial services
IT executives at the MIT Sloan CIO Symposium suggested that financial services companies making a digital transformation should incorporate elements of startup business culture.
CAMBRIDGE, Mass. -- The shift to digital business has compelled CIOs at well-established financial services companies to take their cue from startup company culture.
Indeed, the ongoing incursion of digital competitors into financial services -- from mobile payment apps such as Apple Pay to alternative lending firms -- has continued to rock traditional banks, insurers and wealth management firms.
But the old-guard is responding to the unfolding competitive environment. Elements of startup company culture, such as the embrace of emerging technologies and the adoption of more fleet-footed, iterative development approaches, are now making their way into financial services enterprises.
Gary Scholten, executive vice president and CIO at Principal Financial Group, said his company's digital efforts involve moving into agile and rapid experimentation, pursuing a minimum viable product approach and using data to adapt and change.
"What does that sounds like?" Scholten asked. "It sounds like a startup. To be successful in digital, you have to act like a startup."
Scholten was speaking during a panel discussion on digital ecosystems at the MIT Sloan CIO Symposium, held May 18.
'Best of both worlds'
Suresh Kumar, senior executive vice president and CIO, Client Technology Solutions at BNY Mellon, said his approach has been to leverage new technologies as a startup would but still take advantage of the benefits of long experience. The bank's history goes back 232 years. Among those benefits are long-standing relationships, strong financials and a large tech budget.
"We ... feel we have the best of both worlds," Kumar said.
To be successful in digital, you have to act like a startup.

Gary Scholtenexecutive vice president and CIO, Principal Financial Group
On the new technology side, blockchain is one area the bank is targeting. Blockchain enables organizations to store the transaction history of various kinds of records.
"We have immersed ourselves in understanding blockchain, just as we have in the past with the Internet and other disruptive technologies," he said. Kumar said the bank has implemented blockchain with a ledger in production that serves as a backup in the event the primary system is unavailable.
Startup company culture focuses on data
The MIT panel also included Kabbage, a platform that offers an automated lending service for small businesses. The platform, which has funded more than $1.5 billion in loans since its founding eight years ago, accesses and analyzes data from applicants and other sources to process loan requests in a matter of minutes rather than the weeks it can take for traditional lenders to make a decision.
Lending was important to building the company's credibility, said Rob Frohwein, CEO and co-founder of Kabbage. But while lending remains core to Kabbage, today the data-driven disruptor has transitioned from a lending company that deals with data to a data company that focuses on lending.
"We are really a data company and that opens us up to a lot of opportunities in lending" and related financial services, he explained.
When Frohwein launched Kabbage, he recognized that numerous companies were providing automated access to data through APIs. Kabbage applies that principle to lending: A small business willing to share data allows the company to make quicker loan decisions. A business seeking funding authorizes Kabbage to access data from the companies with which the business conducts the most transactions (UPS for shipping and QuickBooks for accounting, for example), Frohwein explained.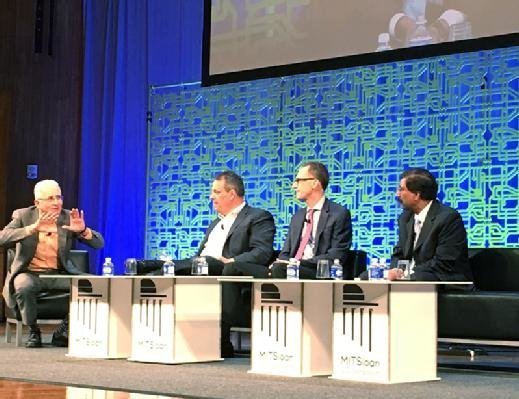 Businesses seeking loans "take control and give us access to data sources [they] think are the most important," he said.
Kabbage is considered a disruptor in the financial services space, but Frohwein rejected the idea that startups are locked in a struggle against "evil" banks. He suggested both startups and well-established financial institutions need to get over themselves and be open to partnering with, and learning from, others.
"They have to let go of the arrogance," Frohwein said.
Next Steps
Learn how platforms can enable digital transformation
Find out how BNY Mellon uses emerging storage technologies
Read about the main ingredients of startup culture
Dig Deeper on Leadership and strategic planning