Share this item with your network:
IoT applications in the food supply chain

masterzphotofo - Fotolia
News
Stay informed about the latest enterprise technology news and product updates.
UN CITO dreams of foiling dark web with 'Digital Blue Helmets'
UN CITO Atefeh Riazi is taking steps to make the United Nations' IT group more agile and more able to focus on innovation. She also has a plan for taking on the dark web.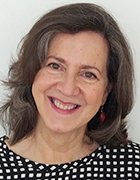 By
Aligning IT with business goals is a hard job for any CIO. When the organization is the United Nations and the...
Continue Reading This Article
Enjoy this article as well as all of our content, including E-Guides, news, tips and more.
goals number 17 and start with "End poverty in all its forms everywhere," the CIO, it's probably fair to say, had better like a challenge.
Fortunately, thinking big comes naturally to Atefeh "Atti" Riazi, appointed in May 2013 as the United Nations' Assistant Secretary General and Chief Information Technology Officer. Riazi began her career as a young engineer at the Metropolitan Transportation Authority of New York, rising through the ranks to CIO, with responsibility for implementing the MetroCard in New York City. She then served as global CIO and senior partner at advertising giant Ogilvy & Mather and from there became CIO and acting General Manager of the New York City Housing Authority.
In this Q&A, Riazi talks about the steps she is taking to make the IT function more efficient, agile and innovative -- from consolidating data centers, to implementing ERP to using big data analytics to solve intractable social problems. She also shares her dream of galvanizing technologists to combat crimes perpetrated on the dark web.
How is your job as UN CITO going? Is it getting easier or harder?
Atefeh "Atti" Riazi: On some level it is getting easier, because I've been here for two-and-half years and I'm getting to know the structure and becoming more familiar with the culture.
On the other hand, there are more complexities to the role now. The UN has endorsed 17 Sustainable Development Goals and we need to see where technology fits in. This is well beyond tasks such as figuring out which assets belong in the cloud, or dealing with messaging. Those functions will always be important; we need a good, clean operating environment, one that supports the inner working of the organization. But IT at the United Nations is also about the organizational mission. How do we develop technology that advances education? And to support the UN response to the crisis in Syria out in the camps, where does technology come in? Can we call on remote doctors and medicine? Can we employ remote education? On another front, where does technology lead us in terms of the dark web and child and drug trafficking?
That's where we are. It is not getting easier, it is getting more complex, but it is exactly where we need to be. We need to be where we say, how does technology improve human life?
You have these 17 Sustainable Development Goals that technology aims to support. How does that pan out for you on a daily basis?
Riazi: The challenge is freeing up budgetary and staff resources to tackle the job; 85% of our resources are associated with operating IT as a utility. Every day, I try to find a place where we can devote at least 40% of our resources to the value-added innovation part of IT, and only 60% to infrastructure and architecture.
This is a huge question for many IT leaders -- how to free up time and resources to focus more on innovation. Are there any things you're doing right now that are going to allow for that 40/60 ratio?
Riazi: Yes, there is a lot we are doing in line with our new strategy. If we look across the Secretariat, we have over 40 data centers, and we'll consolidate these to five. We have thousands of applications, and we are going to move to a few hundred. We're going to reallocate resources, support, and spend to other critical projects. We also have hundreds of help desks that we will consolidate going forward.
The defragmentation involves breaking the silos. We aim to construct strong hubs that give a full spectrum of service to everybody: We build it once and use it many times, rather than build many things and use them once or twice. That is one big change, and I think it will help reduce the amount of time we spend on lights-on operations because you build centers that deliver security, resiliency and scalability.
Digital cash, the dark web
What are the technologies that are making your life easier these days, if any?
My call to the technologists is, let's mobilize and use technology to improve human life. We have created a space for criminality, child trafficking, cyberattacks in the dark web; let's develop a light web. Let's create a space for good.
Riazi: We have just deployed a major ERP system called Umoja. The system helps harmonize a big part of our administrative work in finance, travel, procurement and HR.
I believe it is very important to deploy predictive analytics, because we have to move from crisis reaction to crisis prevention, which means knowing how to use information and knowledge to move more quickly. What is the value of knowing that we are going to have an Ebola outbreak in a country a month or two earlier? If we can connect the dots, not only across United Nations data but across social media and governmental data, and begin to predict better, we can react better and faster, to the point of being proactive.
We are looking at technologies like digital cash and smart card technology. This is critical because when various United Nations entities respond to a crisis, and you need to bring in food and medicine, you need to consider, can we use digital cash to have the local market supply some of what's needed?
We are also looking at reinventing our logistics operations. Cybersecurity is another area. Many threats in the physical world have moved to the cyber world, to the dark web. So we are investing in security solution products, tools and training for our team, not only on the IT side, but on the operations side.
We are very much focused on green energy and are aggressively deploying solar panels for ICT equipment and data centers and consolidating our data centers to reduce our carbon footprint.
What do you believe are the disruptive technologies that are most important in IT right now?
Riazi: To me, the biggest area of innovation for humankind is artificial intelligence. Of course other areas like nanotech, organic semiconductors and complex algorithms will impact us strongly.
You mention investing in security tools. Are we seeing an increase in security threats, or have we reached the apex? At some point, technology would find ways to solve these threats. Where are we now?
Riazi: I think we are just beginning in terms of experiencing security threats. The world is changing every day. We have created technology that is behaving almost like a whole new species that is evolving, just like humans. We think we understand it but we truly don't. We think we can control the Internet but we can't control it, no one really can.
Of course, technology brings great value and innovation. However, criminal activities in the cyber world and cyber wars are just beginning.
Digital Blue Helmets
Over your career, you have developed a vision of what CIOs and technology might do for the world. That vision has translated into some practical things, for the New York City Transit Authority with the smart card and the New York City Housing Authority with e-government and focus on big data. When you think about your role as UN CITO, do you see it as mainly to articulate what technology can do to solve some of these global problems?
Riazi: I think as CITO of the United Nations, I can advocate for and hope to energize the technologists globally to come together, to use technology for the good of humankind and to develop plans to counteract its negative impact. If I can do that, or I can at least excite our sector to become engaged, I will have exceeded my biggest dreams of this role.
My call to the technologists is, let's mobilize and use technology to improve human life. We have created a space for criminality, child trafficking, cyberattacks in the dark web; let's develop a light web. Let's create a space for good. And let's do that together, so that if our kids are being trafficked in the dark web, we have a force that can predict and prevent it.
Anything else in the works that can get this message out on countering the dark web?
Riazi: We are establishing a group we call the Digital Blue Helmets because we see the future changing in the cyber world. We do have the peacekeepers on the ground. But if you look at peace in the physical world and peace in the cyber world, those are two different things, and the Digital Blue Helmets will be our experts who can operate in the cyber world protecting the UN from cyber intrusion, and helping our substantive arms in delivering their missions in the cyber world.
We need all the technology people in the world who want to do good to join and support us and ensure this group can play a positive role in cybersecurity and [combatting] cybercrime, starting with issues of human trafficking -- things that we need to stop.
How many people do you have so far?
Riazi: We are just starting to recruit a small group of experts. And we are calling on our colleagues to say "Let's work together to get this started."
So, this could possibly be a model for technologists outside the United Nations if you pull this off?
Riazi: It could be a model for creating what we are calling the light web. When we dream about developing a light web to counteract the evil part of the dark web, this is how we start.
Dig Deeper on Leadership and strategic planning