Fotolia
Digital business disrupts CIO-CEO relationship
Technology is a top-three business priority for 25% of CEOs, according to Gartner, paving the way for CIOs to play a more strategic role at their companies.
Jeff Immelt, CEO at General Electric, believes CIOs have been too passive for too long. "You're not conceptualizing how important you are in your company. You have to be an active leader, demanding your seat at the table, because your company needs you," he said at the Gartner Symposium in Orlando, Fla., last fall.
Nigel Travis, CEO at Dunkin' Brands Group Inc., sounded a similar note at a recent gathering of CIOs and IT leaders in Newton, Mass. He said CIOs are uniquely positioned to play a strategic role in their companies because they know technology, and technology is vital to the innovation needed today. "We're in a new world, and you in IT are right at the forefront of it," said Travis, a keynote speaker at the SIM Boston Technology Leadership Summit in November.
The new state of affairs Immelt and Travis referred to is known as digital business, a term Gartner defines as "the creation of new business designs by blurring the digital and physical worlds." CIOs are no strangers to this phenomenon. But the rapid growth of the digital environment -- at work, at home and about -- is having a profound effect on the chief executive's relationship with technology and with the CIO.
CEOs like Immelt and Travis don't talk about wind turbines or cups of coffee without talking about data, sensors and connectivity. "Our products are smart, our customers want outcomes and analytics is the bridge," Immelt said. "And you're better off being part of the make process than feeling like you can outsource all of that."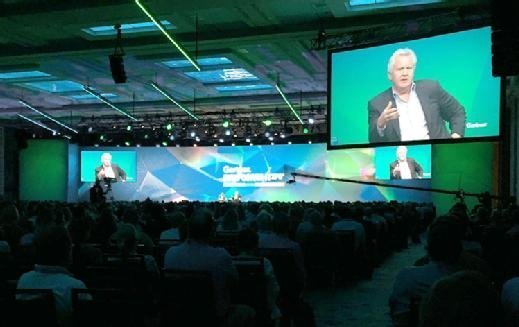 According to Gartner's most recent CEO survey, 25% of the 400 respondents listed a technology issue in their top-three business priorities for the year. That number may not seem earth shattering, but it speaks volumes to analyst Mark Raskino.
"A technology issue has infected -- invaded -- the top three business priorities for a quarter of [the respondents]. And let me tell you, that's as high as it has ever been in our survey, which goes back over a decade," he said at Gartner Symposium.
The CIO-CEO partnership
It's a statistic that should also speak volumes to CIOs, Raskino said, because it's evidence that digital business is shaking up the CIO-CEO relationship. This isn't a repeat of the ERP consolidation days, when CIOs were hired to do a job that was "not particularly fun and not particularly easy," only to watch the CEO support languish, Raskino said. "That was then, this is now."
CIOs should seize the moment and approach CEOs with "whatever is the biggest rock you are trying to shift," he said, and bank on getting the kind of support they expected but didn't get during the ERP consolidation days. "Why? Because they know they have no choice," he said. "They know what's at stake now is very significant."
Such CIO-CEO partnerships exist. Immelt pointed to Jim Fowler, GE's CIO, and Bill Ruh, GE's chief digital officer, as significant strategic advisors.
"They're going to have more to do with us getting a billion dollars of service productivity or better customer quality or anything I do than the manufacturing manager, the engineering manager or the service manager," he said. "That is different today."
Likewise, Travis relies on his CIO to "run [corporate] strategy," a decision he made when he recently promoted Dunkin' CIO Jack Clare to chief information and strategy officer. That puts Clare front and center on projects such as mobile ordering, which means outfitting stores with new technology so that customers can place and purchase an order through Dunkin's mobile application -- without talking to a single employee. Travis called mobile ordering "the single biggest initiative for the next few years."
"It's going to help the guests ... and it's going to enable us to take out labor," he said.
In an app-eat-app world, Travis, Immelt and other CEOs -- from the CEO at Coca-Cola, who is turning vending machines into data sources, to the CEO at SCA, who wants to digitize paper products such as toilet paper -- see technology as the lynchpin of better customer service and competitive advantage.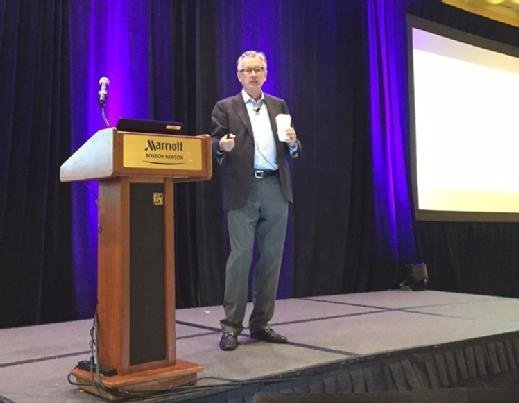 That CEO attitude should put CIOs in the catbird seat. But, Raskino said, this window of opportunity for CIOs probably won't last. "I am old enough to have seen the dot-com crash, and I'm not saying there's a crash coming. But I do think we're going to see pullback from this huge amount of exuberance," he said.
CIOs should make the most of the moment -- while it lasts, Raskino said.
In part two of this article, Raskino provides tips on how CIOs can take advantage of the changing CIO-CEO relationship.
Let us know what you think of the story; email Nicole Laskowski, senior news writer, or find her on Twitter @TT_Nicole.
Dig Deeper on Digital business management