How to build effective IT teams: Wayfair, Arbella CIOs sound off
What does it take to build effective IT teams? At the recent SIM Boston Technology Leadership Summit, CIOs Jack Wood and Paul Brady offered tips on how to recruit, retrain, retain -- and entertain -- IT talent.
Paul Brady and Jack Wood are both CIOs at local Boston-area companies, but other than geography, their jobs and IT teams don't appear to have much in common.
Wood heads up the IT organization at Wayfair, which bills itself as the largest online-only retailer for home furniture in the United States -- more than 5 million items in inventory, 40,000 to 50,000 orders shipped per day and $1.3 billion in revenue in 2014. The publicly held company, headquartered in Boston's Back Bay, has doubled in revenue every year since its inception in 2002, and is on track to do so again this year. The IT team numbered six when Wood arrived in 2012. It's now pushing 500 people, with 200 open positions and a target of 1,000 people in 12 months.
"Imagine trying to hire that sheer volume of people and continue to have high standards," Wood told an audience of CIO peers at the recent Society for Information Management's SIM Boston Technology Leadership Summit.
Brady, who joined Wood on the SIM panel, is vice president and CIO at Arbella Insurance Group in Quincy, Mass., a local insurer with business in Massachusetts and surrounding New England states. The 27-year-old company has enjoyed steady growth and will earn approximately $1 billion in revenue in 2014. His IT team has 130 people and a $30 million budget. Since joining Arbella in 2010 after a 10-year stint at Liberty Mutual Insurance, Brady -- named Boston Business Journal's 2015 CIO of the Year -- has focused on reinventing the IT culture at Arbella, rather than hiring for explosive growth.
"I inherited an organization where the perception of IT and relationships with the business were not good," he said. "Fast-forward five years ... we have a seat at the table, and we are a trusted business partner."
Day-to-day dissimilarities notwithstanding, both CIOs are passionate about fostering an environment that works for their IT teams and for their businesses. Here are their top tips.
IT leadership: Know thyself, know the company
IT team building starts with numero uno. Developing a leadership style and thoroughly understanding how IT fits into a company's strategy were cited by Brady and Wood as critical first steps to becoming successful leaders of IT teams.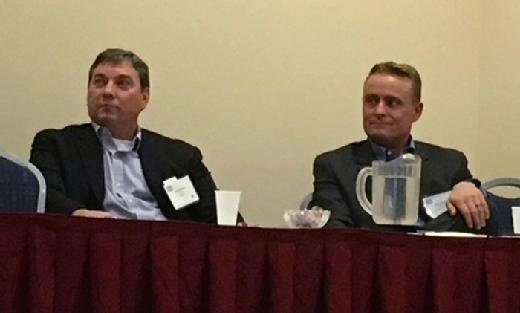 For Brady, insight into his leadership style came during his 10-year career at Liberty Mutual, when the insurance giant asked him to take on one of its remote centers in Wausau, Wis. "I got the flavor of running a small company and really enjoyed it," he said. The opportunity to interact with everyone, and then think about how to use people effectively to get results was a key factor in his decision to join Arbella. "The reason I am here is that the company is people- and results-focused," he said.
Wood, before joining Wayfair, was a software engineer at content delivery giant Akamai Technologies. At Wayfair, the motto is: "We move fast and break stuff," he said -- a challenge for a software engineer coming from a company whose business model rests on architecting an infrastructure that keeps the Internet running.
I tell my entire organization that your managers should be asking you, 'What do you want in your career?' And if they aren't, each of them has an obligation to let them know.

Paul BradyCIO, Arbella Insurance Group
"The day I interviewed ... the site was down my entire interview. They said, 'Oh, we're cool with that,'" he recalled. For the next four years, Wood said he worked to "influence the company," methodically replacing a tolerance for daily outages with an environment where outages occur maybe once a month and are quantified for their impact on the business.
"It's been a significant change, without changing the fundamental tenets of the company culture," namely to move fast, he said.
Recruiting IT teams: What makes people tick?
Wood and Brady keep close tabs on the hiring process for their IT teams.
Brady meets all candidates before they join Arbella for an in-depth, candid interview about their goals and career. "What I like to do is find out what makes people tick," he said.
If the candidate is happy as a senior database administrator, wants to come to work and "is cool with being on call -- God bless them," Brady said, "that's good." An entry-level software developer who aspires to be in management has to be handled differently, he said, citing the example of a recent college grad hired for his solid development skills. Within six months, the employee was helming Arbella's customer relationship management systems, allowing the company to phase out a contract with an outside consultant. When the employee told Brady he was considering going back for a master's in computer science, Brady knew enough about the young man's career goals to advise him to get an MBA instead.
"I tell my entire organization that your managers should be asking you, 'What do you want in your career?' And if they aren't, each of them have an obligation to let them know," Brady said.
Independence, flexibility
Wayfair's Wood said he looks for people who "someday I hope to work for." Describing Wayfair as a "unique animal," Wood said he seeks employees who can deal with the demands of a fast-growing organization. "I spend more waking time with the folks around me than with my family. It's a fact; most of us do -- eight, nine hours or more a day, home for a few hours, rinse and repeat," he said. "You don't have to like everyone you work with, but you have to be able to sit next to them."
Two traits he looks for are flexibility and openness. "We move so fast that you have to be willing to make compromises," he said, and that includes letting colleagues make mistakes. Also, he's not looking for "carbon copies of me."
"Everyone brings a unique skill set -- a different vantage point to the team -- and I want that, and it is something I ask people about in the interview process," he said, adding that he makes it a point to meet with the candidates last, after they have met their prospective peers and managers.
"I ask, 'Tell me how you fit into the team ... how would you complement someone you met today?'" he said. "And if they don't have an answer, and I have to poke and prod for that, then they're not right for us."
In part two of this CIO tip on building IT teams, Wood and Brady discuss training, retraining and creating an environment where people want to work.
Next Steps
7-Eleven builds an innovation team
Mentoring IT teams to do their best
Boston Properties CIO, a leadership style evolves