News
Stay informed about the latest enterprise technology news and product updates.
Enterprise innovation teams struggle to show what makes them special
Innovation leaders at the recent FutureM conference make it clear that enterprise innovation teams are still a work in progress.
PepsiCo is no slouch when it comes to innovation. The multinational food and beverage company has six new products launching in 2016, according to Perry Witmer. "But while that is one type of innovation," said Witmer, senior manager of a division PepsiCo calls Innovation & Emerging Brands, "what my team is trying to push is what we could call breakthrough disruptive innovation."
In pursuit of breakthrough disruptive innovation -- which Witmer describes as "innovation that changes behavior" (think Uber) -- her team faces many challenges. Chief among them is explaining to colleagues how her innovation team's work differs from what PepsiCo's brand teams do on a daily basis. Then there is the issue of metrics for her team's work, Witmer said, or lack thereof. "How do you measure success when you're talking not about the current generation of brands but the next generation of brands?"
These sorts of issues are not unique to PepsiCo. Witmer, a panelist at the FutureM conference in Boston earlier this year, joined innovation executives from Fidelity Investments, IBM and Constant Contact, an online marketing firm in Waltham, Mass., to talk about an increasingly important but hard-to-crack enterprise imperative: How can established, successful companies think about innovation differently and -- more critical -- turn innovation into a discipline? Not easily, is the short answer.
At the country's largest mutual fund company, Rick Smyers, vice president at Fidelity Labs, said he also finds himself having to explain how the Labs' Center for Accelerated Innovation fits into Fidelity's corporate structure. "A book we like to reference at Fidelity Labs is The Other Side of Innovation," he said, referring to a 2010 how-to on enterprise innovation by Dartmouth's Tuck School of Business professors Vijay Govindarajan and Chris Trimble.
"It documents how innovation teams are trying to move really fast and the core business that needs to absorb all these innovations operates at a different speed," Smyers said. "We try to follow their prescription, which is to have both teams develop empathy for the other."
Workplace politics
For Andy Miller, chief innovation architect at Constant Contact, "mental anguish" rather than empathy was what he felt when his innovation team discovered that a social media "concierge product" it had worked on for two years and launched under the radar was similar to a project under way by the core business. The product was generating revenue, but the core business' project was a better strategic fit with company goals -- and the innovation team's product was pulled.
"It was really hard for the team to swallow," Miller said. A sizeable part of Constant Contact, which was acquired in November for $1.1 billion by Endurance International, still identifies with a startup culture, Miller said, "so it's difficult when you try to have a separate innovation team." The company has since developed a framework "with guardrails" to protect against such head-on collisions. His innovation team also has faced up to the fact that some of the innovation projects it starts "will ultimately end up just being a core-business, incremental improvement," Miller said, "and we have to be OK with that."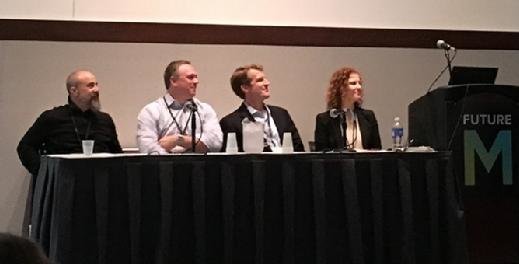 Indeed, finesse appears to be a big part of a chief innovator's job. Smyers of Fidelity relayed the time a senior executive urged the Center for Accelerated Innovation to pursue a longtime concept of the company -- an online trust product. By talking to customers and testing the concept, the innovation team found themselves in the awkward position of having to tell the senior exec that the idea was no good. Most people aren't rich enough to need or want a trust.
"But what they did learn by talking to customers was about [the value of] an online estate planning product. Not everyone needs a trust, but everyone needs a will and a healthcare directive and a few other key documents," Smyers said. "So they pivoted to that and were able to go back to the senior executive with really good news."
Innovation teams buck enterprise norms
Company politics aside, one of the thorniest problems in building and sustaining innovations teams is how to incentivize risk taking. Unlike at startups, where risk taking can lead to both fame and a big payday, compensation for innovation teams is still tied to traditional performance metrics which reward short-term results (for example, sales targets, volume).
"How do you encourage people to pass on the short-term and invest in long-term things that are three-to-five years out? I haven't answered that one yet," PepsiCo's Witmer said.
A financial services company like Fidelity, on other hand, has "a lot of flexibility" in compensating innovation teams (including phantom stock programs), Smyers said. Recruiting talented people who can straddle a startup culture and the executive boardroom is another matter. "Translating between those two worlds is a challenge. I've reached out to my fellow innovation leaders and asked what they are doing."
The panel, which was moderated by The Boston Globe's innovation columnist Scott Kirsner, was not just a study in uncertainty. When asked by Kirsner to talk about a tactic that "moved the needle" on innovation, all four pointed to the importance of partnering up with startups from outside the company.
To read about how enterprise innovation teams are bringing in outside entrepreneurs to jump-start innovation, go to our TotalCIO blog post: "Big companies cozy up to startups to drive innovation."
Dig Deeper on Digital business transformation and innovation