IT job satisfaction, IT leader aspirations on the upswing in 2015
Technology executives have a rosier outlook on their careers, according to TechTarget's 2015 Annual IT Salary and Careers Survey.
Like the upwardly mobile family in the 1970s sitcom The Jeffersons, senior IT leaders and their staffs felt they were movin' on up -- at least when it comes to job satisfaction. That's according to TechTarget's 2015 Annual IT Salary and Careers Survey of 248 senior IT leaders.
The survey found that nearly half (48%) of senior IT leaders -- CIOs, CTOs and IT directors -- who responded to a question about optimism in the workplace said the mood in their IT organizations is positive, up from 37% in 2014. The other half isn't all bad. About one fifth (22%) of respondents said the mood is pessimistic, and 29% said it's neither.
Respondents pointed to three main factors behind the rise in optimism: an atmosphere that encourages innovation (54%), a strong management team (43%) and accelerating business (30%). Budget cuts provided the most fuel for pessimism in IT (55%). Ineffective management was next (47%), followed by limited career advancement (33%).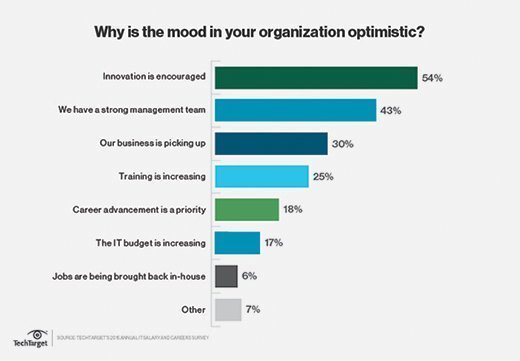 But there was far more IT job satisfaction than dismay among senior IT leaders, with 67% either content with their jobs or open to new opportunities but not looking for work, a percentage point higher than in 2014's survey.
Opportunity makes the world go 'round
Count Robert Laszlo among the happy majority. The director of services at FFW, a global Web development business that builds websites for big corporations like NBC Sports and GE, said the company is growing, having doubled the number of employees in the two years he's been there. "I absolutely have every reason to be optimistic," he said.
One of those reasons is opportunities for advancement. Laszlo started as program manager, juggling a variety of web development projects at a time, before being promoted to his current position -- overseeing and supporting multiple programs and teams. He hopes someday to reach the C-level. Other technology executives have like-minded aspirations. In the survey, 23% said they want to move up in their organizations, another 23% are content to stay put, 7% want to climb the ladder in IT, and 6% want to move into a business role.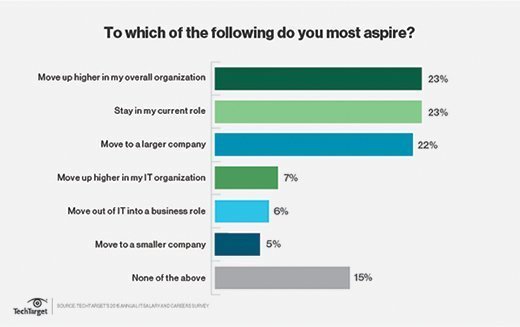 The growing optimism among tech leaders and IT job satisfaction may reflect opinions on the U.S. economy as a whole, which have taken an upbeat turn. Last week, CFOs in a Bank of America Merrill Lynch survey gave the outlook for 2016 a score of 61 out of 100 -- with 0 the weakest and 100 extraordinarily strong -- up from 59 this year and the highest since the 2008 recession. The unemployment rate, too, is showing promise, hitting 5%, the lowest in seven and a half years.
Laszlo, whose salary is above the 2015 average for senior IT execs, said he's paid well and grateful for it. He said his company is making money, so he -- and everyone else there -- should be as well. But money's not everything.
"I think you reach a point where hopefully you're not thinking about money every day. You're not worried about it," he said. "The prime motivator is feeling like you're contributing, feeling like what you're doing matters to somebody."
Job fulfillment tied to team spirit
Money isn't the prime motivator for the four-person IT team at Millar Inc., a Houston-based producer of cardiac and neurological catheters, said director of IT Todd Miller. The company is small, with 140 people in the U.S., U.K. and New Zealand, and pay there is at the lower end of the scale. But brisk business, an innovative atmosphere and a passion for helping others keep his team's spirits climbing, he said.
Miller said he is proud of his tightknit, collaborative team. Though each member has a particular expertise -- whether it's networking or virtualization or information security -- each helps any of the others when needed, even if it's something as basic as resetting a password. That's worth a lot in a hot technology market like Houston, where many companies pay a premium for talent, Miller said.
"You might get more money in a different situation, but at the end of the day you have better job satisfaction getting along with the people you work with," he said.
Optimism runs high there also because IT is well regarded at the company and given a lot of room to "do some cool things." One innovation hatched by Miller's network security manager is using big data platforms Splunk and Varonis and Windows PowerShell task automation software to create a "self-healing" network that can instantaneously take action if anything out of the ordinary occurs.
For instance, if Splunk and Varonis detect any malicious activity on a user account, the PowerShell scripts will automatically disable the account and reset TCP/IP traffic. That isolates the computer from the network without having to physically pull the cable from the PC.
The team's ability to build and deploy cutting edge technology is "kind of neat" for a company Millar's size, Miller said.
Time to move on
But optimism and IT job satisfaction haven't touched every organization. For the director of information systems in a midsize Wisconsin city, things can't get much worse. He has requested anonymity because he's looking for another job.
In the city government, he said, "There isn't an emphasis on technology, so it's getting harder for me to stay current and stay relevant in my field."
What he'd like to see are more real-time dashboard technologies that would help business units make better decisions. Instead, the city, like others in Wisconsin and elsewhere, has focused on protective services like the police and fire departments -- while forcing IT to cut its budget by 7%. The irony is, the director said, technology is needed for a lot of the projects the city wants to pursue, like body cameras on police officers in the field, which towns and cities across the U.S. are looking into or implementing following the 2014 police shooting of unarmed teenager Michael Brown in Ferguson, Mo.
The director said he's seeking either an IT director or CIO role at an organization that sees IT as an asset, not a cost center. Others in his department are looking, too, and he knows it. To help keep morale healthy, he even helps them look so that they don't have to hide anything -- and so they make good career choices.
"If they do leave, what I've gotten out of it is not a dissatisfied employee but a more productive employee as they're looking," he said. "I handle it a little bit differently than most."
Farther west, Ron Van Zanten did find another job. He moved from vice president of business intelligence at Great Western Bank, based in Sioux Falls, S.D., to senior VP of data management and BI at Meta Payment Systems, the electronic payments arm of MetaBank, also headquartered in Sioux Falls. Great Western didn't have the data needs of Meta, as it's called, which owns several hundred thousand "white label" automated teller machines in gas stations and convenience stores across the country. Meta also issues gift cards and other reloadable cards.
It was the challenge of managing and standardizing the data from dozens of card processors and partners that enticed Van Zanten. The small bump in his above-average pay was secondary.
"Here, because they're always looking for different channels, different products to offer, there's always going to be something new to consider," he said. "There's just more aggressiveness in trying to expand the company. And that's where my data systems can provide value."
Next Steps
IT job satisfaction was about innovation, growth in 2013
Salary shmalary. In 2012, IT leaders stayed for reasons other than money
Work keeps data center folks happy, too
Dig Deeper on CIO and IT salaries