News
Stay informed about the latest enterprise technology news and product updates.
Hybrid cloud environments, choice territory for CIOs
Cloud computing watchers touted the hybrid approach as fast and fortified at the Hybrid Cloud Summit on Thursday. Also in Searchlight: China on cyberattacks; Apple sets target date for an electric car.
CAMBRIDGE, Mass. -- The news in June was scary enough -- 1.1 million people's fingerprints were stolen from the Office of Personnel Management in a massive cybersecurity breach. It got a lot worse this week when news broke that the number was more than five times higher, at 5.6 million.
CIOs with company data in the public cloud needn't panic over this or any other of the many heists in the news -- as long as they do what's always been required of their office: data governance and due diligence.
Wishful thinking?
That's the advice from someone with years of experience in Beltway IT -- Pamela Wise-Martinez, chief cloud and enterprise data architect at Pension Benefit Guaranty Corp., a U.S. government agency that protects the pensions of millions of Americans.
"If they're not doing that on a regular basis and as part of their regular lifecycle management of IT, then they're in trouble," Wise-Martinez told me at the Hybrid Cloud Summit, which was held at the Hyatt Regency Cambridge here Thursday. An important part of a CIO's due diligence for cloud deployments, said Wise-Martinez, is making sure the business is involved. CIOs need to hear from the business exactly what benefits they hope to get from cloud and which data they are most fearful of being hacked.
I believe that when we sit down at this meeting five years from now, we won't use the word hybrid. We won't use the word cloud. We will use computing.

Judith HurwitzPresident, Hurwitz & Associates
"When you understand their pain points, that really means you're using your active, listening ear to understand what their fears are and what's the reality of a data breach," she said.
Wise-Martinez, a speaker at the conference, was echoing a message heard throughout the event, which educated a small but responsive audience on the challenges of and best practices for deploying hybrid cloud environments: IT, the business is telling you want it wants, so listen up.
What it wants is the speed and flexibility to change with the business -- and at the same time to stay out of the headlines. Hybrid cloud, an interconnected mix of public cloud and on-premises IT resources, delivers on those demands, said Judith Hurwitz, president of consulting company Hurwitz & Associates and an author and co-author of many books, including Hybrid Cloud for Dummies.
"I believe that when we sit down at this meeting five years from now, we won't use the word hybrid. We won't use the word cloud. We will use computing," Hurwitz said, adding that CIOs don't want to be the one standing in the way of business agility. "They look at you as Mr. No -- or Mrs. No or Ms. No," she said.
De facto hybrid cloud environments
Vala Afshar, author and columnist for The Huffington Post, recounted his journey to being Mr. Yes at his former employer, networking company Enterasys. He found that 15% to 20% of customer service staffers at the company were maintaining their own customer relationship management system -- a mishmash of manual reports and Excel sheets. He knew there was a better way, and that's when he adopted a software-as-a-service application, Salesforce (full disclosure: he now works there).
"Agility was very important. So for us, moving to the cloud was to stay relevant."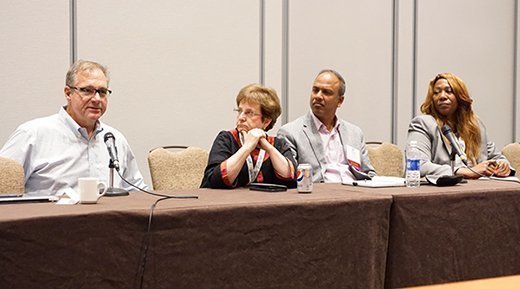 And the on-premises part of hybrid? You already have that, Wise-Martinez said in her presentation on hybrid IT in government.
"You're already hybrid cloud," she said. "I don't know anybody that isn't hybrid cloud. Because we're already on-prem, and we already have legacy environments."
I asked Wise-Martinez about a second computing snafu this week: two Amazon Web Services outages in two days. If the cloud part of your hybrid mix is on the fritz, can those on-premises systems step in and show what they're made of? It's a solid fallback, she said, citing the example of electrical power going out during a storm.
"We make sure that we have water; we make sure we have all the provisions we need when the power goes out. And sometimes you have a backup battery," she said. "But the point is that hybrid can play a huge role in your continuity planning, so that should be part of your enterprise strategy."
CIO news roundup for week of Sept. 21
Here's what else grabbed headlines this week:
Check out our previous Searchlight roundups on HP's slashing of 30,000 jobs and Apple iPad Pro and the app gap.
Next Steps
Challenges, myths abound in hybrid cloud management
How to manage hybrid cloud environments
Ample reasons for keeping some data on-premises