'Platform revolution' signals the end of industry boundaries
We're in the midst of a platform revolution, Accenture's CTO says. Does your company have a platform strategy in place? Also in Searchlight: Microsoft slashes 7,800 jobs; IBM unveils ultra-powerful chip.
"Every business is a digital business," said Accenture CTO Paul Daugherty in his opening keynote at today's MIT Platform Strategy Summit. The statement, he said, is almost trite by now -- "I'm preaching to the choir," he told the crowd. But trite or not, the statement has more implications than ever as businesses built on traditional, product-oriented models increasingly find themselves in the midst of a huge strategy shift.
The platform revolution, as some of the speakers here referred to this shift, is about moving from a business model focused on capturing value from selling a product to one where value is derived from enabling, governing and improving customer interactions.
Take Philips, for example. The company refocused its strategy from broad-based products to specialized services in healthcare and lighting. Daugherty grants that while it still sells consumer accessories and medical equipment, it connects those products through its HealthSuite ecosystem, "with the end goal being providing physicians and patients with better information," he said.
Blurred lines, delivering 'outcomes'
One key implication of the platform revolution is that industry boundaries blur as platforms take over and customers' demands and behaviors continue to evolve. In the platform era, a drug store chain becomes a healthcare provider, as is the case with Walgreens; a phone manufacturer becomes a bank. And most of these platforms seek to deliver "an outcome" for customers rather than a product.
Increasingly, customers come to a company for a result -- "I want to improve my health, I want more leisure time, I want more convenience in how I manage my home," Daugherty said, outlining this shift in customer demand.
The "outcome economy" doesn't just apply to consumers; the shift is broad and affects the B2B world as well, including Accenture, he said.
"[Clients] want to buy increased profitability or growth in a certain market, almost as a service from us. They don't want to pay for our people; they want to buy an outcome," Daugherty said.
Platforms as entry points to the digital economy
It seems many of you already know this and are worried. Accenture's 2015 Technology Vision Survey of 2,000 global executives found that 87% of respondents believe digital pressures will disrupt their companies within the next five years and only 7% think they have a strategy to cope with that disruption.
One way to survive the platform revolution is to become the dominant enabler of a valuable interaction -- e.g., Google for search. But not many companies have the resources to do this. Another way is to become one of the partners that help deliver the interaction or outcome. In any case, the starting point for becoming a platform business is to identify the value your company can deliver. For most companies, this will likely be an outcome closely related to their industries, Daugherty said. Tractor company John Deere, for example, is turning its main product into a platform for improving crop production.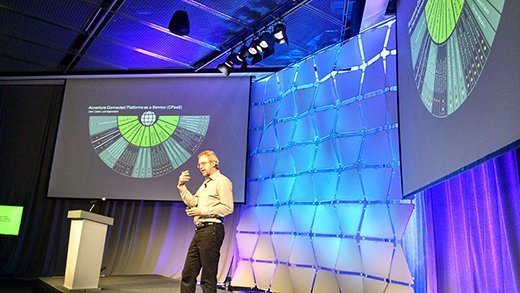 APIs, which give partners access to the platform, and cloud computing, which allows the community to scale, are some of the critical technology building blocks of the platform model, said Daugherty. "If you're going to build a platform, build it on a cloud; build it on the key components that are going to enable you to be successful."
These are early days still for the digital revolution, said Daugherty. As the Accenture survey results showed, it's a time of "tremendous angst and uncertainty," particularly in today's executive suites. To make the shift, most companies will not only need to reconsider their business models, but also be prepared to invest in the technologies, skills and partnerships that are part and parcel of the platform model.
"Platforms are not a one-time investment," Daugherty cautioned.
Dig Deeper on Leadership and strategic planning