Digital disruption boosts board members' acclaim for the CIO role
Board members who subscribe to the idea that 'every business is a technology business' put a spotlight on the CIO role.
What a difference a decade makes. Ten years ago, Jennifer Banner, who serves on the boards of two banks, would have been hard-pressed to pick out their CIOs in a lineup. "If I'd been in an elevator with a CIO heading up to the board room, I don't know if I would have known [it]," she said. "That's sad, but true."
Today, she likens the CIO role to that of an army general, a leader of corporate Navy Seals, a rock star and an important collaborator. "The CIO position is absolutely critical in helping the board move into that strategy vein," said Banner, a director at Branch Banking & Trust Corp.; director at the Federal Reserve Bank of Atlanta's Nashville branch; and CEO at Schaad Companies LLC in Knoxville, Tenn.
If CIOs want to give credit where credit's due for this change in perspective, they can thank digital disruption, which is having an impact on just about every role in the company -- including the role of board governance and oversight. In a survey co-conducted by Peter Weill, senior research scientist and chairman of the Center for Information Systems Research at the MIT Sloan School of Management, board members at large organizations estimated that 32% of their company's revenue will be under threat in the next five years because of digital disruption. In order to combat that threat, Weill believes board members must step up the plate in three areas:
ensuring a high level of information security,
overseeing major transformation initiatives, and
strategizing how the company will make a profit.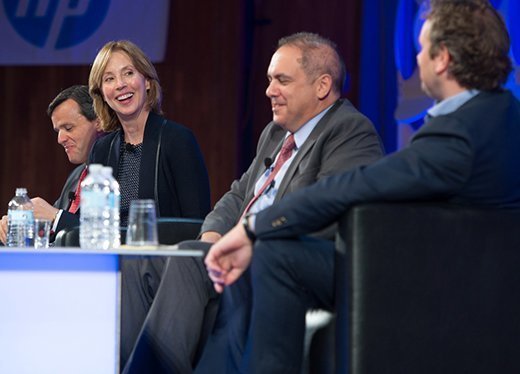 If board members like Banner are to discharge these three responsibilities, they're going to need an informed ally. For Banner, who said the boards she serves on are starting to "feel like tech boards," the CIO role has become a vital resource in performing those duties. "If I could build a perfect CIO from the ground up, I would make sure that CIO could play in all three of those rooms," Banner said during a panel discussion Weill moderated at the recent MIT Sloan CIO Symposium.
Her perfect CIO is not only adept at management, capable of building teams and guiding the IT department, but is also good at governance, at translating tech speak for the board and sounding the alarm about digital competitors when necessary. "There is a completely different [competitive] game in town. And it's not coming from those names you have listed as your peer group," she said, demonstrating the kind of language she expects to hear from CIOs.
IT prioritization is a key CIO goal
The desire for clear, concise communication is not lost on the CIOs who regularly interact with their board members. "We call ourselves business IT," said panelist Pablo Ciano, CIO at DHL Express Americas headquartered in Bonn, Germany. "We are sitting at the intersection of the business and technology." Ciano serves as the interface between the company's CTO, responsible for enterprise infrastructure, and the business, breaking down highly technical concepts into a language the business -- and the board -- can understand, he said.
But the CIO role isn't simply an explanatory one, Ciano said. CIOs should also help the board understand what technology investments are needed to achieve critical business objectives -- and what can wait. "It's all about pace and prioritization," he said. "The technology is changing so fast that we, as CIOs, need to make sure we are the gatekeepers and that we're providing good advice to the board."
Christopher Perretta, executive vice president and CIO at State Street Corp. in Boston, echoed the sentiment. A CIO's primary purpose is to give the board a line of sight between IT and business outcomes, outlining business challenges and solutions, providing insight into what's working and what isn't. "I think that's part of my job -- being able to put things in the right commercial context and regulatory context," Perretta said.
He understands that means connecting the dots between major IT initiatives and the financials. "[A board member's] job is to serve the shareholders and other stakeholders," he said. If CIOs can't connect the two, they risk losing the board, Perretta said.
But as digital disruption pushes board members to think about the businesses they govern in a new way, the organizational construct of IT also has to change. "We're getting to a point where you can't do business without some level of technology competency, and the organization has to recognize that," Perretta said. Once board members begin to see technology as the backbone of the business, the lens through which they look at IT may need to change, he told the audience.
Many businesses still think of the cost of IT as pre-defined buckets -- this much for networking, this much for storage and so on. Instead, companies should map out how customers interact with the business and connect the IT costs to those processes. Doing otherwise does the company about as much good as tallying up how much IT spends on left-handed employees, Perretta said.
Let us know what you think of the story; email Nicole Laskowski, senior news writer, or find her on Twitter @TT_Nicole.