Demand shaping vs. demand management: Making IT count in the digital era
MIT Sloan CIO Symposium: CIOs from Staples and Charles Schwab explain why CIOs should forget about managing IT demand and think instead about demand shaping.
Even in this digital day and age, it's not uncommon to hear business leaders bad mouth their companies' IT function...
Continue Reading This Article
Enjoy this article as well as all of our content, including E-Guides, news, tips and more.
as too slow, too mired in technical details, too ready to say no. IT leaders, for their part, decry the business's irrational demands. The gulf still yawns. But business success in a digital economy absolutely rides on companies having top-notch IT management. So, how do IT and business people bridge the divide?
Jeanne W. Ross, director of MIT's Center for Information Systems Research (CISR), puts the onus on enterprise IT leadership. At the recent MIT Sloan CIO Symposium in Cambridge, Mass., Ross challenged CIOs to not just manage business demand but shape it.
"Let's think of demand shaping like this: It is a process of ongoing negotiation; it is a perpetual conversation and it is not about what individual business leaders want and think they need. It is about realizing the company's most valuable and achievable business opportunities," said Ross, who moderated the event's CIO panel.
The goal of these ongoing negotiations between IT and the business is to develop a prioritized list of IT-enabled business capabilities that give the company a competitive edge.
Traditional IT agenda-setting typically begins with a long list of demands, couched as business cases. The portfolio is sent to one or more steering committees, which winnow the proposals down to the ones they believe the company needs and can afford. The process is not intrinsically bad, Ross said, but it is often hampered by politics and by the decision body's lack of technical expertise. For example, a CFO who serves on her company's IT steering committee recently told Ross that she took her duties "very seriously" but "honestly did not feel qualified" to make the decisions. IT demand management of this ilk rarely results in the strategic use of IT to further business priorities, according to Ross.
"We have to change the conversation that takes place leading up to the decisions," she said.
Instead of focusing on how much a project costs, for example, the discussion between IT and the business decision makers should home in on the technical and business capabilities required by the project and ascertain the long-term value of developing and exploiting those capabilities.
"These conversations between IT and business leaders have to be on what customers really want, on what the company needs, on what the company can manage and on what kind of change does the company need to make to handle these projects," Ross said.
Demand shaping conversations are rigorous, she said, likening the group discussion to Socratic dialogues. "Those that are good at it will have conversations that result in deep understanding," she said.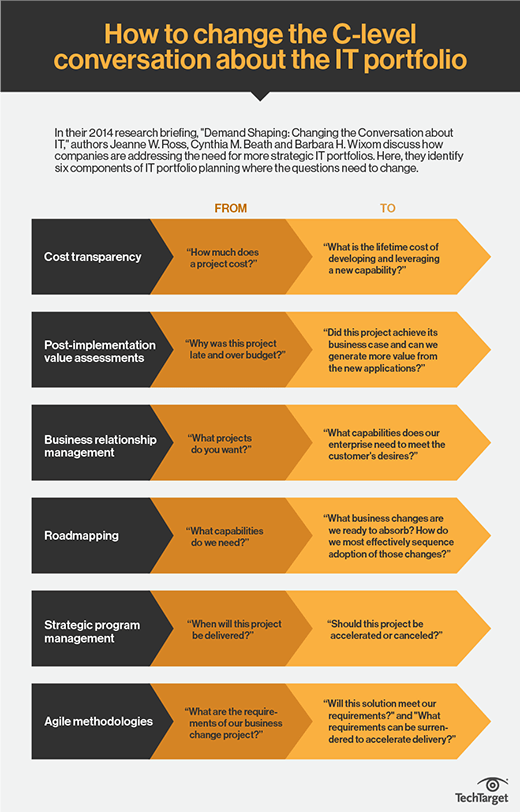 If the CIOs on the session's panel are any example, IT demand shaping, as defined by Ross, is both imperative in a digital economy and easier said than done. At the discount brokerage Charles Schwab Corp. and office supply chain Staples Inc. -- both of which were industry disruptors and are now being disrupted -- a deep understanding of how to apply IT strategically is critical to business survival. Here are some highlights from what their CIOs had to say about demand shaping.
Charles Schwab CIO: Centralized IT vs. decentralized business units
When Charles Schwab founded the company more than 40 years ago, his intention was to indeed disrupt the industry, and he knew the firm needed a "strong technology capability strategy to make it happen," said CIO Jim McGuire, an 18-year veteran of Schwab. McGuire's business partners still understand the value of IT to the business model, but of late, he said they've let IT know that it's "not as nimble" as it used to be and "a little more expensive" than in the past. "So, now we're embarking on the next 40-year journey," he said.
Part of the slog forward is demonstrating how Schwab's highly centralized IT organization optimally functions in what is a highly decentralized enterprise. "We have grown up with business units that are very siloed, responsible for their own P&L [Profit and Loss statement], and for the past 40 years we have developed technology within those silos," McGuire said.
That's been good for the large business units, if not necessarily cost-effective, and less so for the smaller ones. IT demand shaping involves understanding how to give smaller groups more technology capabilities, he said.
"For the large groups that have significant IT budgets, it is about helping them understand the function of centralized IT and helping them understand that the smaller business unit is actually a client acquisition channel for them and can help them grow faster as well," McGuire said. The reception "has been mixed," he added, saying that "some people want to be shaped and some don't."
Staples CIO: Invoking Amazon to address technical debt
For CIO Tom Conophy, who joined Staples in September of 2013, IT demand shaping begins with a place at the table -- he reports to the chairman -- and inevitably comes around to the elephant in the room: Amazon. "We are trying to go after Amazon in a big way," Conophy told the MIT audience. As "one of the world's best startups," Staples was a "huge disruptor," he said, "but we kind of coasted and lost our way." In the meantime, Amazon grasped the importance of three elements that caught many retailers by surprise: pervasive technology, the self-educated consumer and low-cost delivery. "So, we are recovering from that disruption," he said.
Part of his job is to understand what is happening in the digital economy and the risks and opportunities it represents for Staples. He keeps tabs on the startup community for innovations Staples should be paying attention to. A big challenge is educating his business partners about the technical debt associated with legacy systems and the risks it poses to the business.
"If you are carrying a boneheaded system, your time to market is impeded by that; every dollar you spend on the technology portfolio is affected because of the technical debt," he said. But people are "turned off" by the topic. "So, I have positioned the conversation around tech debt to be about capabilities and enablement -- and why we should invest in XYZ," he said -- investments that can run into the millions of dollars.
Demand shaping hinges on cost transparency, he said. In the 20 months he has been there, he has done a cost analysis of all IT products and services, so that he can show business colleagues what their technology services are costing them. An $87 million bill for technology services is an effective conversation changer. "Those conversations [with the business] are less about the new thing," he said, and more about cost of consumption.
The aim is not to make technologists out of business people but to "demystify IT so you can have a rational conversation about technology investment," Conophy said.
Email Linda Tucci, executive editor, or find her on Twitter @ltucci.
Dig Deeper on IT project management and portfolio management