Share this item with your network:
Integrating hybrid systems? It's now a core IT service

iSTOCK/GETTY IMAGES
News
Stay informed about the latest enterprise technology news and product updates.
Automation vs. computer augmentation: What's best for business?
Tom Davenport lays out five strategies for surviving automation; big data evolves; and the high-end food industry feasts on big data: The Data Mill reports.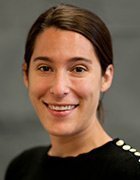 By
The job market is recovering, but thanks to automation it's more competitive than ever. Today, automated systems can flag relevant documents in a lawsuit, write an article and even develop new pharmaceuticals. Where does that leave knowledge workers? Not in the best of places.
"We always thought that whenever technology took over a type of job that, no problem, humans would just move to higher ground," said Tom Davenport, author, analytics thought leader and the president's distinguished professor in management and information technology at Babson College in Wellesley, Mass. "But guess what? This time, there is no higher ground. You're already at the top."
Davenport delivered the message during a sobering keynote titled No Humans Need Apply -- Automation or Augmentation at a recent big data event hosted by the Massachusetts Technology Leadership Council (MassTLC). He pointed to professions like teaching, marketing, accounting and financial management that are already seeing the effects of automation, and he questioned the implications it will have on the health of the economy. He isn't alone in shining a light on this topic. Some of the best known technologists and economists have gone on record to express concern, characterizing it as one of the most profound economic challenges today.
One hedge against a machine-centric job market is augmentation -- or humans and computers working together to achieve something greater than they could alone, according to Davenport. The classic example is free-style chess where the combination of humans and computers creates a stronger opponent than either playing alone.
But building an augmentation strategy won't work for everyone and isn't going to be easy. It's a little like that old camping joke, Davenport said. "You and a friend are out camping and you see a bear coming along and you get concerned, and your friend says, 'We've got to outrun the bear.' And you say, 'No, I've just got to outrun you.'" Davenport said that may well be what happens. "Some people will be able to outrun automation through augmentation. Others will have their jobs eaten by that particular bear," he said. Dark humor indeed.
Davenport laid out five possible strategies for augmentation:
Step in. Engage with the system, learn how it works, learn its strengths and weaknesses and modify it when necessary. "If a system is doing a decent job, we have a tendency, as humans, to let it run. But that can get you into big trouble, as we learned with the financial crisis," Davenport said. Humans, in other words, are better than computers at detecting when the outer world has changed.
Step up. Be less tactical, and more strategic, by looking at how well automated systems are performing, answering questions such as, is the automation in place too much or not enough? "Humans are good at big picture assessment," Davenport said.
Step aside. Assess what computers do better than humans and what humans do better than computers, such as creative or interpersonal tasks, Davenport said. An insurance company he spoke to said it keeps underwriters on the payroll to help explain to agents and customers why someone is turned down. "Humans are maybe better at cushioning bad news than computers are," he said.
Step narrow. Pick a profession or build a business around something that's so hyper-focused, it flies under the automation radar. Davenport gave the example of someone who connects buyers and sellers of Dunkin' Donuts franchises, which he said no one would build a business plan around these days because it's just too narrow. "There are tons of examples like this that no one is going to automate soon," he said.
Build the steps. Remember that "we still build these automated systems," Davenport said. The systems can create models on their own, to some degree, but, for the most part, humans are still the tinkerers behind the machines.
Big data 2.0?
Businesses are evolving from big data 1.0 to big data 2.0, according to Jeff Kelly, analyst at Wikibon in Marlborough, Mass. In big data 1.0, early use cases "are what we characterize as cost savings and reduction on investment," Kelly said at the MassTLC event. They leveraged big data technologies to cut down on the cost (and the time) it took to ingest data, transform it into a usable format for analytics and even to archive it. "There's real value in that for sure," Kelly said.
Businesses striking out into big data 2.0 territory, according to Kelly, are poised for greater value propositions. These use cases are using data for revenue generation by building new products or figuring out ways to break into new markets. They're also using data to create operational efficiency such as predictive maintenance.
From data to big data
One example of big data's effect on business is the high-end food industry, said P. Gary Gregory, senior vice president and general manager of database servers and tools at Rocket Software Inc. in Waltham, Mass.
High-end foods present a Goldilocks-type problem, Gregory said at the MassTLC event. "The idea is that you don't want anything in a warehouse, and you don't want the shelf to be empty when someone shows up to buy food," he said. So how can the industry ensure high-end products, which include short-lived perishables, hit shelves at just the right time and in the right amount to meet customer demand and turn a profit?
"It all starts with trying to better predict what you're going to sell," Gregory said. Sounds simple, right? But the more the high-end food industry analyzed where something could go wrong, the more data it needed and the more complex the analytics became. Seasonal demand, for example, didn't provide visibility into problems that may occur in the production or distribution process. The industry needed weather and transportation logistics data for that. On top of collecting the data, integrating it together and analyzing it, the information has to be disseminated to everyone involved for maximum effect.
Say what?!?
"We had an analytics team before we had a brand team." -- Ed Macri, senior vice president, marketing and analytics, Wayfair
"The real concern should not be about displacement of workers; it should be about what happens to this technology if it's misused." -- Bruce Weed, global program director, Watson and big data ecosystem development, IBM
"We are investing in trying to attract talent from outside of the financial services to help bring some of those [analytics] skills in. Part of differentiation, though, for State Street, is that you can identify and bring in some of the technical capabilities from a Google or Facebook, but what those firms on the positive side bring in terms of the technical knowledge, they still fundamentally lack in terms of understanding the financial services business." -- Ivan Matviak, executive vice president, head of data and analytics platforms, State Street Global Exchange
Welcome to The Data Mill, a weekly column devoted to all things data. Heard something newsy (or gossipy)? Email me or find me on Twitter at @TT_Nicole.
Dig Deeper on Enterprise business intelligence software and big data