Share this item with your network:
Legacy IT systems: Keep 'em or cut 'em?

FotolEdhar - Fotolia
News
Stay informed about the latest enterprise technology news and product updates.
2015 outlook in information technology: Growth and more cloud services
The 2015 outlook for information technology includes higher budgets and an emphasis on cloud, according to TechTarget's annual IT priorities survey.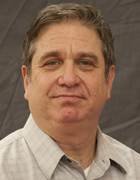 By
IT managers worldwide expect their budgets to grow by 6.7% worldwide this year, and are using that added money to go after both established and emerging technologies. Disaster recovery, data center consolidation and business intelligence (BI) continue to receive funding. Mobility and cloud services are among the main newer technologies that will get more attention this year.
That's the news from TechTarget's annual IT priorities survey of 2,012 IT professionals completing the survey this year.
The 2015 outlook for information technology outlook suggests that IT departments are largely past the worst times and are pushing forward. (See: Which of these broad initiatives will your company implement in 2015?)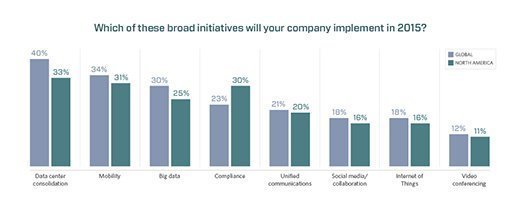 Topline budget growth increased from last year's projection of 5.4%, finally putting a period on the lean years of the recession. In 2012, for example, IT managers projected 2013 budget growth at 2.8%.
But progress is not uniform.
Driven by the U.S. economic recovery, North American growth for 2015 is expected to be 5.7%, after last year's 4.5% (and the prior year's 1.4%). But Europe's economic woes are taking their toll on IT budgets there, and respondents reported weaker growth, at 3.6%. Digging deeper, 37% of European IT managers reported flat budgets, with only 47% increasing. Worldwide, 66% were increasing with only 24% flat; in North America, 62% were increasing and 29% flat.
Continuing the pattern of recent years, Asia-Pacific continues to see high growth, at 8.4%, but Africa, the Middle East and South America all exceeded that by one or two percentage points. And in Asia-Pacific, China's growth was only 8.3%, no better than the region as a whole.
Where are information technology shops investing in 2015?
Among IT shops that are not cutting budgets, software is the largest area for investment, with nearly half (48%) of all companies investing there; hardware isn't far behind, with 45% increasing that budget segment. Among just those spending more this year overall, those numbers were 55% and 52%, respectively.
In recent years, we have been probing to see the impact that cloud services are having. This year, we can see that 43% of those growing their budget are growing cloud services, with only 20% increasing outside services. In budget-challenged Europe, cloud services are the single most popular area of budget increases at growth-oriented companies, representing a 48% increase compared to 39% and 43% for hardware and software, respectively. Paradoxically, perhaps, in Asia Pacific, the pattern is reversed, with hardware and software getting more funding at 55% of shops, and cloud services at only 41%. And among those cutting, cloud services are being reduced the least.
As for what's receiving funding, as the chart indicates, top projects continue the pattern of the past 10 years or so, with heavy spending on disaster recovery/business continuity; security, particularly network-related; data center transformation and consolidation, including virtualization-related projects; and business intelligence.
Interest in mobility is strong at 34% globally, but not up from the past two years. The most common ways people are implementing mobility are through deploying enterprise apps in mobile form, instituting mobile device management, or implementing a bring-your-own-device program for smartphones or tablets. (See: Which of these mobility projects will your company do in 2015?)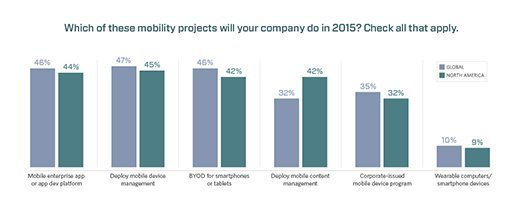 Big data has made small gains each year, going from 23% to 26%, to 30%, respectively, over the past three years. Big data analytics gets the nod at 25% of companies, while back-end processing and management are close behind at 21%.
We may be seeing the maturing of BI, as overall BI slid down the list of top projects to the 10th spot at 31%, after being at 41% last year and 46% the year before. Advanced backend database technologies such as in-memory or NoSQL databases are only being deployed at 15% of shops, which may reflect a shift in emphasis, at least for the time being, in paying more attention to getting the information to business users (including mobile ones) and less to building a backend engine. That may also reflect heavy use of cloud services to accomplish some of that work.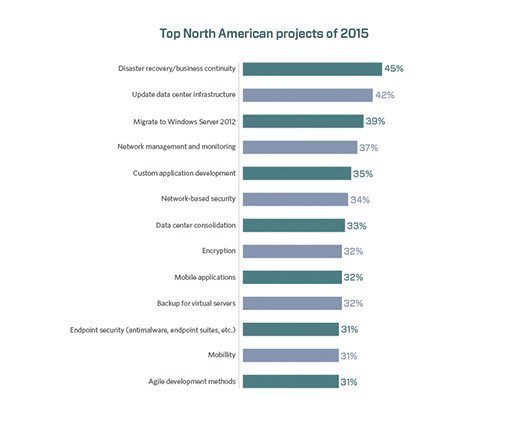 Some of this year's trendy projects are still getting weak uptake (see Top North American projects of 2015). Social media and collaboration projects are only getting the nod at 18% of companies (and that's pretty even around the world). Internet-of-Things projects are taking off at the same number of shops. Corporate performance management projects are only on the agenda at 13% of companies.
Modest Windows upgrade schedules
The most migration activity in 2015 will likely be around Windows Server 2012, which will be an upgrade at 30% of companies. VMware's vSphere 5.5 will also be an upgrade at 21% of companies.
On the desktop, IT shops are looking at three potential upgrades as many are still in the process of getting off of Windows XP. Migrations are going to be evenly split between Windows 7 and 8/8.1 (19% and 20%, respectively), with only 9% expecting to go to Windows 10 (which is actually a pretty strong showing for a not-yet-released Windows version). But those numbers rise in to the mid-20s in midsized companies, and in large North American companies with more than 5,000 employees and less than 10,000, to 33% for Windows 7 and 8/8.1.
Dig Deeper on IT spending and budgeting