Share this item with your network: BACKGROUND IMAGE: iSTOCK/GETTY IMAGES
The new security paradigm

iSTOCK/GETTY IMAGES
News
Stay informed about the latest enterprise technology news and product updates.
CIO of UN talks politics and the limits of big data
Atti Riazi, chief information technology officer and Assistant Secretary-General at the U.N., chats with SearchCIO's Linda Tucci about drawing inferences from big data.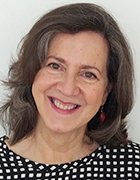 By
Atefeh "Atti" Riazi is no stranger to the intersection of technology and politics. As a young woman, with a freshly minted degree in engineering, she helped implement the Metrocard technology that changed how New Yorkers used mass transit. After nine years with the global advertising firm Ogilvy & Mather, she returned to the public sector to build a technology strategy for the New York Housing Authority, ultimately acting as both CIO and interim general manager.
In May 2013, she was appointed to the United Nations as its chief information technology officer (CITO) and Assistant Secretary-General, Office of Information and Communications Technology, Department of Management. There, her role straddles policy and the application of IT to serve the UN's many pressing mandates. Much of this work depends on analyses of voluminous stores of data -- and not all of it digital. In the CIO Voices Q&A, SearchCIO's executive editor Linda Tucci asks Riazi about the kinds of conclusions one can draw from big data.
The businesses we write about tend to look to big data for predictive correlations rather than first causes -- using big data as a path to action. How do you see this?
Atefeh "Atti" Riazi: At one of my former jobs, we looked at the question of why we have so many workers' comp cases and injuries. We were struggling to find a cause. Because of the limitations of our knowledge, we started looking in odd places, and at some point we correlated various unrelated data and realized that we had a spike in injuries when there was a baseball game. We dug deeper and saw that it was not every baseball game, but during the Mets versus Yankees there were higher numbers of injuries. We saw the injuries -- mainly trips and falls -- went up when people were walking on a flat surface; it was not that people were going home to watch the game. We realized that some were listening on their headphones to the game and not paying attention. Here's a correlation that points to an unexpected cause, and now you can make a decision: How do we react to this next year when there is a Mets versus Yankees game to reduce these injuries?
Applying that approach to the problems the UN is trying to solve, I would imagine part of the job is re-educating the public to think about these problems in a different way.
Riazi: You're right; we have to be very open because the data can radically question our core beliefs and judgments -- in business, government and in society.
What's been the most challenging part of being CIO at the UN -- and what can you tell fellow CIOs that might help them?
Riazi: It has been a humbling experience. You look at technology and innovation in a whole different perspective. Technology has an immense power; it can do so much. Technology also brings tremendous risk, especially in the form of cybercrime and cyberterrorism. The impact of cyberintrusion into the industrial systems of various entities, sectors and governments is a serious issue, and sectors such as transportation, water, utilities, financial and many others have huge risk.
We have created the technology which has become almost a new species, a whole different life form, of which we do not fully understand the long-term impact. It is our challenge and responsibility to use technology to improve the quality of life while also understanding and mitigating its negative impact.
Technology plays a critical role in the ability of the United Nations to deliver on its mandates, especially in the areas of peace and security, international law, human rights, humanitarian affairs, development, sustainability, and the post-2015 development agenda.
However, the unintended consequences of innovation and technology also have to be addressed. Issues of e-waste, cybercrime, cybersecurity or theft, and many others continue to pose serious risk. I believe governments, private and public sectors, and especially the technology sector need to be better positioned to mitigate such risks. None of us are fully prepared to prevent and protect against all cybercrimes, but we have to be innovative and open to harnessing the value of technology while at the same time exercising caution and responsibility in doing so, so that the risks can, to the extent possible, be anticipated and mitigated.
What's your personal feeling that there is evidence big data can change people's minds? How willing are people to give up their big ideas, even when these ideas prove to be false in the face of the facts? At the UN, is there an openness among constituents to let the data guide you?
Riazi: The secretary-general's focus on the Post-2015 Development Agenda and Data Revolution for Sustainable Development is an indication on how the UN values information in every aspect of its operation. Today, most industries or organizations don't have access to all the data, and much of the data is not accurate, consistent or relevant. In addition, most companies and organizations (both in the public or private sector) are in many ways political entities, and not all their decisions are fully based on data. The data may show analytically what the right thing to do is, but there are many factors in play during decision making.
I do believe humans are becoming smarter through the use of technology, and big data will help organizations and entities make better decisions. Analytics can help us better predict what may happen and why, and provide better insight to complex issues. However, I wonder if a better understanding when a disaster will happen will help us react better, changing our ways or trying to prevent it.
There was once a prediction that air travel would bring peace. The same prediction was made about the Internet and, meanwhile, we continue to see wars breaking out in different corners of this world. Big data and connecting the dots is extremely helpful in better understanding and decision making, but there are many other elements that impact human decisions.
This interview has been edited and condensed. Some answers were amended by Ms. Riazi Jan. 8, 2015.
Let us know what you think about the story; email Linda Tucci, executive editor, or find her on Twitter at @ltucci.
Dig Deeper on CIO career development and career paths