Share this item with your network: BACKGROUND IMAGE: iSTOCK/GETTY IMAGES
Master a multichannel customer engagement strategy

FotolEdhar - Fotolia
News
Stay informed about the latest enterprise technology news and product updates.
High-earning IT execs outcompete peers on pay metrics, but not happiness
What separates the high earners from the low earners among senior IT executives? The ability to negotiate a bonus helps, according to the 2014 TechTarget IT Salary and Careers Survey.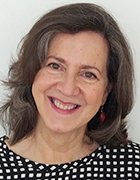 By
Senior IT executives as a group made out well in 2014, with nearly two-thirds getting an 8% boost in compensation over 2013. And then there were the high earners -- the CIOs, CTOs, IT directors and executive vice presidents who earned between a median $150,000 and a maximum $2.6 million in total compensation.
On base salary, raises and bonuses, this elite group hauled in significantly more than their less well-compensated peers, defined here as IT executives who made less than a median $150,000 in total compensation in 2014. High earners got a 7.1% raise on average in 2014, compared with the average 4.3% raise awarded to low earners. More than half of high earners (58%) got raises, compared to 49% of low earners. Two-thirds of high earners also negotiated bonuses for this year, compared to just 27% of low earners. The icing on the compensation cake? The median bonus for high earners was more than three times bigger than the low earner's median bonus.
Money, however, doesn't buy happiness apparently. Despite the disparity in pay, job satisfaction for both groups was virtually identical, with 66% of high earners and 65% of low earners reporting that they either are satisfied with their current jobs and staying put, or "open to new opportunities" but "not actively seeking a new job."
That's according to the latest TechTarget IT Salary and Careers Survey of 333 senior IT executives across North America, a diverse group representing 18 industries and companies of various sizes. Of the total respondents, 60% work for companies with fewer than 1,000 employees and 40% work at companies with 1,000 to 10,000 or more employees.
Here is the spread in dollars: Median total compensation was $202,000 for high earners versus $120,000 for low earners; median salary was $168,000 versus $112,250; the median bonus was $35,000 versus $10,000. (The highest bonus was $260,000.)
Average total compensation for IT executive high earners was $244,351, compared to only $113,217 for low earners. Average base salary was $185,175 for high earners, or 75% more than the $105,150 received by low earners.
The almighty bonus
William Floyd, who became CIO at Gold's Gym International Inc. in May, can attest to the difference a bonus makes. Part of the reason Floyd left his previous job at an online trader was because the bonus was tied to company profitability.
"It was basically a profit-sharing plan," he said. While his salary was "above average" for IT executives, he received very little bonus compensation. In his new job, his bonus pay is 25% of base salary -- "a more traditional" metric, he said. Bonus pay is predicated on the company meeting EBITDA targets, he said. His bonus will depend on meeting his annual goals. They include "some pretty aggressive targets," he said, including -- on the IT side -- a massive refresh of old PCs and a revamping of Gold's nationwide MPLS and the wireless networks. He said the infrastructure upgrades will shore up security at Gold's, which has 450 gyms in North America and another 280 internationally. Business projects include a rollout of an enterprise collaboration platform and a highly strategic project using mobile technologies to enhance customer experience at the gyms.
The head of IT at a diversified global technology company and former CTO at a major fast food chain, who asked to remain anonymous, told SearchCIO that his bonus compensation has always been tied to specific IT and business objectives. Over the course of his career, this variable pay has grown as a percentage of his base salary.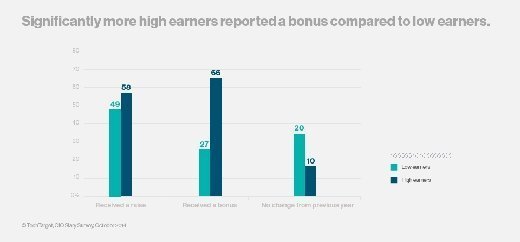 "When I was at [the fast food chain], I had variable compensation of 30%; now it's 100%," he said, meaning his bonus matches his salary, provided he meets his goals. He said he is "religious" about meeting goals, in particular business targets. "CIOs are incented to make more by achieving business outcomes, so it is up to me how much of a bonus I make by achieving these goals."
Company size, experience matters, less so industry
Willpower is no doubt important to making a lot of money in IT, but it also helps to work for a big company. The old adage, the bigger the company, the bigger your job and the bigger your pay, held true for this year's high and low earners.
More than half of all high earners (52%) work for companies with 1,000 to 10,000 or more employees, compared to just 27% of low earners. The majority of low earners work at companies with between 100 and 499 employees (30%) or less than 100 employees (31%). Three-quarters of the companies where high earners work, have annual revenue of more than $100 million, including 10% with $10 billion or more in revenue. Most of the companies (64%) where low earners are employed have revenue of $50 million or less.
Also, it almost goes without saying that experience counts when it comes to compensation: 23% of high earners have more than 30 years of IT experience compared to 12% of low earners.
Industry was not a huge differentiator in the earning power of IT executives, with two notable exceptions: significantly more high earners (17%) than low earners (5%) work in the medical/health care/pharmaceutical/biotech; and more high earners (10%) versus low earners (2%) are employed by legal/insurance and real estate companies.
Stephen Clark, CIO and chief privacy officer at the Sentara Albemarle Medical Center based in Elizabeth City, North Carolina, wagered that the preponderance of high earners in the healthcare category come from pharma, or, if they are in healthcare, work for the large providers that are acquiring smaller medical centers like Albemarle, which was bought by Sentara Healthcare in March.
"At smaller hospitals, which account for 75% of the hospitals in North Carolina, compensation is on the low side and [IT executives] do not have high bonuses. Profit margins are low for these hospitals," Clark said. Meanwhile, the CIO job even at smaller hospitals is huge, as the medical field scrambles to implement electronic health records and meet state and federal compliance regulations. "It's almost insane the pace we are going at and what we're expected to do," he said.
Legacy metrics for IT pay "starting to shatter"
Going forward, company size could be less of a factor in IT pay, according to Shawn Banerji, managing director of executive recruiting firm Russell Reynolds Associates. "We're starting to see companies rethinking metrics for CIO compensation, away from the traditional metrics of scope and scale," he said. As technology contributes more and more to business outcomes, IT compensation is shifting to account for IT projects that drive revenue and earnings, resulting in some interesting tweaks to traditional compensation formulas, Banerji said.
"You can be the CIO of a $5 billion company and your earnings could be greater than a CIO at a $50 billion company, because of the complexity of your role," he said. IT compensation models within large companies are also starting to change. The divisional CIO at a global retailer who owns an e-commerce platform or some other technology that is making the company "a ton of money" could earn more than the corporate CIO.
"There is recognition that with some of these mega CIO jobs, the task at hand is not about driving business profit, but about administering a large complex ecosystem of technology and operations. And the feeling is, it is easier to find a great administrator of those resources than it is to find someone who can come and use IT to drive real business value," Banerji said.
IT talent that can do this, with or without a "chief" in their title, can basically write their own ticket. "Companies are saying, we can replace the sales people, we can get new marketing people, but the engine that drives the train -- we have to reward that person," Banerji said.
Dig Deeper on CIO and IT salaries