 BACKGROUND IMAGE: iSTOCK/GETTY IMAGES
News
Stay informed about the latest enterprise technology news and product updates.
IT executive compensation trending up, business input a factor
Break out the champagne -- 2014 was a good year for IT executive pay, according to the latest TechTarget IT salary survey. Those on the receiving end say they had it coming.
Compensation for senior IT leaders -- CIOs, CTOs, IT directors and executive vice presidents of IT -- rose 8% in 2014 over 2013, fueled by an uptick in the number and amount of bonuses handed out this year. That's according to the 2014 TechTarget IT Salary and Careers Survey of 333 senior IT executives across North America.
Nearly two-thirds (64%) of IT executives got pay increases in 2014. The average salary of $143,942 was 4% higher than the $138,269 earned in 2013. The average bonus was $35,427, up 13% from the $31,471 of the previous year. In addition, more IT executives received bonuses in 2014 -- 46% compared to 43% in 2013. Total executive compensation added up to an average $177,229, compared with $164,090 a year ago. (Median total compensation was up 7%, including a 4% boost in median salary and a notable 28% increase in the median bonus pay over 2013.) Only 3% of respondents reported pay cuts, a decline from 4% the previous year.
The upward trend in pay doesn't surprise survey respondent William Floyd, CIO at Gold's Gym International Inc. IT executive compensation has ticked up in the past two years after several years of stagnant pay. "I think there is a little bit of makeup going on for the declining salaries and no bonuses until 2013. That's when IT got hot again and companies realized, 'Oh wait, we're going to lose these people if we don't do something,'" Floyd said.
CIOs were due for some payback said Subbu Murthy, consultant CIO at BCCI Construction Company and since 2005, the CEO of UGovernIT Inc., which makes analytics software for managing IT. During the recession, IT executives not only did more with flat or lower IT budgets but also used technology to offset layoffs and hiring freezes by automating business processes and driving efficiencies. "There's a lot of IT backlog. Executives feel that the CIO bailed them out in hard times -- now it's time to reward them."
IT executives didn't have to scrimp on resources in 2014: The survey showed that 81% of IT budgets were the same or larger than last year, an increase from 76% the previous year; the average budget increase in 2014 was 13.7% (10% median increase). Nearly three-quarters of IT organizations were fully staffed (44%) or made new hires (33%) in 2014.
Compensation titrated to business goals, products
Payback for the hard times is not the only reason for the boost in pay. The increasingly important role IT executives play in achieving business results was apparent in this year's survey. "Helping achieve a business goal or outcome" was listed as a top measure of job success by 56% of senior executive respondents, up from 47% a year ago. That is certainly the case for Floyd, who joined Irving, Texas-based Gold's in May after an eight-year stint as CTO at an online Dallas brokerage.
"Of the six objectives I have to meet, three of them are around achieving business goals, developing and supporting new products, and the rest are around security and PCI compliance and creating efficiencies in the organization," he said. Gold's chain of fitness centers includes 450 gyms in North America and 280 gyms internationally. He said his business goals include a highly strategic initiative to boost member engagement through mobile technologies. "I can't really give out any details on that," Floyd said.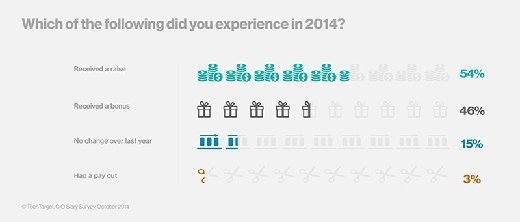 While "ensuring [the] reliability of services" remains a top compensation metric for 64% of IT executives (up from the 54% the previous year), CIOs commenting on the survey findings stressed that executing on this measure was the price of getting in the door.
"All services delivery and infrastructure -- that's table stakes. I am measured on business outcomes," said Sasi K. Pillay, who became CIO in February of the University of Wisconsin System, comprising 26 campuses. Before that, he was CTO at NASA.
Smart CIOs are outsourcing commodity services, Pillay said. "We move to Office 365 and get a terabyte per account. No one is going to pay me to stand up that kind of infrastructure. They value me because of the value-add I bring in terms of enrollment and graduation -- the success of our students," he said.
Aside from achieving business goals, the other top compensation metrics were: improving a product to service (39% ranked it in the top three, up from 34% in 2013); completing projects on time (no change from a year ago at 34%); and achieving ROI on projects and tech purchases (20%, up slightly from 18% in 2013). "Meeting productivity goals," dropped dramatically as a top metric, ranked in the top three by only 16% of IT executives compared with 32% in 2013, suggesting the heavy lifting on that score has been done. "Coming in under budget" also declined in importance, ranking as a top compensation metric for just 14% of respondents, compared with 19% the previous year.
IT executive compensation trends subject to change soon
The IT executive compensation trends and metrics resonated with CIO recruiter Shawn Banerji, managing director at Russell Reynolds Associates in New York. "Anecdotally, we see that to be the case, as well," he said. The pay hikes are consistent with broader economic trends, he said, citing the positive performance of the Fortune 500. "Corporate profits by and large have been up, and when that happens, organizations typically recognize and reward their key personnel."
According to Banerji, there is a growing recognition in most organizations of IT's role in business outcomes, as well as business continuity, and that is especially the case at companies where CIOs own some aspect of digital products. So, the No. 1 and No. 2 top compensation metrics of "ensuring reliability of services" and "helping achieve a business goal" make complete sense, he said.
"CIOs know that if the utility that is IT isn't secure, isn't robust, isn't scalable, no one cares about the other stuff. If the email doesn't work, if the reports the business needs to do their jobs aren't generated on time, if supply chain systems don't move goods from point A to B, they don't care. You've got to be a great operator, first and foremost, and you are measured on that," Banerji said.
That said, a shift in traditional IT executive pay metrics is underway, he said. The old formula of "the bigger the company, the bigger the job [and] the bigger the pay" no longer holds true. He predicts that over the next two to three years, most companies will rethink their metrics for CIO compensation, a trend we'll get into in our next TechTarget Salary and Careers Survey story on high earners and low earners in the IT executive ranks.
Who took the survey?
The IT executives responding to this year's survey represented seasoned professionals in relatively stable positions, for the most part. Of the total respondents, 76% have between 11 and 30 years of IT experience under their belts; 70% have been in their current jobs for between one and 10 years; the 13% who changed jobs this year did so for mostly positive reasons -- to take on a new challenge (32%) or to make more money (10%); another 10% said they changed jobs because they weren't pleased "with how their job was evolving;" 16% said they moved because they either had been or would have been laid off.
As in past years, survey results were slightly skewed toward midmarket companies, with 60% of respondents working for companies with fewer than 1000 employees, and 40% at companies with 1000 to 10,000 or more employees. Respondents represented 19 industries, with large numbers in finance (17%); medical/healthcare/pharma/biotech (11%); and retail (10%).
Let us know what you think about the story; email Linda Tucci, executive editor, or find her on Twitter at @ltucci.
Dig Deeper on CIO and IT salaries