 BACKGROUND IMAGE: iSTOCK/GETTY IMAGES
News
Stay informed about the latest enterprise technology news and product updates.
IT Salary Survey 2014: How does your information technology salary stack up?
Find out which tech positions make the most, which IT pros plan to jump ship and where 2015 information technology salary expectations and project focus areas stand in TechTarget's IT Salary Survey 2014.
CIOs, CISOs and directors of business apps brought home the biggest IT paychecks in 2014, but those aren't the positions that saw the biggest compensation bumps over 2013.
Leading the pack were network managers, database administrators and security managers, whose average total compensation increased 22%, 22% and 17% year-over-year respectively. That trumped the 8% increase in average total compensation (base salary plus bonuses) for senior IT executives – including CIOs, CTOs, executive vice presidents and directors of IT -- and the 8.7% increase in total pay for CISOs. Business application directors raked in a respectable $148,097 in average total compensation in 2014, but that represented a 10% drop from 2013.
Other IT professionals whose paychecks took a hit include chief compliance/privacy officers (21% decrease year-over-year) and data center managers (9% decrease).
Still, 59% of the 1,200 IT professionals who took TechTarget's 2014 IT Salary and Careers Survey had increased total compensation in 2014, 49% received a raise and 36% received a bonus . Nearly half expect a raise, and 20% a bonus, in 2015.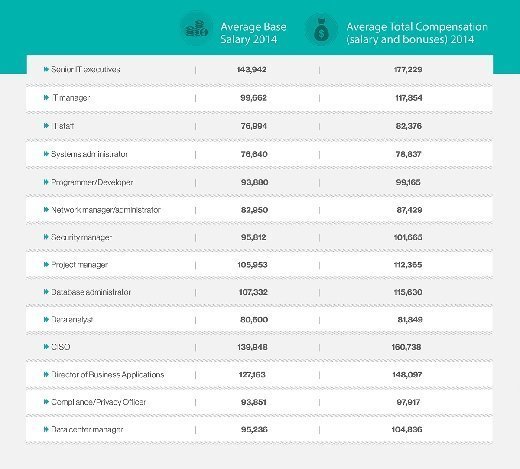 Data analysts and security managers are the most confident about receiving a raise in the year ahead, while directors of business applications and project managers are the least confident.
The average information technology salary across all respondents was $109,255 and total compensation was $126,548. This compares to $105,000 in average salary and $116,770 in total compensation for the group of 1,700 respondents who took the survey in 2013. (See charts for average salaries and total compensation by title for all 2014 respondents.)
Senior IT executives garnered the highest salaries, earning an average of $177,229 in total compensation, while base salary was $143,942, a bump from the $164,090 in average total compensation and $138,269 in average base salary in 2013. The lowest earners, system admins, earned $78,837 and $76,994 in average total compensation and salary, respectively, up slightly from $77,269 and $73,069 in 2013.
2015 Annual IT Salary and Careers Survey
Our 2015 salary survey results highlight trends for IT projects, budgets, and senior executive salaries and total compensation.
While average salaries are higher across the group of 2014 respondents, a lower percentage of IT professionals reported receiving a raise: 49% in 2014, versus 55% in 2013.
What drives pessimism and optimism
The majority of the respondents (66%) are satisfied in their current position -- although they also said they want to move up in their company in the next three to five years, or they're out.
IT professionals least satisfied with their jobs include data center managers, data analysts (who were among the lowest salaried) and network managers/administrators. The most satisfied group includes CISOs (who received among the highest bonuses in 2014), compliance/privacy officers and systems administrators.
Respondents overall were less optimistic than those who took the survey last year, with 21% saying the mood is optimistic in their organizations in 2014 versus 29% in 2013. Limited career advancement and ineffective management were the primary reasons cited by the 248 of the respondents who characterized the mood in their company as pessimistic. Among the 283 respondents who said the mood is optimistic, business picking up and innovation being encouraged were the top reasons for the upbeat outlook.
Overall, 41% of the IT professionals believe the mood in their companies will be more optimistic in 2015 than this year.
Top tech focus areas and IT headcount
The survey takers are spending the majority of their time on IT management, security and application development and design -- the same as last year's group of respondents.
As for how they believe their companies measure IT project success, ensuring reliability of services ranked No. 1, followed by helping achieve business goals, completing projects on time and improving product or service delivery.
As with salaries, IT budgets and headcount are up slightly year-over year. In 2014, 34% said their IT budget is larger than 2013, while 30% of the 2013 respondents reported an IT budget increase over 2012.
In 2014, 30% of respondents saw an increase in IT headcount over last year, and 43% reported a headcount of the same size as 2013. As for hiring, 33% said their companies are currently looking to hire, 28% are fully staffed, 15% are under a hiring freeze and 9% are shrinking by attrition. (The remaining 15% were not sure if headcount was growing or shrinking.)
As for whether the respondents will add to or decrease their current employers' headcount, (45%) said they are "open to new opportunities but not actively seeking" new jobs, while 21% are "satisfied" in their current position. In the next three to five years, 22% want to move up in their organization, 20% want to move to a larger company, 18% want to move higher up within IT, 18% plan to stay in their current role, 16% are not sure of their next move and 6% plan to leave IT altogether.
Dig Deeper on CIO and IT salaries