News
Stay informed about the latest enterprise technology news and product updates.
IoT spurs interest in mesh networks
The Internet of Things is spurring a new architecture for relaying data, referred to by some as mesh networking. But it may not be enterprise-ready yet.
As the Internet of Things gains momentum, technologists are experimenting with new network architectures to handle the inevitable surge of data that comes with the increased number of connected devices. One approach that is getting attention is mesh networking.
Mesh networks are constructed of nodes, including devices such as computers and mobile phones, all of them wirelessly connected to each other and each of them capable of relaying data across the network. Data hops from node to node until it reaches its destination. Unless all the nodes go down, the data will always be available, making network topologies of this kind reliable and scalable.
Though the basic task of mesh networking -- getting data from a sensor to the Internet -- is the same as the Internet's function, the Internet in place now is much more expensive than a mesh network.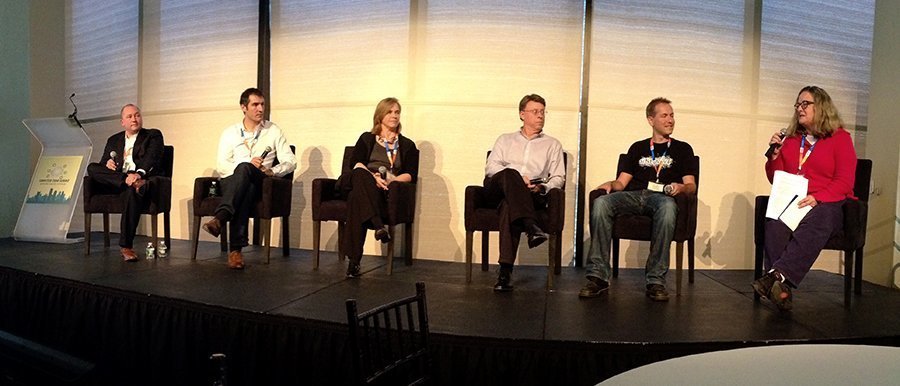 "The networks of the past 30 years have been built for speed, bandwidth, huge payloads (video, audio, etc.) and high quality of service. As a result this network is expensive, $40 a month or more to use," Don Dodge, developer advocate at Google , said in an email. "The Internet of Things will have billions of sensors sending tiny bits of data once a day or once an hour. While existing networks could easily carry this load ... it is too expensive."
Originally developed for military use, mesh networks have been used in humanitarian programs to help communities that cannot afford to pay for Internet connections. Mesh networks would also be vital during natural disasters when physical wires and cables that make Internet connection possible are destroyed. Most recently, the architecture showed up in the Hong Kong protests, where people participating in the demonstrations downloaded an app called FireChat which lets phones connect to each other, forming a temporary Internet. But the architecture has not been widely deployed and only now are IT circles beginning to buzz about it.
Dodge has been working with various startups and companies to figure out how to make mesh networks happen. The approach taken by one of the startups is to use "homebases," Dodge said, where devices that people own and use for their own purposes would also relay sensor data via an app.
"[Laptops and smartphones] would essentially act as a relay for sensor traffic and relay it to the Internet via whatever connection (Wi-Fi or cell) they have," Dodge explained.
Essentially, customers would be opening up their own personal devices for other sensor data transmissions by subscribing to an app.
"Some of the time [the data being relayed through your phone is] not going to be from your sensors, but it's OK because it's encrypted data," Dodge said.
The startups Dodge has been working with have found that 20 homebases create a network that covers all of the city of San Francisco; that suggests that 10,000 homebases could cover 80% of the United States.
Interest in mesh networking has grown as it seems more likely that the IoT -- the network of physical objects that contain embedded technology to communicate, sense, and/or interact with the external environment -- is becoming a reality and will generate potentially huge loads of data traffic. IT consultancy Gartner predicts that by 2020 the number of connected objects will be close to 26 billion. That's almost a 30-fold increase over the 0.9 billion connected objects in 2009.
CIO perspective on mesh networks
Whether mesh networks find their place in the enterprise is another matter. Though efficient and cheap -- and according to Dodge, secure -- the thought of data traveling through, and being stored on, an ad hoc network of devices does not sit well with everyone. Jonathan Reichental, CIO of the city of Palo Alto, Calif. used the example of a mesh network in an apartment complex where all the residents agree to use their laptops and other devices as nodes to store and relay data.
"Let's say you're at the bottom of the apartment complex and you want to send information to a machine that's on the 25th floor of the apartment complex; your information is going to pass through all of these computers on its way up. But there's no management oversight," Reichental said. That's very different from network provisioning in the enterprise where "the routing of the information, the quality of the information, the speed of the information and the security of the information that passes around the network," is centrally managed.
Ultimately, Reichental said, the usefulness of mesh networking for companies would depend on what they do and where their operations are located. A CIO of a commercial enterprise in a bustling city in the U.S., for example, probably wouldn't utilize this technology, because they have access to the Internet. Mesh networking could be deployed if the Internet connection went down, but once restored the mesh network would no longer be needed. On the other hand, the CIO of a city in a rural area, for example, may be very interested; as would a food production company that owns a vast amount of land and needs to get data from sensors way out into the field, he said, but in even these cases the mesh network is an augmentation not a replacement for high-speed, managed enterprise networks.
Cynthia Nustad, CIO at Health Management Systems, Inc., agreed that these are early days for mesh networks.
"Personally, I have not seen this put into production. The concept of self-organizing and governing compute is interesting and its potential uses quite vast, but this isn't prevalent in business today," Nustad wrote in an email.
Google's Dodge doesn't disagree. He said this alternative network for the IoT sensor traffic is not meant to have a high quality of service or be high bandwidth. "It is not a mesh network for computers. It is meant to connect billions of sensors to the Internet. That is the whole point. And [it is] why most longtime network people don't think in these terms."
Let us know what you think about the story; email Kristen Lee, features writer, or find her on Twitter @Kristen_Lee_34.
Dig Deeper on Internet of things (IoT) for business