 BACKGROUND IMAGE: iSTOCK/GETTY IMAGES
News
Stay informed about the latest enterprise technology news and product updates.
Mobile personalization is coming to an app near you
This app's for you: The future of mobile personalization goes way beyond a recommendation for the next movie to watch or the closest pizza joint. But, the wonder of super-targeted apps has its creepy side too.
BOSTON -- Mobile personalization used to be synonymous with recommending restaurants based on a person's location (think the early years of Zagat), but boy, will it go further. That was the message from a panel of mobile app experts at the MassTLC Mobile Summit event in Boston this week.
Smart devices are paving the way for a marketplace where companies track the consumer's location constantly, collect data, and paint a detailed portrait of who that person is based on the information that accumulated. Whether you're a coffee lover, an avid shopper or a major sports fan, each and every aspect of consumer behavior will be known by companies, helping them to create personalized pitches for products. Mobile personalization really means what it says -- messaging aimed at an individual, not a broad demographic, explained panelist Henry Cipolla.
"Every user is a unique snowflake," said Cipolla, CTO at Localytics, a mobile analytics and marketing startup headquartered in Boston. "Based on your usage I can tell that this is your favorite sports team, or I can imply that these are the kinds of things you like to purchase."
The knowledge gained from this data collection will be incorporated into every app eventually, Cipolla said. For example, when Boston Red Sox fans launch their ESPN SportsCenter app, the app will not just pull up articles about the team and Red Sox-related events in the Boston area, but also have its graphics in Red Sox colors.
Of course, gathering detailed personal data and making recommendations based on data is already having an impact on sales, said panel moderator Nitzan Shaer, managing partner at High Start Group, a company based in Boston that specializes in helping its clients rapidly develop, test and launch new products. Over 35% of purchases on Amazon, and more than 75% of movies on Netflix selected by viewers are now based on personalized recommendations, according to Shaer.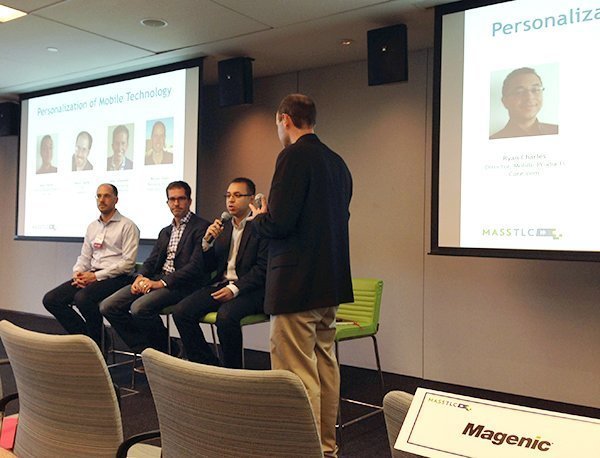 Thirty-second rule for mobile apps
"As designers and developers, what we're really interested in here is becoming vital," said Mike Schneider, vice president of marketing for Skyhook Wireless, a Boston-based big data company specializing in location positioning, context and intelligence.
Some apps are nearly there. For example, panelist Ryan Charles, director of mobile products at Care.com, which connects people and families to caregivers, said he is a fan of Mynd, an app which learns a person's schedule and commute. The app then uses that information to tell the users what time to leave in order to get to their destination on time.
"I think that's the key to personalization. Are you ultimately making … the user's life easier?" Charles said.
One of the reasons mobile app designers and developers have to pay attention to personalization, said High Start's Shaer, is the "30-second rule." He was referring to the new mobile marketing mantra that users often only have about 30 seconds at a time to quickly thumb through their phone as they are moving and commuting during their busy days. In that span of time, the goal is for an app to provide something that's vital to a user.
"So, things like geo-fencing and persona development, knowing where your user goes and the places that are important to them, allow you to reduce the friction from opening the app to getting value," Schneider noted.
But, Schneider said mobile personalization is being taken a step further with "in-mode" -- or the practice of personalizing marketing to consumers based on whether they are shopping in the store or at home. "When you know that someone goes into a store you give them that in-store experience, you know when they're at home you give them an at home experience," he said, adding that this kind of personalized marketing is still in its early stages.
Personalization vs. discrimination
One in-mode development consumers could see in the not-too-distant future, predicted Skyhook's Schneider, is a smart grocery list that helps out absent-minded shoppers. At checkout, the store register would detect whether shoppers had missed an item on their mobile list, alerting shoppers of the missing item and offering to send it up to checkout. In addition, there would also be a feature where, based on what the customer bought, the app would recommend a complementary food item to buy and recipes to try out, Schneider said.
"Things like that help people make choices, because one of the things users have is this paradox of choice," he said. Schneider noted that today, consumers have so many choices that often it is difficult to know what to buy. For example, confronted with dozens of brands of peanut butter on the shelf, a shopper can end up buying nothing or walking away feeling guilty because they bought one brand instead of that other healthy brand.
But Localytics' Cipolla warned the audience to be careful about what is being personalized, citing the controversial use of differential pricing by Amazon and other retailers.
"You have to make sure you're actually personalizing something that's actually valuable to the end user," Cipolla said.
And Charles warned against narrowing a user's universe too much.
"Humans still require choice," Charles said. "Sometimes you have to take a step back and say, 'Hey, here's our guidance but the rest is up to you."
Privacy and the gift of data
As for the elephant in the room -- consumer privacy -- audience members expressed deep concerns, and asked several questions related to this topic. The panelists, however, seemed to have little to no concerns about privacy, arguing that companies have to, and do, detail what they collect and do with your data in their terms of service.
"From a privacy perspective, I think people are willing to turn things over if the value that you're giving back to them [is] strong, compelling," Charles said. "I think people will start to ignore those concerns."
Schneider's parting advice to companies on the topic of customer privacy?
"I think you should use the gift of their data and give them as much as you can until they say, 'I don't want that,'" he said. "I think this is a gift and we need to use the gift."
Let us know what you think about the story; email Kristen Lee, features writer, or find her on Twitter @Kristen_Lee_34.