 BACKGROUND IMAGE: iSTOCK/GETTY IMAGES
News
Stay informed about the latest enterprise technology news and product updates.
Four obstacles that hold startups back and big businesses could help solve
The challenges startups face range from securing office space to finding affordable housing for the team when salaries are low or non-existent. Here's how PayPal is lending a helping hand with its Start Tank incubator.
BOSTON -- When you've got an innovative idea and the guts to work to make it happen, you could be one of the lucky ones and skate to success. Most brand-new businesses, however, face a mountain of obstacles. There's the money crunch, of course, and the frustrating search for affordable space and the hunt for talent and investors. That much was clear from the three startups featured at the "Small Companies with Big Partners" event held this week at the PayPal Boston headquarters: CO Everywhere, Give Well Get Well and Launch Angels.
The difference for these startups, however, is that they all got thrown into Start Tank.
Launched last year by PayPal shortly after the online payment processor was acquired by eBay, Start Tank offers free space and advice for early stage startups. The stints are for six months and it's quite a deal: PayPal's state-of-the art headquarters here boasts the perks one might expect from any successful born-digital company -- from cutting-edge video conferencing equipment to kitchens, a coffee bar, foosball and showers in the bathrooms.
Not surprisingly, the fledgling program has gotten the attention of Boston startups. For its latest class of startups, the online payment processor could accept only 20% of applicants, said the event's host, David Chang, COO for the PayPal Media Network division. Indeed, one of the reasons for the event, which was billed as a meeting of the state's Tech Hub Caucus, is that Massachusetts legislators hope the popular program will serve as a model for other local companies.
During the panel discussion of the event, the Start Tank participants identified four huge challenges that, if solved, would ease the pain for would-be entrepreneurs and automatically increase the number of new businesses in any city.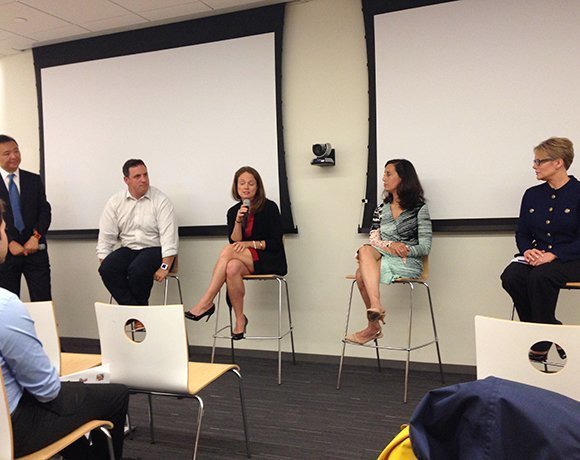 Incentivizing big companies
The monetary benefit of the Start Tank program is significant.
"As a benchmark, this is probably saving my very small, very bootstrap organization between $50,000 and $100,000 this year and creating an infinite amount of opportunities through an expanded network," said Ashley Reid, co-founder and CEO of Give Well Get Well.
Give Well Get Well is a web-based platform currently enrolled in Start Tank that integrates a directory of services, such as transportation, laundry and cleaning, and financial and legal support, with a patient registry to make life easier for those who are sick. The idea for coming up with a platform that matches services with patient care needs grew out of her experience with helping Reid's mother overcome breast cancer and watching her best friend's father die of cancer, she said. The financial support from Start Tank helped close the gap between the idea and forming a business.
Programs such as Start Tank legitimize a new business beyond just offering monetary support, said Shereen Shermak, CEO of Launch Angels, an investment platform that designs custom mini-venture funds ($500k to $2m) for small groups, including Start Tank companies, that want to invest together around a common interest or mission.
As a five-time entrepreneur, Shermak knows what it's like to be home, alone, struggling to get a company off the ground: "I've done startups where it's just me at home and the refrigerator and that's not pretty."
Having a place to go boosts morale and, more important, helps grow a business, Shermak said. "It's nice to be able to bring your team together in one place. I think teams really gel in that sense and you end up having the power of your team just sitting in one place together," she said.
This is why it's important, Reid and Shermak said, to find ways to incentivize large companies to invest in incubators similar to PayPal's Start Tank.
That could be "something as simple as tax deductions to … offset the cost of the space they give us for free," Reid said.
Another area where incubators should be encouraged -- particularly in the Boston area -- is at universities, Shermak said. Her angel investment company has gotten many requests from universities around Massachusetts for help in forming funds that would support campus-based incubators.
The schools' alumni have "a lot of money," she said, and they want a place to put it other than in standard donations to the school. They also want to play a part in the new economy. A campus-based incubator that spawns the next Facebook obviously would pay off for investors and the school. "The entrepreneurs would then leave the school and go become famous and [that] degree has more value," she said. But incentives are needed "to kind of push people off the mark and form those funds."
Subsidizing housing and office space in Silicon Valley and beyond
The grass is not greener on the West Coast, according to Start Tank alumnus Tony Longo, co-founder and CEO of CO Everywhere, a social app that connects people and gives them access to real-time social activity happening in their location. "How are we going to grow a company in San Francisco next to Twitter and Apple and Facebook?"
Talented people in Silicon Valley are expensive to hire, to put it mildly. Longo said it is not uncommon for buyers to acquire a startup with zero value just for the talent and pay upward of $1 million per engineer.
Longo said when his company decided to stay in Boston and move to an office in the Downtown Crossing area, they were able to hire 20 people in six months. That would not have been possible in a place like Silicon Valley.
Another issue? Housing prices in San Francisco are through the roof and not feasible for many startup employees, especially recent college grads, said Give Well's Reid.
"If you don't get a salary for a year or eight months, paying rent is exceptionally challenging and not everyone had the chance to work for ten years and build [funds]," said Reid, who, before starting her own business, was a director at Philips Healthcare. "Some of our best innovators are just out of school and they have student loans."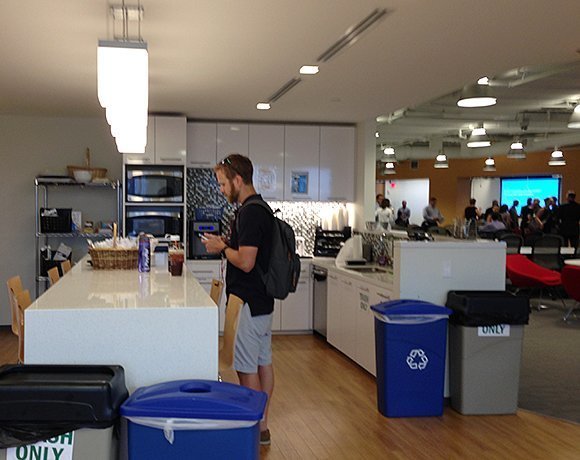 Not only is developing affordable housing and office space key, but housing and office space that are near public transportation and near centers of innovation "is really important," Reid said. How close people are to public transportation might seem like a little problem, but when you're a startup they can have a big impact on whether you make it or not, Shermak agreed. "It's … sort of death of a thousand cuts."
Linda Moore, president and CEO of technology lobbying organization TechNet, and the only non-Start Tank panel member, said that the new mayor of San Francisco, Edwin Lee, is already working to address this problem. His administration has started a new campaign process to repurpose pockets of the city that have been left unused, such as military bases, she said.
Building a diverse workforce
Startups have one problem in common with big businesses. The startup atmosphere is "heavy with white males," Reid said. "It's hard to build diversity on a management team."
Reid said the No. 1 issue her team is dealing with right now is convincing a senior executive to relocate to Boston and lead their vendor acquisition efforts. This candidate is an alumni of the Harvard Business School, has 10 years of experience in senior general management and marketing roles, "and he is 100% the right guy for the job," she said. "He also happens to be African American and the biggest hurdle for him to come to Boston is that it's not seen as a very diverse city, friendly city."
Women are also in short supply. "I think that whatever we can do to make the environment more friendly for women, whether that's creating women-centered programs or finding ways to make the general developer environment open up to women developers would be great," Shermak said.
Shermak and Reid recommended bolstering Science Technology Engineering Math Education Coalition programs for girls and minorities.
"There's an opportunity for you to build us a labor force that's going to come out of schools in ten years that's going to be exceptional," Reid said. "That's where I'd be doubling down."
Bringing B corporations into the state grant fold
A new corporate entity called a benefit corporation (B corporation) could prove to be a big boost for startups with a social mission, Reid said.
B corporations are for-profit entities that calculate their worth based on societal benefit, in addition to monetary profit. Her startup has been classified as a B corporation, for example, and she predicts that there will be more "outstanding organizations increasingly gravitating toward this type of structure." Some examples of successful B corporations include Etsy, Ben and Jerry's and Patagonia.
But, there's a Catch-22, at least in the state of Massachusetts.
"The challenge here is you guys have all of these grants that we don't qualify for," Reid said.
Dig Deeper on Small-business IT strategy